One of my holdings is Perrigo (NASDAQ:PRGO), which I purchased on Feb. 2 with a cost basis of $73.19. Perrigo closed at $83.46 on June 10, down $1.23 or 1.45% on the day.
According to the Yahoo "Profile" on Perrigo, this company:
... through its subsidiaries, develops, manufactures, and distributes over-the-counter and generic prescription (Rx) pharmaceuticals, nutritional products, infant formulas, active pharmaceutical ingredients, and pharmaceutical and medical diagnostic products worldwide.
One of the first things I check when examining a stock for investment is how the underlying company is doing. Probably the most important factor is its latest quarterly report. Looking at this information, I certainly would like to see a company that can grow its business (organic growth preferred over growth just from acquisitions), is profitable and is doing better than expected. Sometimes we as investors can get lucky and the company raises the ante by increasing guidance. A price of a stock is determined by past and expected results. There is a certain re-equilibration of the stock price as analysts and investors digest the provided information and re-set estimates going forward.
On May 3, Perrigo reported third quarter 2011 results. Revenue for the quarter came in at $691.6 million, a 29% increase from the prior year. However, equally importantly, the company exceeded expectations of $685.8 million. Earnings came in at $89.1 million or $0.95/share for the quarter ended March 26. Adjusted income from continuing operations (what analysts generally are estimating) came in at $1.07/share. This was a 43% increase in earnings over the prior year, when the company had reported earnings of $62.2 million or $0.67/share. Similarly, analysts had been expecting earnings of $0.96/share, so the adjusted income again exceeded expectations.
In the same earnings report raised guidance for adjusted earnings per share to come in at $3.90 to $4.00, up from the prior guidance of $3.75 to $3.90.
Ideally, a stock will perform well not because it just reported a single quarterly report that looked good, but rather that the company was continuing a longer-term record of such positive financial results. I utilize Morningstar.com.
If we look at the Morningstar financials on PRGO, we can see that revenue has grown steadily from $1.37 billion in 2006 to $2.27 billion in 2010 and $2.67 billion in the trailing 12 months (TTM). In that same period, diluted earnings per share have grown steadily from $0.77/share in 2006 to $2.40/share in 2010 and $3.23/share in the TTM.
Morningstar shows that free cash flow has increased from $90 million in 2006, dipping to $24 million in 2007, then steadily growing to $258 million in 2010 and pulling back a touch to $255 million in 2011. This company clearly is able to generate increasing cash as it grows its business.
In terms of the balance sheet, Perrigo has $1.381 billion in current assets balanced against $907 million in current liabilities. This generates a current ratio of 1.52. Generally current ratios of 1.5 or higher suggest a healthy, at least short-term, financial health. Perrigo has total assets of $3.09 billion compared to total liabilities of $2.01 billion.
Beyond the fact that a company underlying a stock is doing well, which apparently Perrigo has been doing, it is important to find out about the valuation of the stock price to help determine if the purchase of the shares is a reasonable option. I have found that the easily accessible Yahoo "Key Statistics" continues to be helpful in this regard.
For Perrigo, we can see that the market cap is $7.74 billion making this a large-cap stock. Perrigo's trailing p/e is a bit rich at 25.87, but the forward p/e (fye Jun 26, 2012) is a bit better at 18.30. The reasonableness of a p/e is really a function of anticipated growth. You and I are obviously more willing to pay higher p/e valuation if we are fairly certain that future earnings will increase significantly. This dynamic valuation is calculated via the PEG ratio, which for Perrigo comes in at a fairly reasonable 1.59.
Perrigo has 92.73 million shares outstanding with 85.67 million of them that float. The company pays a modest dividend of $0.28/share with a forward yield of 0.30%. (The trailing dividend is 0.27, indicating a recent increase.) The company has lots of room to raise the dividend and use earnings for corporate purposes as its payout ratio is only at 8%, per Yahoo. Its last stock split was back in August 1993, when the stock was split 2:1.
Finally, let's take a look at the technicals. In particular, checking Perrigo's Point & Figure Chart from StockCharts.com, we can see a chart that was basing through much of 2010 between the $53 and $65 level and that broke out in March to its recent high of $92 before pulling back to its $83 level. The chart looks strong from my amateur perspective.
[Click to enlarge]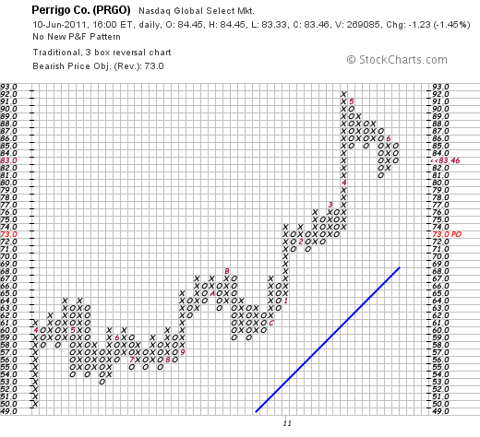 In summary, I like Perrigo enough that I bought shares. The challenges that our current economy faces have forced more consumers to watch their purchases closely, and Perrigo fits into that theme by selling companies' store brand generics to compete with more expensive branded items.
It recently reported a very strong quarterly report and has been growing its business steadily for the last five years. Its recent results exceeded analysts' expectations, and the company provided bullish guidance going forward. Valuation is a tad rich, but not really wildly out of balance with the expected performance. Technically, the stock looks strong and appears to be capable of a price move higher.