I was looking at top news on the Seeking Alpha front page, and to my surprise one of the top news stories was titled "Turkish election: Third term beckons for the rock star prime minister with grand designs: Landslide win would give Erdogan chance to rewrite constitution in own favor." The Guardian's title was well thought out. Erdogan, the victorious prime minister for the last 10 years, was looking for full control of the parliament, enough to change the constitution without consensus. While it is a natural dream for all politicians to achieve such victory, this time, Turkey's prime minister was very close.
The election results show that Turkey's ruling party gained at around 50% of the votes. A glorious victory for the ruling party, but not strong enough to change the constitution. From a rational perspective, that was the best possible scenario. As The Economist suggested, it was in the country's best interest to keep on with its economic miracle, while preventing giving full-scale power to the ruling party. There were strong concerns that if the victory was strong enough, the pro-democratic state might turn into an intolerant authoritarian state. These concerns drove the stock market (NYSEARCA:TUR) almost 15% down in local currency, and 20% down in USD from its peak value in the last eight months:
Click to enlarge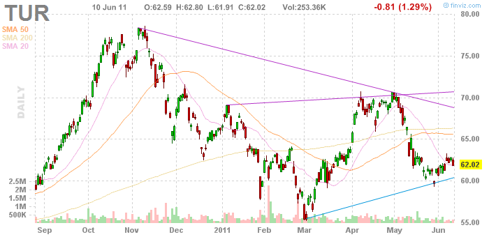 Since the dark clouds have passed, I expect a huge rally in the Turkish Stock Exchange market. And I expect it now. Just look at the graph above. The rally from September to November was initiated soon after the referendum on the constitution was accepted in a public poll. For the last 10 years, there has been a strong market rally after almost each victory by the ruling party.
Fundamentals
Let's look at the fundamentals. For the last decade, Turkey has shown miraculous growth. As The Economist suggests, "Turkey has become an economic and political power, both in its region and in the world ... which is a striking contrast to the mess that the AK party inherited: an economic meltdown, a bust banking system, weak coalition governments that came and went with dizzying rapidity, and the ever-present threat of military intervention."
Business in Turkey is booming from all perspectives. Unlike the West, the Turkish banking system showed strong resistance against the global downturn. The multinational companies that invested in Turkish banks made sweet deals. Investing in the Turkish banking powerhouse, Garanti Bankasi (OTCQX:TKGBF), was one of the best decisions General Electric (NYSE:GE) made. As GE Capital suggested," if you look at the life of our investment - investing $1.8B in 2005 and receiving $5.2B in dividends and proceeds - you will see it has been a very successful investment for GE Capital and our shareholders. Furthermore, we retained a 2.25% stake for future upside."
The General Electric investment on Garanti Bankasi returned almost 200% within the last five years. Given the collapse of financial titans during the sub-prime mortgage crises, buying a high-growth bank at a steal price was a brilliant decision made by GE capital. A comparative analysis of U.S. mega-cap banks with that of large-cap Turkish counterparts makes it easier to appreciate GE's smart decision. Here is a brief comparison of U.S. banks' net profits with that of Turkish banks (Data from Morningstar, and Is Yatirim):
| | | | | |
| --- | --- | --- | --- | --- |
| | 2007 | 2008 | 2009 | 2010 |
| Bank of America (NYSE:BAC) | $14.98 | $4.00 | $6.27 | -$2.24 |
| Citibank (NYSE:C) | $3.62 | -$27.68 | -$1.60 | $10.60 |
| Turkiye Bankasi (OTC:THBIF) | $1.30 | $1.16 | $1.52 | $1.98 |
| Garanti Bankasi | $1.77 | $1.35 | $1.91 | $2.09 |
*In $ billions
Surely, the Turkish banks are much smaller in terms of their market cap. As of THE June 10 close, Is Bankasi had a market cap of $14.4 billion, and Garanti Bankasi had a market cap of $19.5 billion. However, it is obvious that, while their U.S. counterparts ARE still suffering from sub-prime damage, IS Bankasi and Garanti Bankasi emerged as regional powerhouses, significantly boosting profits while expanding operations.
As of Friday's close, IS Bankasi and Garanti Bankasi were trading with low P/E ratios of 7.7 and 9.6, respectively. IS Bankasi offers a nifty yield of 3.1% as an added bonus. In the last six years, dividends increased four-fold in local currency, and approximately 3.5-fold in USD. Compare that with the projected 0.4% yield of Bank of America, and a funky "1 cent" dividend of Citibank. Since 2001, the two Turkish Banks listed above returned approximately 25%, annually, excluding fat dividends. The returns are well-justified, given the annual credit expansion of 25% to 30%.
Achieving such fabulous growth rates is a dream for many European Banks. In fact, the Turkish banking system is so profitable that the National Bank of Greece's reported profits almost exclusively come from its Turkish subsidiary: Finansbank, which has a market cap $6.1 billion with a trailing P/E ratio of 10, is 93% owned by NBG and its affiliates:
| | |
| --- | --- |
| Share Holders | % Ownership |
| National Bank of Greece S.A | 77.22 % |
| NBG Finance (DOLLAR) PLC | 9.68 % |
| NBGI HOLDİNGS B.V | 7.90 % |
| INTERNATIONAL FINANCE CORPORATION | 5.00 % |
| Other | 0.21 % |
Source: Is Yatirim
As of the June 10 close, NBG had a market cap of $6.3 billion – almost the same as its Turkish subsidiary. I'm curiously watching to see whether the influx of bad news from the eurozone will be able to push it down even further. It is amazing to observe that NBG was decimated to $1.34 from its $12.5 peak in 2007. I expect the Turkish election results to boost NBG shares along with Finansbank. It will be insane if NBG is priced below its immensely profitable subsidiary, which is located in one of the fastest growing economies among emerging markets.
Besides NBG, I expect Ford (NYSE:F) to benefit from the Turkish economy's sustainable growth in a stable political environment. There is a strong convergence between the European Union and Turkey in terms of economic power as well as social welfare. While there are diversified statistics on automobile ownership, - to my knowledge – there are 200 vehicles per 1,000 people in Turkey. The same number arises to almost 600 in many EU member states. Thus, there is still a large potential for growth. Ford brands have been very popular in the country. According to official statistics, Ford has the third largest share in the Turkish market. Ford owns 41.04% of Ford Turkey. Ford's Turkish production plant has been a blockbuster among Ford's global factories in terms profitability and dividends. Here is a brief historical comparison of fundamentals:
2007

2008

2009

2010

Revenues

Ford

$172.45

$146.27

$118.31

$128.95

Ford - TR

$6.20

$4.58

$3.73

$4.95

Net Profit

Ford

-$2.72

-$14.67

$2.72

$6.56

Ford - TR

$0.41

$0.28

$0.22

$0.32

Yield

Ford

0.00%

0.00%

0.00%

0.00%

Ford - TR

8.80%

14.60%

15.10%

9.70%
Due to the desperate cash need of its parent company during tough times, Ford Turkey has been an outstanding dividend payer. Last year, company paid $400 million in dividends, 41.04% of which is taken by Ford. While it may not be a huge number, given Ford's gigantic size, the payments were particularly helpful during Ford's critical conjecture. Although Ford is still cheap with attractive ratios, I think its Turkish branch will bring much higher returns. Ford Turkey, which I have been holding for a while, returned 62% since last year, while offering excellent dividends as a bonus. The company is still trading with a low P/E ratio of 8.5. The profits are growing so fast, it takes a while for the market to catch up with them.
Besides Ford, I think Banco Bilbao (NYSE:BBVA) will also benefit from the expected stock market rally. The company recently acquired a 25% stake in Garanti Bankasi, paying a significant premium over General Electric's sale price. At a time, when Spain is trying to get out recession, this was an immensely strategic acquisition for Banco Bilbao. BBVA management believes that its stake at Garanti Bankasi will prove to be a nifty investment for the long-term, reducing the dependency on Spanish profits, and providing a strong downside protection for the shareholders. After all, it was the FinansBank stake that kept the NBG shares from falling down further.
Disclosure: I am long Ford Turkey and IS Bankasi.