Each week I publish stocks to watch for the upcoming week as potential momentum trades or longer-term investments. The stocks below all have a 50k minimum average daily share volume and traded at a 52-week high on strong volume, with a minimum of two times relative volume on Friday, June 10th. In addition, stocks were required to close Friday higher than the open price.
This week only 9 stocks made the cut as the overall equity market struggled. EasyLink Services (ESIC), a global provider of cloud-based messaging and ecommerce solutions, is one name with an interesting chart pattern, showing a strong breakout, and improving fundamentals. ESIC is a small cap stock with low liquidity and recently reported quarterly earnings, with net income for the third quarter of $.13 per diluted share and revenue of $47.8 million. It also has shown strong cash flow from operations at $19.3 million for the nine months ending April 30th. The company does have over $84 million in long-term debt, which was used last year to purchase Xpedite Systems for $105 million in cash. However, if it can maintains its strong earnings growth and cash flow, the acquisition (and debt), should pay for itself.
Chart courtesy of Finviz: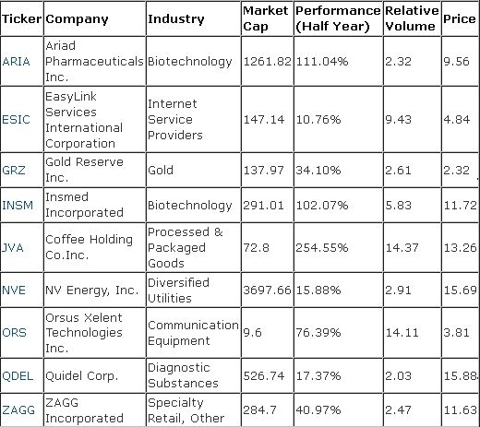 Disclosure: None.