Enbridge (NYSE:ENB) recently announced a whopping 33% increase in the dividend. Just as significant, the company unveiled a new dividend policy range of distributing 75-85% of adjusted earnings. Such a policy confirms the company's confidence in its long-term outlook for stable, reliable, and growing cash-flow stream generated from transporting growing North American energy supplies from producers to consumers. As a result, the company has quickly emerged as a dividend growth superstar. But is that reason enough to buy shares here?
The December 3rd press release announcing the new dividend policy caused an immediate and substantial reaction in the stock price - causing the stock to rise from $46 to over $52 on heavy volume. Since then, on the back of continuing lower oil prices and some very rocky days on Wall Street for virtually any energy related company, the stock has fallen back to close yesterday (Tuesday, Dec 9th) at $49.45.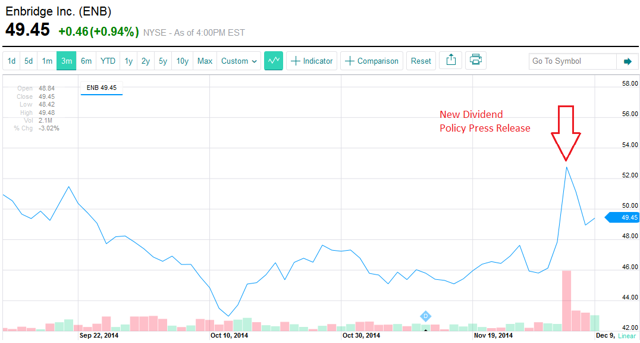 The initial reaction to the new dividend policy may have been a case of "irrational exuberance." To understand my point of view, we must first take a look at the company's operations, the nature of its assets, and more importantly - the company's current valuation given the current market environment.
Operations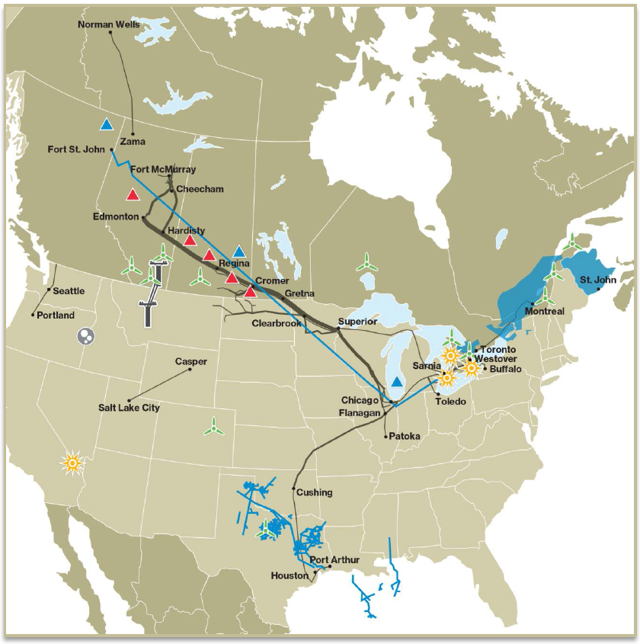 Source: Enbridge Presentation
As the graphic above describes, Enbridge owns and operates liquids and gas pipelines, renewable power assets, and gas processing and energy services across the US and Canada. It's a large corporation with $67 billion in assets, a market cap of $43 billion, and YTD adjusted earnings of $1.65 billion. Enbridge was incorporated in 1949, is headquartered in Calgary, Alberta, and has over 11,000 employees. ENB's vision is to be the leading energy delivery company in North America.
Enbridge has a very mature and stable revenue model based largely upon long-term fee-based contracts that are relatively immune to underlying commodity prices. This leads to reliable revenue and earnings and is what makes the new dividend policy possible.
Large Scale Drop-Down
During Enbridge's 2015 and Dividend policy Investment Presentation, the company also revealed plans for a significant financial restructuring. A large component of the plan is a drop-down of the Canadian Liquids Pipelines and Renewables to its Canadian affiliate - the Enbridge Income Fund (OTC:EIFZF). The new structure of the Enbridge enterprise (after close of this deal) is shown below:

This is a very large scale drop-down:
Assets: Canadian Liquids Pipelines and Renewables.
Book Value: $17 billion.
EBITDA Multiple: 13-15x.
Enbridge Incentive Share: 25%.
Accretive to both ENB and EIFZF.
ENB Economic Interest to EIF: 90% (post transaction).
Estimated close: mid 2015.
Dividend Growth Potential
As a result of the drop-down, Enbridge expects a ~10% uplift in adjusted EPS from 2015-2018 - resulting in a 10-12% CAGR in overall EPS. Taking the midrange of the 2015 adjusted EPS estimate of $2.05-$2.35/share, and applying the low-end of the CAGR (i.e. 10%), I get a conservative estimate of $2.93 in adjusted EPS for 2018.
If we apply the new dividend policy payout of 75-85% of adjusted earnings, we get a 2018 dividend payment range of $2.20-$2.49, the midpoint of which is a dividend payout of ~$2.34.
As mentioned previously, ENB raised the dividend 33% in the press release announcing the new dividend policy - to $0.465/share, or $1.68 annually. Using my estimate of $2.34/share of dividends in 2018 implies a distribution/share CAGR of ~12%.
While all this sounds good so far, the problem is the company's current valuation in relationship to the current market environment. With a P/E=57 and a dividend yield of only 3.5%, the company appears overvalued given the mass exodus from energy shares. It does no good to buy a company yielding 3.5% if you are going to lose 10-20% on the share price. So, despite Jim Cramer's opinion, I would steer clear of Enbridge (for now).
Summary and Conclusion
Enbridge has embarked on a new payout policy that should result in a ~12% CAGR in the dividend from 2015-18. However, the high multiple currently afforded the stock (see below), the relatively low current yield, and the overall market environment for energy stocks make this a "wait-and-see" investment. Investors may want to add this company to their "watch list" and give it serious consideration at $40-41, at which point it would yield 4.2%.
Meantime, I prefer InterPipeline (OTCPK:IPPLF). Not only is it a smaller, simpler company to analyze, it also presents a higher growth rate, a much lower valuation multiple (PE=28), and a significantly higher dividend yield (4.6%).
| | |
| --- | --- |
| Market Cap: | $41.16B |
| P/E ("ttm"): | 57.86 |
| EPS ("ttm"): | $0.84 |
| Div & Yield: | $1.68 (3.5%) |
Source: Yahoo Finance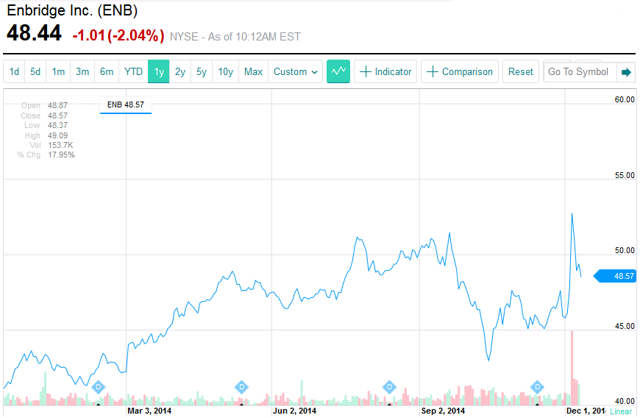 Disclosure: The author is long IPPLF.
The author wrote this article themselves, and it expresses their own opinions. The author is not receiving compensation for it (other than from Seeking Alpha). The author has no business relationship with any company whose stock is mentioned in this article.
Additional disclosure: I am an engineer, not a CFA. The information and data presented in this article were obtained from company documents and/or sources believed to be reliable, but have not been independently verified. Therefore, the author cannot guarantee their accuracy. Please do your own research and contact a qualified investment advisor. I am not responsible for investment decisions you make.
Editor's Note: This article discusses one or more securities that do not trade on a major U.S. exchange. Please be aware of the risks associated with these stocks.