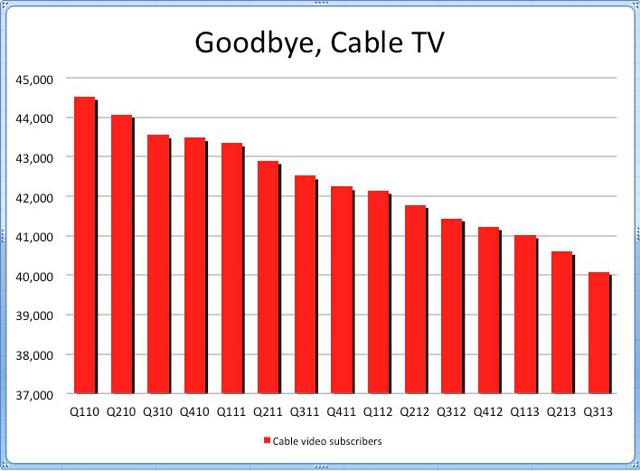 Any follower of the television industry can tell you traditional TV is on its way out. It doesn't matter where you look - graphics like the one above, doom-ridden articles, even SA news alerts - all signs point to a demographic shift away from television. While these statistics might dismay the nostalgic type who cherishes memories of Saturday morning cartoons, it brings even more concern to shareholders of companies with a vested interest in the television business. A continuous stream of news about the steady decline in TV viewership has put pressure on entertainment companies in this space, and has investors wondering why they should bother owning anything with exposure to these declines.
While the reality of the television business seems gloomy, important silver linings still remain that should grab investor attention. For companies nimble enough to take advantage of this evolving demographic shift, the payoff could be enormous. Specifically for a business like Viacom's (NYSE:VIA) (NASDAQ:VIAB), a powerhouse in the entertainment industry with strong market share. The company can achieve continued growth and success going forward if it can execute on its core strategies and keep pace with its customers and viewers. In this article, I explain how this can be and how Viacom's earnings and share price can vault higher if both investors and management change their perspective, viewing the company's hurdles as the start of a new entertainment era rather than the end of an old one.
Overview
Viacom is a global entertainment company focused on content with exposure in more than 165 countries and over 700 million households. The company operates through two reporting segments - Media Networks and Filmed Entertainment. These two segments aim to create content that can attract viewers to their channels and bring in higher ad revenue as a result.

Media Networks
Viacom's Media Networks segment is comprised of the company's 230 channels (some popular ones seen above), which it uses to reach customers in major markets with original content and advertisements. This segment of Viacom accounts for 73% of the company's total revenues and can be spit up into 3 categories:
Affiliate Fees - These are the fees cable or satellite operators pay Viacom in exchange for the right to broadcast Viacom's content in their market. These fees come in the form of carriage agreements, and are therefore a relatively stable part of the company's revenue stream. 46% of revenues in the Media Networks segment comes from affiliate fees.
Ancillary Revenues - These revenues are generated from the publishing and licensing of video games and other consumer products that involve their content. Only 5% of the Media Networks segment is made up of ancillary revenues, but management has outlined room for growth in this area.
Advertising Revenue - This is the segment that most pundits and investors focus on when looking at entertainment companies. Advertising accounts for 49% of Media Networks revenue (36% of Viacom's total revenue) and is based off of viewership ratings of each channel or show.
Filmed Entertainment
Apart from Viacom's television business, 27% of the company's revenues come from its Filmed Entertainment segment, which is comprised of Paramount Pictures and its supporting brands, including Nickelodeon Movies, Insurge Pictures and MTV Films. Paramount Pictures is responsible for classics like Titanic, The Godfather, Indiana Jones and many others among their library of over 3,400 motion pictures. Viacom makes money in this segment through the distribution and licensing of these motion pictures, either theatrically or through home entertainment products.
Right Now, You're Watching …
When Viacom reported earnings on November 13 (beating estimates on both the top and bottom line), management outlined its current situation given the obvious shift in consumer behavior and the opportunities that lie ahead for the company. The main topic discussed on the call was the rapid shift of viewers away from television screens and toward computer screens and mobile devices with digital consumption rising in the wake of falling TV ratings.
For Viacom, this shift brings both good news and bad news. The good news is that the company is well-positioned to provide its content digitally to a growing audience and is doing a good job keeping pace with the movements of its customers online. Management outlined numerous deals with companies, including Sony (NYSE:SNE) and Verizon (NYSE:VZ), to provide content on mobile platforms such as PlayStation Vue, which shows Viacom's willingness to expand into the digital marketplace. Viacom is also taking advantage of Google (NASDAQ:GOOG) (NASDAQ:GOOGL) Fiber's expansion into new markets, which gives audiences even more ways to access the company's content from platforms other than a TV. These initiatives build on hundreds of mobile apps already distributed by Viacom, capturing a total of 62 million unique visitors per month through various media platforms. On the call, it was clear that Viacom acknowledged its audience's switch to digital viewing and the company's eagerness to follow.
The bad news, however, lies behind the scenes of the audience's switch to online viewing. On the conference call, Viacom's management explained extensively how increased consumption on digital platforms is "not yet adequately measured." Viacom knows viewers are switching - they just don't know specifically how many have switched, at least not yet. How this hurts Viacom in the short term is in terms of advertising - if you don't know how many people are accessing your content online, how can you adequately charge advertisers? As more consumers start to watch content online, more money is left on the table until Viacom can get a better sense of the measurements and economics of online advertising.
Fortunately, Viacom's management has already started to move to obtain more accurate measurements of its content. Currently, Viacom uses advertising measurement company Nielsen (NYSE:NLSN) to track a majority of its viewership and determine ratings and ad rates. On the Q4 call, VIAB voiced frustration over Nielsen's lack of online measurement and outlined plans to take its business elsewhere. Consider the following statements from management:
Our objective over the next 3 years is to drive an increase in the percentage of non-Nielsen dependent domestic ad sales to 50% ...


In 2014, 30% of our domestic ad sales were non-Nielsen dependent ...


…aggressively moving towards non-Nielsen dependent advertising monetization ...
If these comments don't signal a change down the road for both Viacom and Nielsen, I don't know what does. As Viacom implements new measurement services to better follow online traffic, look for fees to flow from Nielsen's bottom line to another measurement firm with better online services like comScore (NASDAQ:SCOR) or Rentrak (NASDAQ:RENT).
Coming Up Next …
While Viacom resolves its online content organization, the company can benefit from strong developments in other segments to drive earnings growth in the short and medium term. Looking into 2015, Viacom talked about catalysts that excite management and should keep the company moving forward. This included affiliate agreement negotiations, which Viacom reported are 70% booked for the next 3 to 8 years. As more agreements are locked in, Viacom can feel more confident in a substantial and steady stream of revenue coming from this area of its business. With affiliate revenue expected to grow in the high single/low double digits year-over-year, these agreements can help boost earnings as well.
Viacom also anticipates success in a planned expansion of content on the television screen, including five new Nickelodeon series by March 2015 and a big push into new international markets. Nickelodeon has been the #1 rated basic cable network for 19 consecutive years, which speaks volumes of Viacom's ability to connect with audiences across multiple generations of children and teens. New series that are due to launch soon should continue this streak of success and keep Viacom's market share and ad rates competitive.
With regards to international growth, the company is moving forward with expansion efforts into new major markets, including Africa, Asia, Latin America, India and the United Kingdom. Just last September, Viacom completed its acquisition of UK's Channel 5 brand, which boosted its presence in the region among new audiences. With content reaching new customers in this market, Viacom can continue to stretch its reach and bring more influence - and fees - under its domain.
On the Filmed Entertainment front, Viacom has put together a pipeline of motion pictures that build on past brand success and should please audiences and shareholders. Films currently on the market include Teenage Mutant Ninja Turtles, which garnered over $465 million globally with $50 million in revenues coming from the Chinese market. Another current box office success is Interstellar, with over $320 million in the books after just its first two weekends in theaters. These successes have helped Viacom book a 226% increase in theatrical revenues year-over-year, with plans to build on this increase already in the works. Films set for release in the near future include Chris Rock's Top Five, The Gambler and Monster Trucks, which have all been supported by strong marketing campaigns and are predicted to succeed.
Looking out beyond the immediate future, Paramount has a number of major market brands with sequels under production. These include:
Mission Impossible 5
Terminator Genesis
Star Trek
G.I. Joe
World War Z
Zoolander
With the legacy Paramount has earned over years of theatrical success, movies in the current pipeline are sure to impress. Investors can buy into Viacom and look to be rewarded when consumers turn out in record fashion to the box office.
Good Problems
While combing through Viacom's most recent earnings report, something struck me. With consumers moving to digital platforms, Viacom is faced with a new challenge and a new strategy to meet that challenge. Buzzwords that continue to stand out - "monetization," "online traffic," "unique monthly users," - the list goes on. This vernacular doesn't sound much like an integrated, international television giant - it sounds like an online tech startup.
Let's think of Viacom for a moment as a website with incredibly popular content. This content is proven to attract users and online traffic is growing at a modest clip. Viacom's business strategy in this case would be to find a way to make the most money off of each user that visits the site. If Viacom could accomplish this, it would reach a sweet spot in the space that could generate considerable cash flow and push the company's value higher.
With the demographic shift currently taking place in the entertainment industry, it isn't out of the question for investors and market participants to see Viacom as a company with these characteristics in the near future, despite its size and scope of operations.
The bottom line for investors should be the fact that Viacom owns content people want to consume and enjoy. This is the most important factor in constructing a bull case for the company; if Viacom can continue making content people flock to see, consumer demand will keep earnings and revenues flowing.
This is where Viacom's opportunity lies for growth down the road. Viacom has the audience; it just needs to find a way to monetize it. If the company can advertise creatively and negotiate strong rates on its popular content, contributions to the bottom line from online monetization could be surprisingly significant. If this happens, look for investors to change their mindset on Viacom's online power and reward shares with a higher multiple.
Conclusion
Above all, businesses are compelled by profitability. With an online marketplace still in its adolescence, it remains to be seen how companies like Viacom will take advantage of the continuing trends seen in entertainment. I'm betting on Viacom to find new ways to be rewarded for high-quality content and for a creative approach to getting the most return for the online viewing experience. If - and when - this happens, market participants will reward Viacom with not only a higher price, but more praise for taking advantage of a change in behavior rather than being stuck in an industry that is steadily fading.
Disclosure: The author is long VIAB.
The author wrote this article themselves, and it expresses their own opinions. The author is not receiving compensation for it (other than from Seeking Alpha). The author has no business relationship with any company whose stock is mentioned in this article.