Tidewater (NYSE:TDW), which is a global leader in AHTS and PSV vessels, has slumped from a stock price perspective amidst a steep decline in oil prices and offshore drilling activity. From 2014 highs of $56.4 on June 23, 2014, the stock has declined by 46% to current levels of $30.21.
At current levels, Tidewater is trading at a price to book value of 0.52, a price to sales of 0.95, and the company also offers a healthy dividend yield of 3.2%. I believe that the company's current valuation looks attractive to consider exposure to the market leader in AHTS and PSV vessels.
The reasons for being bullish on Tidewater from a long-term perspective include a leading market position, strong financial flexibility, new age vessels and a strong track record of shareholder value creation. This article will discuss these aspects in details with a recommendation to gradually accumulate the stock instead of taking a big plunge.
Key Investment Positives
Fully Funded Capital Expenditure
Some of the biggest investment for Tidewater has come in the last four years (2011-2014). For the next three years, Tidewater has a remaining capital expenditure of $269 million for 2015, $267 million for 2016, and $51 million for 2017.
As of September 30, 2014, Tidewater had $600 million in unused revolving credit facility and $124 million in cash. Therefore, the company's existing cash position is sufficient to fund the capital expenditure for the next three years.
As market conditions are weak, I expect Tidewater to restrain from any further orders for AHTS or PSV vessels in 2015. Being fully funded for the current growth pipeline is a big positive, and additional cash flow generation from operations in the coming 2-3 years can be potentially focused towards continued shareholder value creation (dividends and share repurchase).
Strong Fundamentals
I have focused on the company's balance sheet in the recent past as challenging times for the oil & gas sector mean that companies with excessive leverage can potentially sink.
I rate Tidewater's fundamentals as strong considering the factors to be discussed in this section. As of September 2014, Tidewater had a debt of $1.5 billion and a debt to capitalization of 35%.
Even if it is considered that the company utilizes the $600 million unused credit facility for the capital expenditure in the coming three years, the company's debt to capitalization will be 43%. Therefore, Tidewater will still have high financial flexibility.
Tidewater also has no major debt maturity before 2019 and there is no immediate debt refinancing pressure. Further, for the six months ended September 2014, the company generated an operating cash flow of $185 million. For the same period, the company's cash interest outgo was $26 million. This translates into OCF interest coverage of 7.1. Tidewater therefore is well positioned to sustain its current dividends and service debt.
Strong Fleet To Deliver Growth
As of September 2014, Tidewater had a strong fleet of 102 deep-water PSV, 12 deep-water AHTS, 111 towing and supply vessel and 53 other vessels. The total fleet count of 278 includes 30 new vessels (23 deep-water PSV, 6 towing and supply vessels and 1 other vessel).
I believe that the company's existing fleet and new fleet will deliver strong growth once the offshore market recovers. For the first six months of 2014 (1H15), the company recorded revenue of $783 million and an EBITDA of $238 million driven by strong trend in day rates. As the table below shows, the company's fleet day rates were higher in the first six months of 2014 as compared to the first six months of 2013.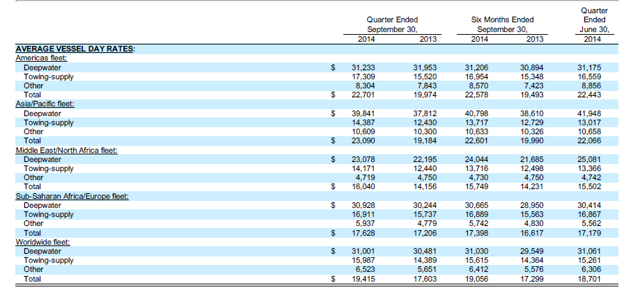 While I expect the day rates to trend lower in the coming quarters, a 46% decline in stock price has discounted for relatively lower day rates in 2015. The key point is that Tidewater can still sustain its dividends and financial position with minimal capital expenditure in the coming years.
Considering the annualized number for 1H15, Tidewater is on track to generate revenue of $1.6 billion and an EBITDA of $475 million for FY15. With 77% of the company's EBITDA converted to operating cash flow in the first half of 2015, the annual operating cash flow is likely to be $370 million.
Even if day rates trend lower in the last two quarters, Tidewater is well positioned to generate an operating cash flow of $250 to $300 million. Considering cash dividends of $25 million for the first half of 2015, the company's annual dividend payout will be $50 million, well within the OCF generation capability.
Therefore, the company's current fleet will continue to generate strong number for Tidewater. While there will be moderation in EBITDA and cash flow for the calendar year 2015, the company will still generate ample cash flow to service debt and pay the current level of dividends.
Risk Factor
According to the company's 2Q14 report discussion -
Also according to IHS-Petrodata, there are approximately 530 new-build offshore support vessels (deepwater PSVs, deepwater AHTS vessels and towing-supply vessels only) either under construction (450 vessels), on order or planned as of October 2014. Most of the vessels under construction are expected to be delivered to the worldwide offshore vessel market within the next two years.
I believe that this is the key risk factor as there is a big supply coming over the next two years when the markets are likely to be relatively weak.
However, there is one offsetting factor to this risk. Also, according to the company's 2Q14 report discussion, 21% of the worldwide fleet is at least 25 years old. These old vessels are nearing or exceeding original expectations of their estimated economic lives.
Tidewater, with 242 new vessels (average age of 6.7 years) is well positioned from this perspective. These vessels are more likely to be contracted offshore than old vessels.
Conclusion
Tidewater, with its market leadership position, is a good investment at these levels. The stock certainly seems undervalued with a price to book value of just 0.52. Further, the company has minimal investments in the coming years, and I expect shareholder value creation through dividends and share repurchase.
The company did embark on a share repurchase program in 2012 and 2013. I believe that more share buybacks are on the cards in the next two years as valuations are attractive, and Tidewater can start generating free cash flow due to minimal capital expenditure.
As I have opined for other oil & gas sector stocks, my recommendation is to gradually accumulate Tidewater with an investment horizon of 3-5 years.
Disclosure: The author has no positions in any stocks mentioned, and no plans to initiate any positions within the next 72 hours.
The author wrote this article themselves, and it expresses their own opinions. The author is not receiving compensation for it (other than from Seeking Alpha). The author has no business relationship with any company whose stock is mentioned in this article.