Xiaomi is reportedly planning to go public as early as next year. Its devices are high quality and its prices are rock bottom. That formula is toxic to the current leaders - Samsung (OTC:SSNLF) and Apple (NASDAQ:AAPL).
Based on comments on Seeking Alpha, I have concluded that the conventional wisdom is that Xiaomi may pressure Samsung, but is not a threat to Apple since it relies on the Android OS and produces what many describe as "cheap" devices.
The smartphone market is full of myths more often than not promulgated by smartphone suppliers and repeated by the enthusiasts for each platform. It is sometimes worthwhile to review the independent data.
For example, do you believe iOS or Android is the more stable OS? PC Magazine reported in March that iOS Apps crash more than Android.
How about download speeds? Say you bought a new smartphone and your favorite pastime is to share photos and videos you have taken with your pals on Flickr, Facebook (NASDAQ:FB) and Instagram. What is your biggest gripe? It might be how long it takes to upload if you have just spent $649 to $749 for the latest and greatest iPhone.
Real-time measurement of upload speeds varies greatly between devices using the same network. Regardless of how fast the network is, if the device can't keep up you get slow uploads.
According to one study, the top ten devices in terms of upload speeds include one iPhone - last year's iPhone 5S, which clocks in tenth on the top ten list. The fastest uploads are Samsung flagships Galaxy S5 and Galaxy S4 with LTE, with one LG model and three Nokia smartphones making the cut. The iPhone 6 and iPhone 6S didn't make the list.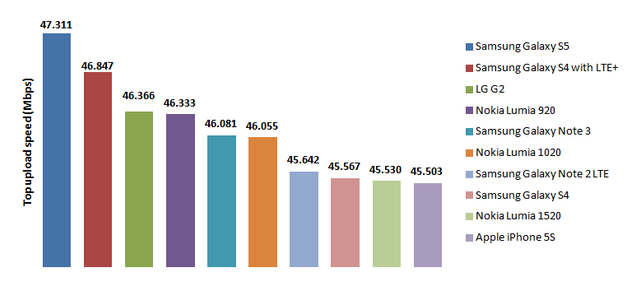 Source: ZDNet.com
If your preference is to consume content - e.g. watch movies or videos - then download speed is the key metric. The fastest smartphones for download speed are the Samsung Galaxy Note 3 and the aggressively priced OnePlus One, with the iPhone 6 taking third place. Once again, Samsung, LG and Nokia (NYSE:NOK) handsets place well in this race.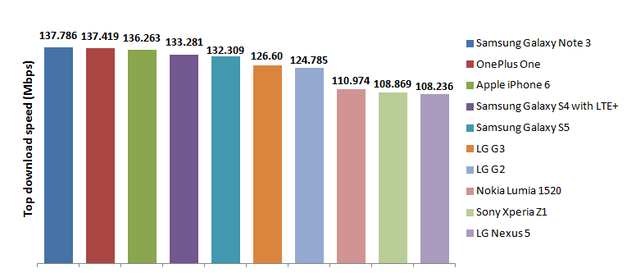 Source: ZDNet.com
LTE is an important feature for all the fastest phones. The last generation of 3G phones had upload and download speeds a fraction of their 4G counterparts. There cannot be much doubt that the advent of 4G has been a significant factor in the recent upgrade cycle. The older iPhone 4S, for example, has a down load speed of 12Mbps, less than one tenth of the iPhone 6. Apple has been pushing this older device into emerging markets in a strategy that may backfire when first-time users find their still expensive smartphone has upload and download speeds well below a lower-priced Lumia or Samsung 4G phone owned by one of their friends.
Samsung is likely to launch its latest and greatest Galaxy S6 sometime in February or March. With its recent market share losses consumers can expect the new Galaxy to be a major advance rather than a few tweaks.
I expect to see big advances in screen resolution, battery life, camera quality, processor speed (likely the latest Qualcomm 64-bit processor) and even faster upload and download speeds. Reeling from the attack from below by Xiaomi and other new entrants and under pressure above from the popularity of the iPhone 6 variants, Samsung should come out swinging. The fact that its existing Galaxies offer upload and download speeds fully competitive with the best iPhones gives Samsung the opportunity to further differentiate its line and no doubt its advertising focus will emphasize those differences.
The decline of Samsung has been more at the hands of Chinese local suppliers and less to do with iPhone competition. A Consumers Intelligence Research Partners LLC survey showed that over 80% of people buying a new iPhone 6 after its launch were those upgrading from an older iPhone, with considerably fewer coming from competing platforms than in 2013.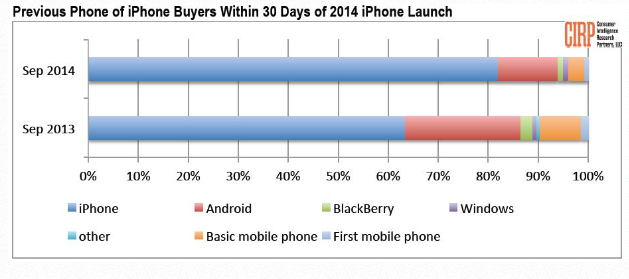 Source: CIRP data published by Dazeinfo.com
Samsung has a lot of work to do to reverse its recent share losses and consumers can expect aggressive competition to result. Competition in this space can only intensify and the companies with the most to lose are Samsung and Apple.
Intensified competition between Samsung and Apple can only help Xiaomi. Aggressive pricing by Samsung will make price an issue where low prices are Xiaomi's strength. An Apple response extolling the virtues of its hardware can only help Xiaomi since, in my opinion, its devices match or better iPhones on virtually every metric. The crossfire between Samsung and Apple will simply reinforce the Xiaomi value proposition - excellent devices at affordable prices.
Xiaomi's CEO thinks his company can overtake both Samsung and Apple within the next few years, according to Business Insider. I think so too. Great devices at low prices will be tough to compete with.
If Xiaomi goes public next year, I will be sure to buy in. I am short Apple through put options.
Disclosure: The author is short AAPL.
The author wrote this article themselves, and it expresses their own opinions. The author is not receiving compensation for it (other than from Seeking Alpha). The author has no business relationship with any company whose stock is mentioned in this article.
Editor's Note: This article discusses one or more securities that do not trade on a major U.S. exchange. Please be aware of the risks associated with these stocks.