Yongye International (NASDAQ:YONG) broke out of a five-month downtrend after investors learned that Morgan Stanley Private Equity Asia would make a $50 million equity investment in Yongye, purchasing preferred shares that are convertible at various price points up to $15/share. The transaction closed June 10. Simultaneously, Yongye announced that its chairman and CEO, Zishen Wu, would purchase up to $3 million in common shares in open market transactions, once a Rule 10b5-1 trading plan was in place.
[Click to enlarge]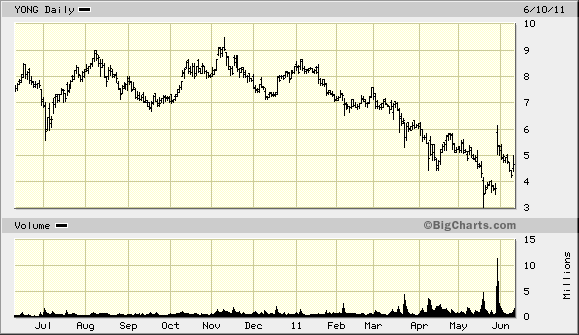 This is big news for the Chinese microcap fertilizer company, especially after Yongye was featured in a negative report by short seller Absaroka Capital Management. Yongye gets the credibility that a Morgan Stanley investment brings to the table, adds MSPEA's chief investment officer Homer Sun to Yonye's board of directors, and raises capital at a time when it is not needed but provides a nice buffer, with little dilution to investors.
The deal is a major step in the right direction, and a key reason why I remain heavily long Yongye (with an average price just under $5).
Disclosure: Long YONG.