Overview
In recent years airlines have moved from all inclusive tickets to a la carte passenger service. Even more recently, they have discovered that many passengers are willing to pay for seating that is better than regular economy, but still cheaper than First Class. This has led to range of seating options including economy plus, even more space, premium economy, etc. Delta Air Lines (NYSE:DAL) is taking it a step further with a five-tiered seating scheme.
The New Seating Scheme
| | |
| --- | --- |
| Fare Class | Features |
|   |   |
| Basic Economy | No Advanced Seat Selection, Non-Changeable, Non-Refundable |
| Main Cabin | Seat Selection During Purchase, Flight Changes Permitted |
| Delta Comfort | Priority Boarding, Dedicated Overhead Bin Space, Additional Leg Room |
| First Class | First to Board Rights, Preflight Drinks, Meal on Flights Over 900 Miles |
| Delta One | First Class Features, Full Flat-Bed Seats on Widebody aircraft |
Source: Three Point Aviation Services LLC
Advantages Of The New Scheme
Increasing seating options allows passengers to select the features they want and skip what they do not need. For those who like Delta's current Economy Class, the new Main Cabin Class will be comparable. However, for passengers looking for more legroom or dedicated overhead bin space, Delta Comfort is the way to go. Additional legroom is great, but it may be the overhead bin that really sells it. The price increase from Main Cabin to Delta Comfort will not be as great as the leap to First Class. Therefore, there is a good opportunity to upsell passengers from Main Cabin to Delta Comfort Class.
One of the main reasons for creating a new fare class system is increasing competition from low-cost carriers such as Spirit Airlines (NASDAQ:SAVE). The Basic Economy fares will offer prices closer to that of low-cost carriers, in an effort to reach price-sensitive passengers. A legacy carrier, like Delta, is not necessarily the first place a customer will look for cheap fares. However, thanks to travel websites, like Expedia (NASDAQ:EXPE), price-sensitive passengers will quickly find the new fare class.
For long-haul flights First Class will be split into "First Class" and "Delta One." First Class seating will be similar to current Business Class and available on all mainline flights. Delta One seating is the top class and will be available on long-haul international flights as well as some transcontinental flights. It includes lay-flat seating on widebody aircraft and will help Delta compete with other long-haul carriers such as American (NASDAQ:AAL), United (NYSE:UAL) and the many foreign carriers now providing direct U.S. flights.
In addition to the opportunity to increase total revenue, the new fare system improves Delta's revenue diversity. Diversifying revenue across a range of potential customers improves revenue reliability and stability. The new class scheme also gives Delta more flexibility to change prices (and class availability) in response to market conditions.
Drawbacks
The drawbacks to the new scheme seem to be fairly limited. The main concerns will be logistical issues associated with implementing the new fare classes and customer confusion. There will certainly be a transition period while Delta's staff becomes familiar with the new fare classes and related policies. The passenger side might be the larger and more long-term issue. If passengers find the new system confusing and/or irritating, Delta may be forced to re-merge some of the fare classes. However, there is only one way to find out.
Delta's Current Seat Yield
Revenue seat yield is the revenue that an airline generates on an average ticket divided by the miles flown. Delta is already leading the pack for per mile revenue. The new 5-tier system will improve Delta's bottom line in two ways. First, it may increase the average fare by upselling passengers from Basic Economy to Main Cabin Class, and Main Cabin to Delta Comfort Class.
Second, the Basic Economy Class will likely reach customers who otherwise would have flown a low-cost carrier. Yield per passenger mile only takes into consideration the price of tickets that have been sold. It does not factor in empty seats, which accounted for 19.8% of Delta's available seat miles in November.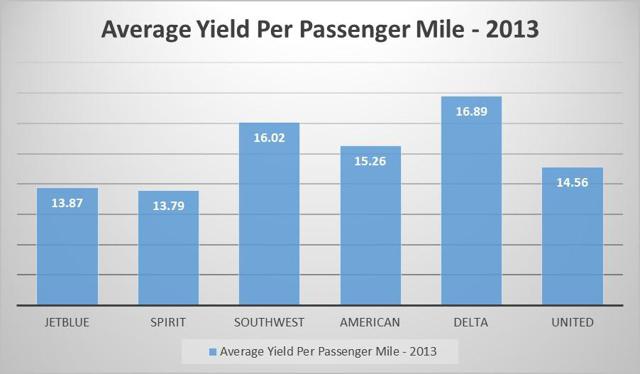 Source: Three Point Aviation Services LLC
If the Basic Economy Class is successful in filling empty seats, Delta could increase total revenue without increasing yield per seat mile. Using the new Basic Economy Class to fill seats may actually cause the yield per seat mile to come down slightly (because it takes into account all seats sold), but as long as Basic Economy does not steal too many passengers from the higher classes, total revenue will go up. Furthermore, airliners are becoming more like cruise ships, selling cheap tickets and making up revenue with ancillary sales. Even if Delta made very little from the additional passenger tickets, it could still benefit from baggage fees and liquor sales.
Conclusion
The new fare class system will certainly have a transition period that presents new challenges for employees and passengers, but the end result will be positive. Even if Delta later finds it necessary to re-simplify some of the fare classes, the resulting system will no doubt provide customers with more options and give Delta the opportunity to profit from it.
Disclosure: The author has no positions in any stocks mentioned, and no plans to initiate any positions within the next 72 hours.
The author wrote this article themselves, and it expresses their own opinions. The author is not receiving compensation for it (other than from Seeking Alpha). The author has no business relationship with any company whose stock is mentioned in this article.