On the front line of collapsing oil prices, major oilfield services firm Halliburton (NYSE:HAL) offers some insight into how the industry is adjusting. Since the OPEC announcement to keep production quotas intact, as made on November 27th, the consolidation in oilfield services reveals another significant turning point as the industry moves toward greater efficiency. On November 17th, Halliburton announced a $34.6 billion transaction to acquire Baker Hughes (BHI), the third-largest oilfield service company, mirroring this new order.
A sign of the times, the mega oilfield services firm sees opportunity in the area of mature fields. As noted in an earlier article, "Halliburton Exemplifies Unconventional and Conventional Oil and Gas Trends," mature fields globally are on the decline, but the right technology solutions can help recovery factors. Halliburton cited, "on average, 60% of IOCs' (international oil firms) portfolio fields are in decline, with the average decline rates being more than 8% per annum." Think Exxon Mobil (NYSE:XOM), Eni (NYSE:E), Chevron (NYSE:CVX), BP plc (NYSE:BP), Statoil (NYSE:STO). National oil companies have the same issue with declining fields, but they also lack the organizational capacity and expertise to sustain production, among other factors.
Conventional-Unconventional Dance
One year ago, all eyes were focused on unconventional oil and gas production. Today, Halliburton reminds us of serving conventional markets through national oil companies (NOCs) and majors. The pendulum has seemingly swung back to an equilibrium of emphasis between unconventional and conventional production, at least in the mind of an oil services heavyweight. From a December 10 conference, EVP and CFO McCollum offered a little insight into new opportunities:
"In a lower commodity price environment, mature field projects particularly in the NOC space internationally begin to high-grade in their portfolio. And the ability for us to take a combined set of product service lines and to execute those projects in a more dedicated basis we think is going to be second to none in the industry itself.

I see this as being able to gain a huge set of not just great assets, but undermanaged assets."
Why mature fields? Mature fields' production and reserves from an Analyst Day 2013 presentation offer a perspective. While mature fields production increases over time, reserves decline slowly over time. (And this also is the dilemma that markets are short-sighted about, that a Deloitte executive alluded to in this article of mine, on the decline curves.)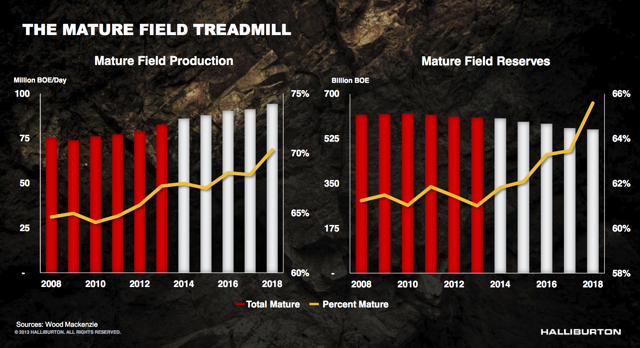 The services intensity for mature fields continues to grow, which is positive for oilfield services firms. This chart of 2013 may look different for the 2014-15 era, but it is also an indication as to why prices will rise again, eventually.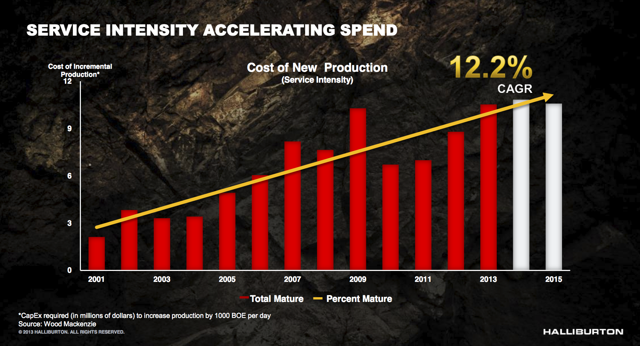 For Halliburton, the Middle East will be of renewed focus. Notes the executive:
In the Eastern Hemisphere, our Middle East Asia business continues to really - is sort of the paradox right while the Middle East seems to be the nexus of our current woes in terms of dropping prices and production, activity in the Middle East continues to really ramp.
Another plus for Halliburton with its Baker Hughes acquisition is the area of consolidated spending on R&D. "We're out there spending both, an equivalent to about $700 million, $800 million a piece, all doing the same R&D efforts around sensing technologies and drilling, other drilling in Wireline and reservoir characterization," notes the EVP in the conference. This will essentially cut combined R&D redundancy in the industry. He notes that other areas in need of development will be addressed as a combined entity.
Overall, McCollum suggests the company is "on track to basically deliver sequential revenue growth in the high single digits and margins that are approaching to 20% level... a very, very good outlook."
Other headwinds
The EVP cited headwinds in Europe, Africa and the Caspian regions, and of course, Russia. He notes, "The Russian activity has been down either for the sanctions or the fact that the ruble is significantly under pressure and we're not immune to the fact that the ruble has been weakening." The company also observes deepwater basin activity in West Africa and in the North Sea beginning to curtail.
The following chart depicts the state of mature fields by firm. Norway's Statoil, with a high proportion of mature fields in decline, is noted by Halliburton as "curtailing (activity) for a while and they've continued to curtail through this quarter." The executive also says the company is "beginning to see rigs lay down in the West Africa area. And we're also continuing to see delays in the North Africa area and Algeria and other as projects get pushed off." British Petroleum recently announced across-the-board spending reductions in the company, a downsizing of the firm.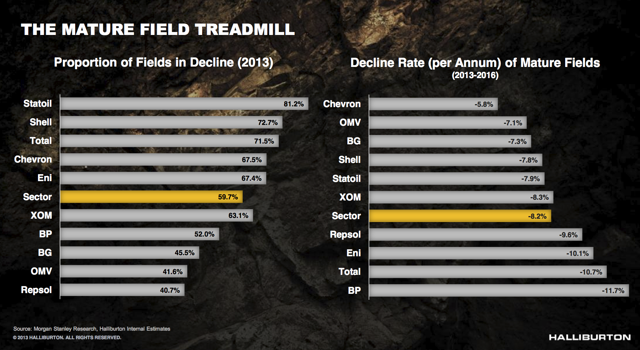 McCollum surmises that "some of the initial impact has been more in the international area than it has been in North America." But he concludes that "in the lower oil price environment, there is nowhere to hide." All markets will be equally affected, he suggests, with North America likely "adjusting as we go into 2015"; rigs will be laid down overall. However, Halliburton counters the cons with utilizing its assets and finding the opportunities in the apparent problems. The company plans to be aggressive in growing its footprint. The Baker Hughes transaction offers a major step toward that aim.
Finally, a reminder of the breakdown in ownership and production of oil and gas reserves reveals just who holds the power of the reserve. NOCs own the majority of the world's resources, though large independents like Occidental Petroleum (NYSE:OXY), Marathon (NYSE:MRO), Pioneer (NYSE:PXD) and Apache (NYSE:APA) are in the second place.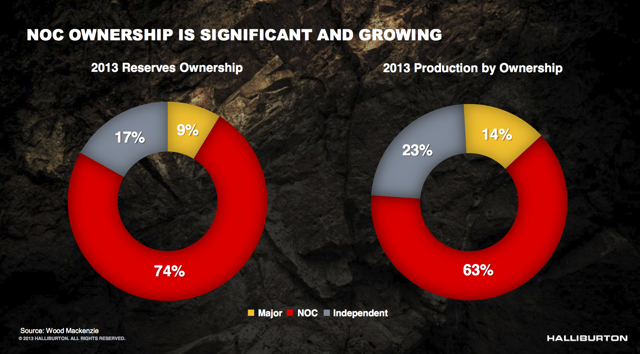 Outside of supply and demand fundamentals, owning vast amounts of the world's oil reserves counts for something. The trick now is figuring out how to re-assess the horizon that changed in the last few months.
Other Sources:
HAL IR page
Disclosure: The author is long OXY, APA.
The author wrote this article themselves, and it expresses their own opinions. The author is not receiving compensation for it (other than from Seeking Alpha). The author has no business relationship with any company whose stock is mentioned in this article.