By Ethan Coy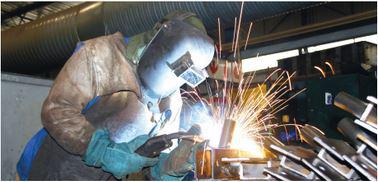 In his final address to the American people in 1961, President Dwight D. Eisenhower warned of the power of the growing "military industrial complex." To Eisenhower, having a well-armed nation was imperative, but he warned about the repercussions of the defense industry wielding influence. He encouraged the American people to beware of the "danger that public policy could itself become the captive of a scientific-technological elite." A look at the defense industry today would reveal that Eisenhower was right.
According to Fidelity, the U.S. aerospace and defense industry today encompasses major corporations valued together at over $600 billion. And, by no accident, many of the companies in this industry are headquartered around Washington, D.C. The defense industry is tremendously effective at lobbying, which procures government contracts. According to Open Secrets, the defense industry spent $134 million lobbying Congress in 2013, including almost $400,000 to Senator Thad Cochran (R-Ms). Bloomberg's Douglas Rothacker and his colleague George Ferguson write, "Mississippi Senator Thad Cochran's ascendancy to Appropriations Committee chairman in a Republican Senate, and support from shipbuilder Huntington Ingalls (NYSE:HII), may help Navy programs and the second-largest employer on the state's coast." Lockheed Martin's (NYSE:LMT) Joint Strike Fighter program, expected to cost over $1 trillion over its 50+ year lifespan, already 70% over budget, has infuriated Senator John McCain. Speaking on the Senate floor in June of this year, he said, "this is, of course, totally unacceptable. It is the kind of cronyism that should make us all vigilant against, as President Eisenhower warned us over 50 years ago, the military-industrial complex."
However, it's not just political lobbying that has caused defense budgets to balloon. Over the past year, there has been a tremendous increase in geopolitical conflicts, which have destabilized markets and increased global economic volatility. Amidst this volatility, the aerospace and defense industry has seen a significant growth in market capitalization, perhaps a direct result of investors seeking stable companies. Lockheed Martin, for example, has experienced a 40% rise in stock price in the past year, which has increased its market capitalization to almost $60 billion.
Wall Street analysts originally feared that sequestration would limit defense contractors' access to government funds. In fact, a projection done by George Mason Professor Stephen Fuller in conjunction with the Aerospace Industry Association estimates that half a million jobs would be lost in the defense industry as a result of sequestration. However, the impacts were quite contrary. For one, defense contracts tend to span many years and the effect of the sequester, therefore, did not substantially impact bottom line profits, explains Marjorie Censer and Jim Tankersley of the Washington Post. In addition, because of the defense industry's strong lobbying arm, it has continued to thrive. Even as other businesses with government contracts have had to tighten their belts, defense contractors have thrived as threats from ISIS and elsewhere force President Obama to work with Congress on funding military operations. And, because of America's reluctance to send more than military advisors to Iraq and Syria, America has fought a war largely through the use of UAVs, unmanned aerial vehicles, and powerful fighter jets. Despite fears that sequestration would stifle defense industry growth, the defense industry has outpaced the S&P since August 2, 2011.
Although defense contractors seem to be thriving, they have begun to diversify their business segments. Lockheed Martin, known for its aeronautics and missile systems, recently announced a design breakthrough in energy production that it believes would deliver functional fusion energy by 2020. Critics, however, have pointed to the lack of information Lockheed has released about its discovery, and doubt the feasibility of such technology. Northrop Grumman, another defense company, has recently begun to diversify its businesses by establishing itself in the cybersecurity market. Customers have entrusted Northrop Grumman (NYSE:NOC) with tremendous amounts of sensitive data (in many cases the customer is the U.S. government), and therefore, they must find a way to keep this information safe. So, if companies like Northrop Grumman develop technologies equipped to keep the U.S. government's information safe, there is an opportunity to leverage the technology and offer similar services to other companies.
In terms of geopolitical conflicts, ISIS is not the only global threat fueling defense spending. It is well known that China's military aggression has put pressure on Japan to increase its military expenditures, however, the threat China poses to the United States is not well publicized. For example, a late draft of the annual report of the bipartisan U.S.-China Economic and Security Review Commission described China's increased space warfare programs. These programs pose a threat to American satellites, which are vital to United States national security. The report concludes that, Congress should increase funding for naval deployments in Asia, among other expensive expenditures. If Congress takes these threats seriously, the defense industry would receive yet another significant boost.
President Eisenhower had a point; defense contractors do have significant political influence. But, Congress would not be agreeing to the demands of lobbyists if there were not such credible threats. And as the Senate now goes back into the hands of the Republicans, expect even more support for the defense industry coming from Capitol Hill. As long as the world remains dangerous and its future uncertain, defense contractors will continue to thrive.
Disclosure: None