The VIX is the hot topic right now among options traders. Most of us now know that last week marked the sixth straight decline for the S&P 500 (NYSEARCA:SPY). Yet options traders are puzzled by the fact that the VIX (known among many as the "fear index") continues to struggle to push above 20. A push past 20 is viewed among many options traders as bearish for the market.
However, there is a large contingency of options traders who view the lack of an accelerated move for the VIX as bullish. A reading below 20 means that investors are complacent as fear towards the current state of the market is low. The bulls view the correction as short-lived and more importantly anticipated.
I have to agree with the latter, because there are some true short-term extremes in the market including the equity put/call ratio, Nasdaq TICK, Up Issues Ratio, Up Volume Ratio, Stock/Bond Ratio, AAII Sentiment Survey – the list goes on.
With that being said, I would prefer to see another spike lower or capitulation to place the first credit spread in the HPMR credit spread options strategy.
Options Indicator: Overbought, Oversold
The tech-heavy Nasdaq 100 ETF (NASDAQ:QQQ) has reached a short-term oversold state. If the index ETF opens lower, there could be a potential trade in the HPMR options strategy. I love trading the QQQs for various reasons and I absolutely love the set-up right now. The options strategy has been patiently waiting a nice opportunity to extend the gains. Hopefully, this will be the day. Let's see what the indicators tell us.
I do find it interesting that over the years, when these lulls do occur, some subscribers do flee. They want action and are too short-sighted by the the excitement of trading options. Believe me, we have all been there. If they could only realize that patience coupled with sound risk-management is what makes an options strategy successful.
Remember: Cash is a position.
You can see all of the performance results for the High-Probability, Mean-Reversion strategy here.
Daily Options Links of Interest
Summary
Not much has changed over the past few weeks; range-bound trading persists. It appears we could see the markets move sideways for a few more months. Are the summer doldrums already upon us? How long can SPY stay in this range of roughly $126 to $137? The question is, while I continue trading extremes in the HPMR strategy, how can I take advantage of the range bound movement at the same time? You guessed it – a credit spread.
[Click all to enlarge]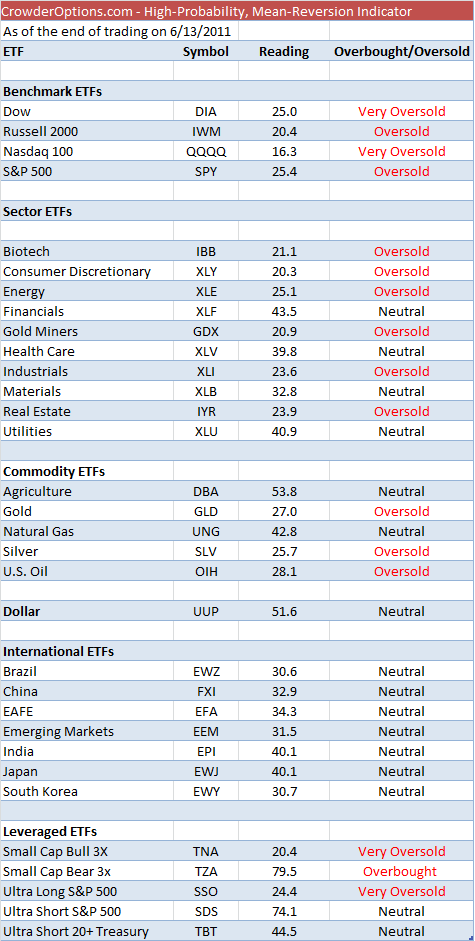 Disclosure: I have no positions in any stocks mentioned, but may initiate a long position in QQQ over the next 72 hours.