Airline firms have tried just about everything to alter the dynamics of the poor industry in which they operate. The most apparent trend in recent years has been the steady movement toward generating ancillary fees, especially the ones charged for checked baggage. According to a report released this week by the Department of Transportation (DOT), revenue generated from baggage fees by US airlines jumped to $3.4 billion in 2010 from $2.7 billion in 2009 and only $1.1 billion in 2008.
(Click chart to enlarge)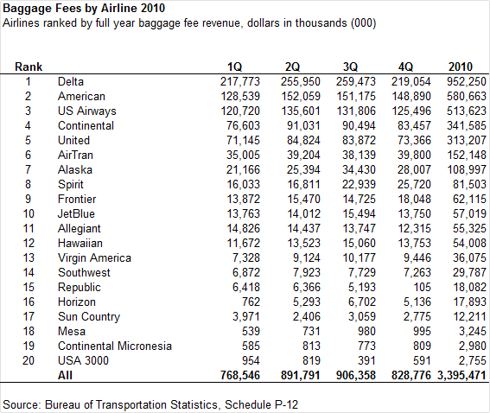 With expectations for further growth in baggage and other fees during 2011, it's not much of a stretch to assume that nearly all of airline profits this year, if achieved, will be driven by such ancillary income. The International Air Transport Association seems to think so, as it estimates that North American carriers will earn only about $1.2 billion in 2011, well below the group's expected fee income for the period.
Without a doubt, the rollout of ancillary fees has helped the airlines. For one, it has mitigated the impact of price transparency, one of the key drivers behind the real yield (fare) declines of the past few decades. However, one can argue that the implementation of ancillary fees has only been successful because it has made comparison-shopping increasingly more difficult for the consumer. Travelers largely look at the ticket price in choosing a carrier and don't necessarily factor in the hefty fees that airlines now charge to fly. Such a condition, however, will likely begin to change when the Department of Transportation's new rules take effect later this year:
Full Disclosure of Additional Fees

Airlines will also have to prominently disclose all potential fees on their websites, including but not limited to fees for baggage, meals, canceling or changing reservations, or advanced or upgraded seating. In addition, airlines and ticket agents will be required to refer passengers both before and after purchase to up-to-date baggage fee information, and to include all government taxes and fees in every advertised price. Previously, government taxes and fees were not required to be included in the up-front fare quotation. In addition, the rule announces that the Department will issue a supplemental notice of proposed rulemaking later this year that would require, among other things, that ancillary fees be displayed at all points of sale.
Although ancillary fees may continue to rise in 2011, we expect the new increased fee transparency across the industry to inhibit the "pricing games" airlines have been playing with customers and ultimately lessen the industry's ability to generate lucrative fee income growth in the years ahead. Investors know all too well what price transparency has done to real yields in the airline industry during the past few decades, and it would not be surprising to see the industry experience a similar competitive dynamic with respect to fee income. We maintain that there are better places for investors to put their money than the airline industry.
Disclosure: I am short AMR.