Company Background
Asta Funding is a consumer receivable asset management company specializing in the purchase, management and liquidation of performing and non-performing consumer receivables. Asta generates revenue and earnings primarily through the purchase and collection of performing and non-performing consumer receivables that have typically been either charged-off by the credit grantors or not considered to be prime receivables. These receivables include MasterCard (NYSE:MA), Visa (NYSE:V), other credit card accounts issued by banks, telecommunication accounts and other consumer loans issued by credit grantors. Asta may also purchase bulk receivable portfolios that include both distressed and non-conforming loans.
Asta Funding is down 20% since April, trading under $7 for the first time since December of last year. Despite the recent pessimism, the company is moving along just fine and is in a better position than a quarter ago. Basic NCAV (without adjusting for fully-amortized receivables) is up 1.9% to $9.77/share, providing upside of 50% to the current share price. As you can see below, the quality of the assets is increasing as the company's cash position increased by over $10 million to $91.8 million - (click charts to expand).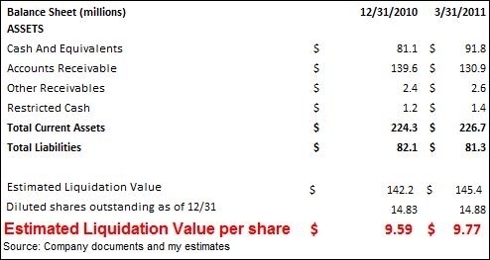 Q2 Results Review
Revenues increased 0.3% year over year (y/y) to $11.2 million, driven by a 300% increase in other income y/y to $0.1 million. G&A rose 7.1% to $5.65 million. The company's interest expense fell 32% y/y to $0.74 million as the company continues to pay off debt. Diluted EPS fell 3% y/y to 19.2 cents from 19.8 cents.
Fully-Amortized Receivables
The company has significant cash collections from portfolios that are not on the balance sheet. Either the portfolios have been written down or the company has already received the cash in excess of the cost (cost recovery accounting) or projected recoveries from the portfolios (interest method accounting). These receivables are not on the books and provide a source of upside not captured on the balance sheet and my estimate above. In the exhibit below, you can see the quarter by quarter collections from the fully amortized portfolios over the past 4 years.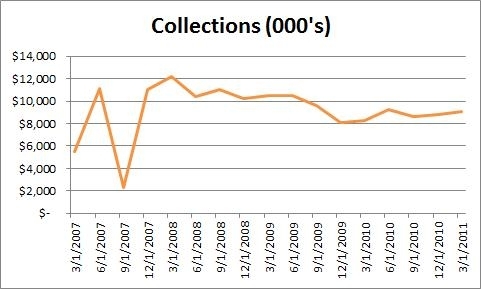 For the March quarter, this figure came in at $9.1 million, higher than I expected. A company that hasn't been growing its business for a number of years due to poor business conditions usually would have cash flows shrink but Asta has been able to continue generating cash from its fully amortized receivables in excess of its original expectations. After bottoming out at $8 million in the height of the recession in 2009, the company has seen a nice recovery in these cash flows as the economy has turned around.
I originally valued this asset at a very conservative 1x the trailing four quarters fully amortized receivables collections, which as of last quarter was $35 million, however I ignored taxes. I updated this estimate using the finance annuity formula. I estimated that the quarterly decay rate or at what rate this stream of cash flows will decrease is 4%. I based this estimate on the last 4 years of ASFI's fully amortized receivables collections. I assumed the standard 40% tax rate. I used a 10% equity discount rate. I also assumed that this stream of cash flows would last 3 years. I based this number on the disclosure in Asta's filing that stated that the majority of its receivables being accounted for with the interest method are expected to be collected in the next 3 years. The new estimate I came up with is $43.3 million. The detail of the calculation is available below.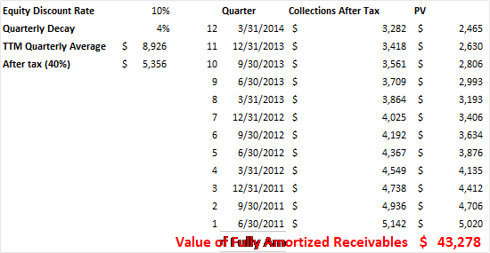 Adding this estimate to the original estimate of the assets on the book of $9.77/share, gives Asta a valuation of $12.68/share. In other words, there is upside of nearly 90% to current prices.
Conclusion
The low price of Asta still puzzles me, considering the value in the stock. I think that with no Street coverage and no earnings acceleration, it flies under the radar. The tumultuous few years when the company wrote down a lot of receivables and the unfortunate purchase of a huge portfolio right before the recession are also weighing on sentiment. Regardless, I still believe in the company. With the debt non-recourse and only tied up to receivables, cash sitting at $6.17 a share, the downside here is limited. I will take a bet on any company with this kind of risk-reward.
Disclosure: I am long ASFI.