On December 22, Materialise (NASDAQ:MTLS) will end its six-month lockup period. When this lockup expiration occurs, a number of important shareholders, including Sniper Investments, DVP Invest BVBA, and 5+ individuals, will find themselves able to sell their shares to the public.
Typically, this sudden increase in available shares leads to an appreciable decrease in share price for the stock in question. In turn, this can create an important short opportunity for investors
3D Printing, Software and Engineering Services
MTLS serves a number of industries with its 3D printing, software and engineering competencies. The company services diverse sectors such as aerospace, health care and design. Besides B2B sales and service, the company sells products directly to consumers.
Based in Leuven, Belgium, this company currently boasts a base of over 8,000 licenses. According to MTLS, it runs the world's biggest additive manufacturing center in Leuven. In 2013, this center printed over 500,000 prototypes, assembly parts, health care devices and products for consumers and businesses alike. Besides providing 3D printing services, MTLS also provides 3D printing software for other companies. This means that even as clients take their 3D printing operations in-house, they may well continue to do business with MTLS.
Despite Exciting Business, Poor Stock Performance
We can now place MTLS in the ever-growing list of companies that have good products and valid business models yet can't seem to ignite the imagination of the investment public. In addition, the firm's technical vision and corporate strategy seem competent but the company's modest growth is sobering, at least when it comes to short-term considerations.
On the day of its IPO, MTLS opened at $12 and closed at $11.55. The stock continued to disappoint over the following months, finally closing at $9.00 on December 10th.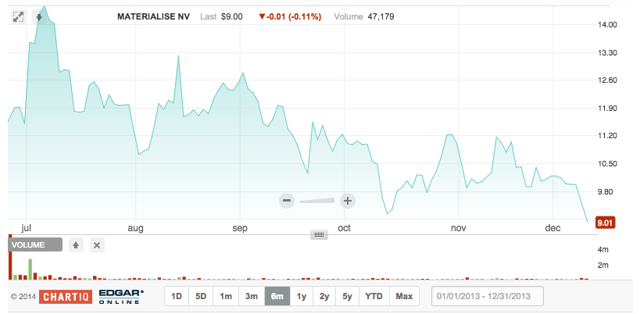 (Nasdaq.com)
Muted Gains, Bright Competitors
This performance is especially muted considering the fact that 3D printing is a vibrant field that has meshed well with the zeitgeist of the past few years. Unfortunately for MTLS, this same zeitgeist has produced a number of other serious competitors. These include industrial 3D printers Alphaphorm and Cresilas and home 3D printing companies Sculpteo and Shapeways.
Solid Results, Relatively Narrow Industry Focus
For the 2013 calendar year, MTLS reported $57.2 million in revenues, which represented a year-over-year increase of 17.6%. The firm reported a profit of $4.7 million, more than doubling the previous year's number. While these aren't bad numbers in and of themselves, they may not be impressive enough to justify the stock's price to date.
Also, a number of risks keep this stock from looking as attractive as it otherwise might. For example, MTLS has a limited scale of operation and as a provider for the health care industry, the company is exposed to expensive litigation.
Additional Background On Lockup Expirations
There is plenty of convincing, empirical evidence that lockup expirations can lead to short opportunities. Faculty members from the University of South Florida and the University of Kentucky published important studies pertaining to this phenomenon. This research found that on average, lockup expirations are shadowed by predictable, negatively abnormal returns and surges in trading volumes.
This surge in shares available to the public generally causes a complementary decline in price. Illuminating this principle, a combined study from Harvard and Duke placed this decline at 2% on average. Another study from NYU found a comparable decline of 1-3%.
For further clarification, we analyzed a sample of over 240 firms with lockup expirations in 2014 and last year. Our analysis suggested that the greatest negative returns (-5.5%) are witnessed within the Day (-11, +9) window surrounding each lockup event.
Conclusion: A Short Sale Materializes
Considering its ambitious plans and its current level of success, it is possible that MTLS can ultimately carve out a commanding market presence.
Due to the stock's tough first months of public trading, it is more than likely that the firm's upcoming lockup expiration will provide an ample short opportunity as major pre-IPO insiders could be ready to sell.
We encourage readers wishing to join the discussion on IPOs to click +FOLLOW above the title of this article - and those wishing for the latest updates to click +Get real time alerts.
Disclosure: The author is short MTLS.
The author wrote this article themselves, and it expresses their own opinions. The author is not receiving compensation for it (other than from Seeking Alpha). The author has no business relationship with any company whose stock is mentioned in this article.