The Canadian dollar continues to decline as the price of oil falls, adversely affecting export profits. CurrencyShares Canadian Dollar Trust (NYSEARCA:FXC) is down over 7% since July as oil prices have broadly declined.
Canada's dependence on oil for revenue is explained below:
"The oil sands in Alberta require high oil prices for the extraction of oil to be feasible. A fall in oil prices may make the production of oil in Alberta economically unfeasible. This may force the oil producers to reduce their production levels.

While large producers would be able to sustain the low oil prices and the resultant lower revenue and profit, small producers may face serious problems in sustaining themselves when exposed to low oil prices. The adverse effect on the oil industry may have a multiplier effect on Alberta's economy.

Other industries like retail, banking or the housing industry may suffer from dampened demand due to the slowdown in the major industry, oil. This may lead to lower GDP growth and higher unemployment in the oil-rich province," according to the Huffington Post Canada.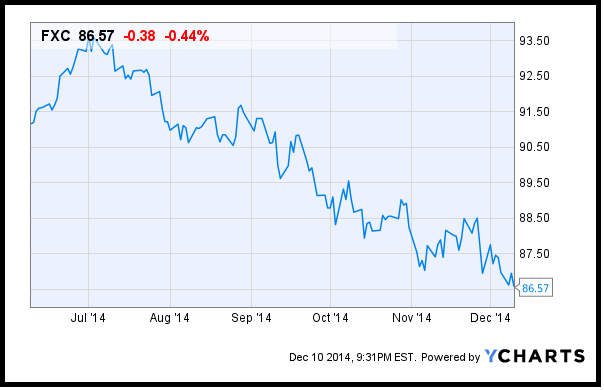 The price of oil has declined to multi-year lows in recent days as global oversupply concerns mount, alongside comments by the Organization of the Petroleum Exporting Countries. Similar to the move in the loonie, United States Oil (NYSEARCA:USO) has fallen over 40% since July, as is seen below. The most recent fall was due to OPEC leaders stating last week that daily production would remain at 30 million barrels per day. The move was seen as a strategy to squeeze out smaller energy producers in North America that may not be able to handle compressing margins. If OPEC would have cut production in an attempt to raise the global price, it would have given up market share to already expanding North American production.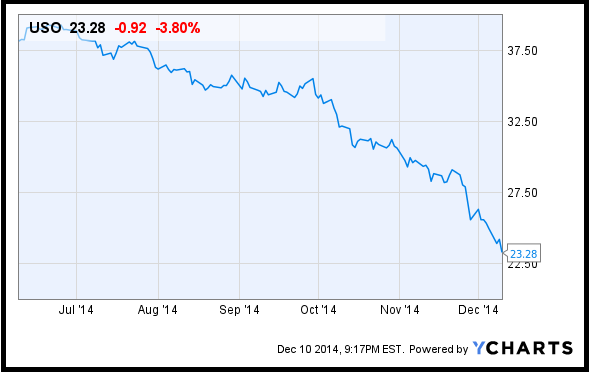 North American crude oil production has almost doubled the last few years, leading to a greater supply in global trade. As is seen below, U.S. oil production increased from 5.5 million barrels per day in 2011, to nearly 9 million barrels per day currently. In what is known as the "shale revolution," energy production in North America has spiked as technology became more advanced.
"The wave of new crude, flowing in oil fields from North Dakota to south Texas, helped keep the global market adequately supplied and helped markets weather declining oil production elsewhere in the world. Beyond the U.S., oil production increased in Canada as well, raising North America's profile as a global oil producer," according to a report by the Wall Street Journal.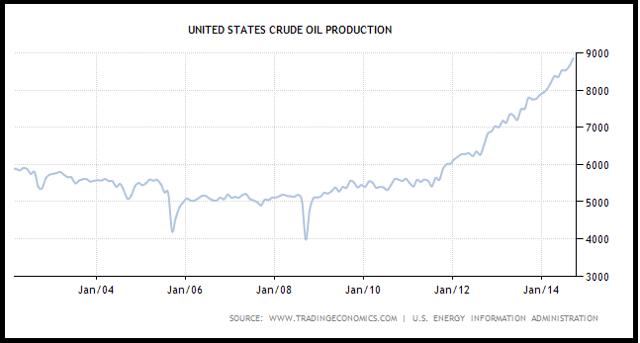 Data provided by Trading Economics
Meanwhile, falling exports in China have similarly weighed on the price of oil in global trade. China, the world's second largest economy, is a major energy consumer, and as its economy slows, so does demand for oil. On Sunday, the annual change in exports showed a reading of 4.7% for November, below the previous month's reading of 11.6%, as well as missing estimates for 8.2%.
As I wrote in a previous article:
"Chinese exports have strongly pulled back since peaking in 2010, going from over 30% annual growth, to now under 10%, as is seen in the chart below. Analysts expect weaker economic growth in the region, based on export data."
The supply-demand characteristics of oil are unappealing currently, which should weigh on the amount of revenue Canada is able to generate with oil exports. As was shown earlier, a global supply glut is weighing on prices, as well as slowing demand in China. As Canada's economy is adversely affected by declining export revenue, its currency should similarly suffer, keeping its downtrend intact.

Data provided by the People's Bank of China
Disclosure: The author has no positions in any stocks mentioned, and no plans to initiate any positions within the next 72 hours.
The author wrote this article themselves, and it expresses their own opinions. The author is not receiving compensation for it (other than from Seeking Alpha). The author has no business relationship with any company whose stock is mentioned in this article.