What more can go wrong for Seadrill's (NYSE:SDRL) shareholders? Not only do they have to come to terms with a massive decline in the value of their Seadrill holding as the offshore drilling business is steering towards tougher times, but their shares are now coming under additional selling pressure due to class action lawsuits.
That's right. U.S. law firms are already preparing for class action lawsuits, because Seadrill announced the suspension of its dividend payments at the end of last month. As we all know, Seadrill's announcement sent shares into a dangerous downward spiral. Yesterday alone, Seadrill closed down 7% lower.
Every time shares of a company drop substantially in value over a short period of time, law firms are sure to try to extract some settlement cash out of companies, which, unfortunately, is nothing really new.
In the case of Seadrill, national law firms have been stepping up their game this week. On December 9, 2014 it was reported that law firm Levi & Korsinsky is looking for shareholders to back its complaint against Seadrill for issuing misleading information about its dividend policy. The related press release specified:
NEW YORK, Dec. 9, 2014 (GLOBE NEWSWIRE) -- Levi & Korsinsky announces that a class action lawsuit has been commenced in the United States District Court for the Southern District of New York on behalf of investors who purchased Seadrill Limited ("Seadrill" or the "Company") (SDRL) American Depository Receipts ("ADRs") between July 10, 2014 and November 25, 2014.

The complaint alleges that Seadrill issued materially false and misleading information to the investing public. In particular, the complaint alleges that the Company issued statements suggesting that the Company would maintain its dividend until at least the end of 2015, but then on November 26, 2014, the Company disclosed it would indefinitely suspend its dividend, citing Seadrill's need to pay down its debt to strengthen its balance sheet.

If you suffered a loss in Seadrill you have until February 3, 2015 to request that the Court appoint you as lead plaintiff. Your ability to share in any recovery doesn't require that you serve as a lead plaintiff.
But Levi & Korsinsky is not the only law firm hoping for a payday and putting Seadrill's management under pressure. Yesterday, on December 10, 2014, is was reported that Robbins Arroyo LLP, a shareholder rights law firm, is also pursuing legal action against Seadrill for the same reasons as Levi & Korsinsky.
With lawsuits piling up, should you worry?
Well, first of all, if you are a Seadrill shareholder and you are still holding on to shares of the offshore driller, you already know more than anybody what real pain is. The vast majority of shareholders are likely to be deeply under water on their Seadrill investment: Since the beginning of the year, Seadrill has lost 72% of its value and the majority of such losses occurred just in the last few months.
Class action lawsuits definitely are a pain for Seadrill's management right now. They can be expensive, time-consuming, unnerving, and distract management from concentrating on its job. However, I think the involved law firms don't have the odds on their side to win a case against Seadrill in court. Proving Seadrill's intention to mislead investors will be virtually impossible.
Furthermore, the class action lawsuits allege that shareholders were hurt because of Seadrill's dividend suspension. But this argument neglects the point that paying down Seadrill's debt in light of a sector downturn is not to the detriment of shareholders. In fact, tackling its high debt is very much in the interest of shareholders who should see a lower-levered, more stable company that should be able to withstand a cyclical downturn in the drilling market.
Billionaire investor doubling down on Seadrill
At the beginning of this week it was also reported that Seadrill shareholder and billionaire investor John Fredriksen upped his stake in the embattled driller. According to information from Bloomberg, he scooped up $34 million worth of shares, which brings his stake in the offshore drilling company to $23.9%.
Transactions of large shareholders and other insiders are always something that I watch very closely: They give you a good feel about how strategic, long-term oriented investors with inside information see the business they have invested in. Endorsing Seadrill at $12.40, which purportedly is Fredriksen's purchase price, is certainly a vote of confidence in the company, and reaffirming my positive long-term view on the offshore drilling market as well.
Chart situation
Frankly, I haven't seen a more abominable chart than Seadrill's' in a very long time. Seadrill's shares have declined from over $40 -- Seadrill's latest 52-week high is at $41.29 -- to less than $12 yesterday, and they appear to be on track to trade in the single digits soon if negative momentum is not reversed instantaneously.
For the time being, Seadrill remains in extremely oversold territory with a Relative Strength Index signaling a value of just 16.92.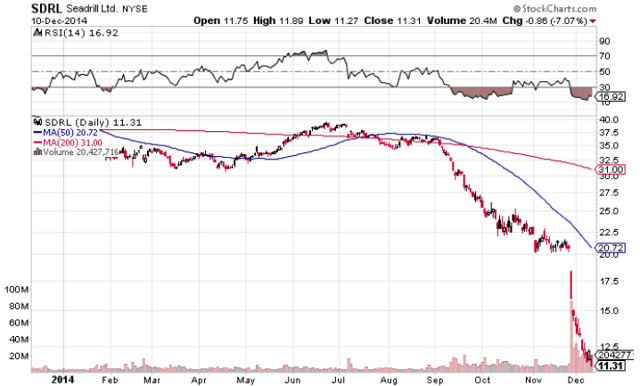 Source: StockCharts.com
Your Takeaway
I don't think the class action lawsuits have any merit at all, and they definitely should not have had an impact on Seadrill's share price. Seadrill's shares have been falling from one 52-week low to the next lately, and the lawsuits only added to the already high levels of selling pressure. Considering the amount of disappointing news -- Seadrill's dividend suspension and now fear-triggering lawsuits --, I wouldn't be surprised if Seadrill indeed fell below $10 in the near term.
However, it also helps to remind shareholders, that Seadrill cut its dividend because falling oil prices abruptly changed the narrative for offshore drillers in the second half of 2014 -- and companies do need to retain the right to adapt their distribution policies in light of a deteriorating macroeconomic situation. In other words: Seadrill had very valid reasons for suspending its dividend.
While Seadrill may suffer in the short-term from the psychological effects triggered by the class action lawsuits, I continue to stand by my long-term investment thesis on Seadrill. Long-term Buy.
Disclosure: The author is long SDRL.
The author wrote this article themselves, and it expresses their own opinions. The author is not receiving compensation for it (other than from Seeking Alpha). The author has no business relationship with any company whose stock is mentioned in this article.