In my recent arti­cle on Loril­lard (NYSE:LO), I empha­sized the eco­nomic ben­e­fits to com­pa­nies that sell addic­tive prod­ucts. Ever hear of a "crack-berry"? I am an addict. Hav­ing access to email wher­ever I went was far more impact­ful to my busi­ness pro­duc­tiv­ity than hav­ing a mobile phone. I still use my phone more for email than talk­ing or any­thing else by a wide margin.
When I tried to switch to an iPhone, I took it back imme­di­ately with dis­gust at how poorly the email worked and the lack of inte­gra­tion with the cal­en­dar. Even­tu­ally, in search of bet­ter net­work cov­er­age I decided to try a whiz-bang android phone. Again, I am, frankly, appalled with how poorly the email appli­ca­tion works. And the whole con­tacts and cal­en­dar sync process through Google [(NASDAQ:GOOG): very attrac­tive rat­ing] is buggy as well and often requires me to reset my phone to orig­i­nal fac­tory set­tings in order to work.
The point is that Research In Motion (RIMM) is extremely good at deliv­er­ing the busi­ness appli­ca­tions that mat­ter most to busi­ness con­sumers of mobile phone tech­nol­ogy. Those appli­ca­tions are email, con­tacts, cal­en­dar and, of course, phone. Being able to surf the web, watch movies and play games is nice, but not nec­es­sary in a busi­ness phone. In addi­tion, given the rapid pro­lif­er­a­tion of those nice-to-have fea­tures across mul­ti­ple mobile com­put­ing plat­forms, I see them as more of a com­mod­ity while I have come to see the qual­ity and sta­bil­ity of RIMM's busi­ness apps as more of a com­pet­i­tive differentiator.
Before you start boo­ing, allow me to present the rest of my argument.
Fig­ure 1: Depressed Stock Val­u­a­tion Belies Impres­sive ROIC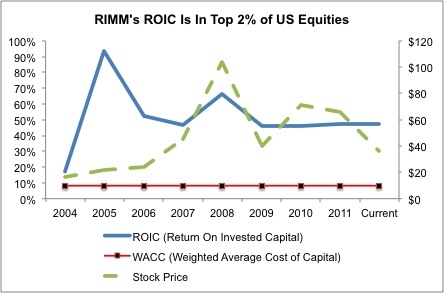 Sources: New Con­structs, LLC and com­pany filings
Yes, RIMM is los­ing mar­ket share and fast. Yes, RIMM's Black­berry Play­book tablet is a dud. Yes, the stock has been a stinker recently. And yes, none of what I wrote at the start of this arti­cle would mat­ter if the stock were not super cheap.
And by super cheap, I mean the stock is priced as if the com­pany will fade into irrel­e­vance. Specif­i­cally, the cur­rent val­u­a­tion of the stock (~$36) implies the company's after-tax cash flow [NOPAT] will per­ma­nently decline by 60%. In other words, RIMM's busi­ness will have to con­tract by a rather extra­or­di­nary amount to jus­tify the currently-low val­u­a­tion of the stock.
As is often the case in equity mar­kets, stocks over­shoot to the upside and to the down­side. RIMM is an excel­lent exam­ple of a stock whose val­u­a­tion had over­shot to the upside when sen­ti­ment was pos­i­tive. Now, it is an exam­ple of a stock that has over­shot to the down­side as sen­ti­ment has turned decid­edly neg­a­tive. You know the script: the more exu­ber­ant the pos­i­tive sen­ti­ment, the more ruth­less the neg­a­tive sentiment.
The depressed val­u­a­tion of RIMM gives investors a free option on RIMM mak­ing any sort of come­back. If RIMM is able to pro­duce a prod­uct that com­bines its industry-leading busi­ness apps with the nice-to-have consumer-friendly apps, its val­u­a­tion will rebound quite strongly.
In addi­tion, the loy­alty of its busi­ness con­sumer cus­tomer base, the industry-leading qual­ity of its busi­ness apps and its impres­sive prof­itabil­ity make RIMM an attrac­tive takeover tar­get, espe­cially when the stock is at such depressed levels.
Speak­ing of prof­itabil­ity, RIMM's return on invested cap­i­tal [ROIC] for fis­cal year 2011 was over 47%, which ranks in the top 2% of all 3000+ com­pa­nies New Con­structs cov­ers. Research In Motion has one of the most prof­itable busi­nesses in North Amer­ica in one of the fastest-growing sec­tors of our econ­omy: mobile computing.
As illus­trated by the fig­ure above, this high level of prof­itabil­ity not only makes RIMM an attrac­tive acqui­si­tion tar­get, but it also high­lights the issue weigh­ing on the stock: future profit growth prospects.
Assum­ing no future profit growth, RIMM's stock is worth over $85.
The risk/reward of this stock is compelling.
Though RIMM's prof­its are decel­er­at­ing strongly and will likely decline, it is not likely that the com­pany will incur a per­ma­nent 60% reduc­tion in prof­its as implied by the market's cur­rent val­u­a­tion of the stock. Accord­ingly, down­side risk to the stock is low.
Upside reward poten­tial is strong as the stock has to go over $85/share to trade at a value that implies the company's prof­its will expe­ri­ence a 0% decline, a no-growth sce­nario. If the com­pany does any­thing bet­ter than a 60% decline in prof­its, the stock has upside.
RIMM, both prof­itable and cheap, earns a "very attrac­tive" rat­ing and is one of June's most attrac­tive stocks.
I also rec­om­mend the fol­low­ing ETFs because of their "attrac­tive" rat­ing and expo­sure to RIMM.
Dis­clo­sure: I have a posi­tion in LO, and may ini­ti­ate a long posi­tion in RIMM and GOOG over the next 72 hours. I receive no com­pen­sa­tion to write about any spe­cific stock, sec­tor or theme.