Much of yesterday's losses on the Dow were attributable to the energy companies and the negative sentiment within the market is a result of investors not knowing what falling oil prices mean for the economy as a whole. The initial reaction is that falling oil prices have to be good for the consumer but when one looks at the global economy the fear that deflation could be setting in becomes a real possibility.
Inflation is scary but it is also the enemy that central bankers know best as they have been fighting it for the last half century almost exclusively. Deflation has for the most part been absent, and even where it has shown up those in charge have not had the same success fighting it as they have inflation. One would rather fight the enemy they know rather than the one they do not, so watch for central bankers to do everything they can to keep deflationary pressures at bay.
Chart of the Day:
With Greek stocks taking another beating today and investors having questions about whether Europe is going to fall into another recession, we think it a safe bet that Draghi will be allowed to do some sort of drastic quantitative easing program in the next 3-6 months. That would mean another leg down for the euro in US Dollar terms.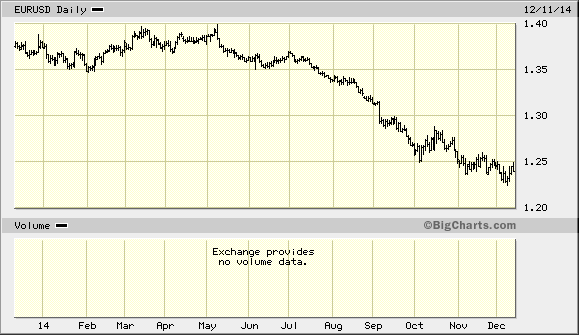 Source: BigCharts
We have economic news today, and it is as follows:
Initial Claims (8:30 a.m. EST): Est.: 295k Act: 294k
Continuing Claims (8:30 a.m. EST): Est.: 2350k Act: 2514k
Retail Sales (8:30 a.m. EST): Est.: 0.4% Act: 0.7%
Retail Sales-Ex Auto (8:30 a.m. EST): Est.: 0.2% Act: 0.5%
Export Prices-Ex Ag (8:30 a.m. EST): Est.: N/A Act: -1.2%
Import Prices-Ex Oil (8:30 a.m. EST): Est.: N/A Act: -0.2%
Business Inventories (10:00 a.m. EST): Est.: 0.2%
Natural Gas Inventories (10:30 a.m. EST): Est.: N/A
The Asian markets are lower today:
All Ordinaries - down 0.53%
Shanghai Composite - down 0.45%
Nikkei 225 - down 0.89%
NZSE 50 - down 0.39%
Seoul Composite - down 1.49%
In Europe, the markets are lower this morning:
CAC 40 - down 0.31%
DAX - up 0.24%
FTSE 100 - down 0.75%
OSE - down 0.18%
Banks' FOREX Trading Under Review
European banks Barclays (NYSE:BCS) and Deutsche Bank (NYSE:DB) are facing a probe from the New York banking regulator over its FOREX trading. New York's Department of Financial Services is interested in the two companies' trading algorithms and whether those algorithms either enabled or helped the firms to manipulate foreign currencies.
While it may seem as though regulators have already addressed this issue, the previously announced settlement with six large banks did not include Barclays or Deutsche Bank. Also, New York's DFS did not take part in that larger settlement as the regulating body wanted stiffer penalties than the other agencies which were included in the settlement.
Starboard Targets Office Retailers
It appears that activist investor Starboard Value could begin to push for a combination of Staples (NASDAQ:SPLS) and Office Depot (NYSE:ODP) after announcing that it had established a 5.1% stake in Staples while simultaneously increasing its stake in Office Depot to 9.9%. Office Depot has already been a consolidator within the office supply retail space and shown the tremendous cost savings available when overlapping retail locations can be closed and the distribution channel can be streamlined. A combination of Staples and Office Depot, assuming it could get past regulators, would create a much more formidable competitor to Wal-Mart (NYSE:WMT) and Amazon (NASDAQ:AMZN) as it would have greater buying power and lower costs than the two office supply retailers currently enjoy.
Walgreens CEO To Step Down
Before the market closed yesterday it was announced that Walgreens (WAG) CEO Greg Wasson would step down as soon as the company's AllianceBoots acquisition closed. Assuming the CEO role while the company conducts a comprehensive search will be the current CEO of AllianceBoots, Stefano Pessina. The company's shares moved higher on the news.
Tech Company To Cut Jobs?
The Wall Street Journal is reporting that eBay (NASDAQ:EBAY) could cut thousands of jobs ahead of the IPO of PayPal, which is scheduled to take place in early 2015. The move would create a leaner, meaner eBay as the vast majority of those jobs would be focused on the company's flagship marketplace segment.
Disclosure: The author has no positions in any stocks mentioned, and no plans to initiate any positions within the next 72 hours.
The author wrote this article themselves, and it expresses their own opinions. The author is not receiving compensation for it (other than from Seeking Alpha). The author has no business relationship with any company whose stock is mentioned in this article.