Many of us grew up with a Sears (NASDAQ:SHLD) retail store nearby. Obviously the Sears business model has not kept up with the changing market and customer demand for the last decade or so. That said, we find it intriguing that Sears Holdings now has a stock warrant trading and that is what we are showcasing in this article.
On November 19th stock warrants started trading on Sears Holdings Corporation. The warrants were issued in connection with a rights offering of $625 million of 8% senior unsecured notes due in 2019 and warrants to purchase shares of common stock.
The warrants trading under the symbol of SHLDW give the holder the right, but not the obligation, to buy one common share at a price of $28.41 and will expire on December 15, 2019. The exercise price was determined as the last price of the common before the rights offering.
Let me give you some more information on Sears Holdings and then below I will give you my ideas on how to play this situation.
Sears is actually a company with two stories, one of a retailer of questionable longevity and one as the owner of a large portfolio of real estate with the possibility of a REIT being created for the properties, as seems to be happening with Saks Fifth Avenue and its properties.
Retail operations:
"Sears Holdings Corporation is a leading integrated retailer focused on seamlessly connecting the digital and physical shopping experiences to serve our members - wherever, whenever and however they want to shop. Sears Holdings is home to Shop Your Way, a social shopping platform offering members rewards for shopping at Sears and Kmart as well as with other retail partners across categories important to them. The company operates through its subsidiaries, including Sears, Roebuck and Co."
Management remains confident as we quote Edward S. Lampert, Sears Holdings' Chairman and Chief Executive Officer:
"During the quarter, we unveiled or expanded several Integrated Retail customer initiatives, which helped drive online and multi-channel sales. Our members are responding to our transformation, and we are encouraged by the year-over-year domestic Adjusted EBITDA trends, which mark a positive departure from the prior six quarters. At the same time, we continue to enhance the Company's capital structure and liquidity to support our transformation into an integrated membership-focused company."
Unfortunately, losses continue as Third Quarter 2014 Results were just released on December 4th.
Sears Holdings Reports Third Quarter 2014 Results
"Sears Holdings Corporation….today announced financial results for its third quarter ended November 1, 2014 in line with the third quarter estimate provided on November 7, 2014. Net loss attributable to Sears Holdings' shareholders was $548 million ($5.15 loss per diluted share) for the third quarter of 2014, compared to $534 ($5.03 loss per diluted share) for the prior year third quarter…."
Unless you are the eternal optimist perhaps investors should not be interested in SHLD for the retail operations.
We found this article on 247wallst.com on May 13, 2014, titled, What's Left of Sears to Liquidate?
"A former executive with Sears Holdings Corp. said late last week that his former company should "embrace the inevitable" and liquidate. Steven P. Dennis was a vice president with Sears who left the company in 2003 and refers to what is happening with his former company as the "world's slowest liquidation sale."
Real estate:
In my opinion, the potential value for SHLD is tied up in its real estate holdings and will therefore keep a floor on how far down the shares could fall in the event of a market pull back in the U.S. markets.
To quote from the website, "SHC Realty (the real estate business unit of Sears Holdings) is one of the largest corporate real estate organizations in the world, with a portfolio of retail locations that is second to none. Together with retailers, brokers, and investors, we aim to deliver a solution that offers the greatest benefit to you."
We found this interesting article dated February 2014 on Bloomberg.com discussing the valuation of the real estate properties.
"Appraisals of Sears' real estate portfolio vary widely.
Baker Street Capital last year valued it at more than $7 billion. McGinley says Sears has already sold its best properties and say the portfolio is worth about $4 billion...."
"...Sears Holdings strategy is to use the real estate we occupy productively," Howard Riefs, a Sears spokesman, said in an e-mail. "That means generating enough profit from our operations and, if we can't do that, deriving profit by using it in other ways."
"Analysts including McGinley speculate that Sears may be planning to spin off Seritage into a separately traded real estate investment trust. REITs generate at least three quarters of their income from rents or interest on mortgages financing real estate. They pay no corporate income tax in exchange for paying out 90 percent of taxable income to shareholders through dividends.
While setting up the separate entity could be a precursor to creating a separately traded REIT, "there's not a whole lot of appetite" for a company with only one tenant in its portfolio, McGinley said. For example, mall operator General Growth Properties Inc. (NYSE:GGP) has multiple tenants."
As I write this piece I don't see any move by Sears Holdings to create a REIT but this is where the potential value lies and what could be the catalyst for a large rise in the share price which would make the stock warrants an interesting speculation.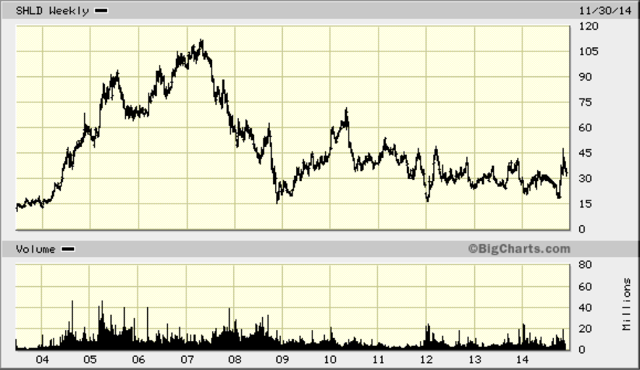 In this snapshot chart of Sears courtesy of BigCharts.com, we see the shares actually peaked around $120 in 2007 and it has been a rocky and volatile road ever since.
However, this is a chart where one can make money. From $120 down to $15 back up to $70 down to $15 up to $45 down to $20, well you get it.
Volatility is essential for traders in today's markets and Sears looks like an interesting trading vehicle and now we have a warrant trading to throw into the mix creating even more opportunities.
A few ideas:
If you believe the shares are over priced and the retail operations will continue to underperform the industry, then perhaps you should:
· Sell short the common
· Sell short the warrants
· Buy the warrants and short the shares
· Buy a call option, i.e. June 2015, strike price $35 for $6.00 and short the warrants
If you believe the shares are greatly undervalued because of the company's real estate holdings and that the shares will rise say to $50 or more then perhaps you would want to buy and hold the warrants but they appear to be currently overvalued by our calculations.
With the warrants closing on Friday December 5th at $20.20 I have placed a valuation rating on the warrant as - overvalued.
Common share price - $33.31
Warrant exercise price $28.41
Intrinsic value $ 4.90
Thus with the warrants trading at $20.20 and the intrinsic value at only $4.90, there is little doubt that the warrants are currently overpriced by the markets.
Black-Scholes Valuation:
Rarely do I consider the use of the Black-Scholes Formula because investors must make certain assumptions, i.e., "annual risk-free interest rate" and "annualized volatility." A slight difference in these assumptions makes a major difference in the valuation of the warrants.
However knowing that many readers like to value options and warrants using this formula let's see how that calculation would value the warrants.
Currently if you use a 2% annual risk-free interest rate and annualized volatility of 50% you would get a value of $16.60.
Alternative, if you use a 2% annual risk-free interest rate and annualized volatility of 10% you would get a value of $8.00.
What an incredible difference in valuation based upon the variables used in the formula.
Sidney Fried in "The Speculative Merits of Common Stock Warrants" copyrighted in 1961, well before Black-Scholes, uses what I call a "what if" formula. What if the value of the common shares rise 100% then what will the warrant do? This was a simple calculation for Sidney Fried and us as the desired result should be approximately a 2 to 1 leverage, meaning the warrants should result in a gain of 2 to 1 over the common shares. Those interested can get a free copy of Sidney Fried's masterpiece on our website, here.
With the markets in the U.S. over extended to the upside, if the shares dropped back down to $25 we could possibility see the warrants at $8 or below which would get us much more excited about taking a long position in the warrants given the five-year life.
Every one of you reading this will have a different opinion as the future of Sears and that is what makes SHLD and SHLDW an interesting situation. Go long, go short or hedge, all exciting opportunities.
Stock warrants can greatly increase your gains but stock warrants also can reduce your potential losses in the event the common shares do not perform up to your expectations.
We trust this example gives you more insight into the opportunities with stock warrants and in some cases, limiting your loss using warrants instead of buying the common shares also works to the advantage of investors by saving you money.
Disclosure: The author has no positions in any stocks mentioned, and no plans to initiate any positions within the next 72 hours.
The author wrote this article themselves, and it expresses their own opinions. The author is not receiving compensation for it. The author has no business relationship with any company whose stock is mentioned in this article.