Summary
REX American Resources (NYSE:REX) is the superior performer among the "pure play" ethanol companies, with by far the strongest balance sheet, profit margins and earnings prowess.
REX has posted increasing "best-ever" earnings each of the past four quarters (Q4, Q1, Q2, Q3) and looks to boost its robust earnings in coming quarters after recently eliminating all debt / finance charges and renewing its several-year program of buying back shares from its fast-growing cash stash.
REX over this same period has grown its trailing twelve-month earnings-per-share from 1.80 to an astonishing 10.15 EPS. Recently trading at a stock-price around $60 ($59.42 on Dec. 10 close), REX is ridiculously under-valued at a P/E under 6, an insanely low valuation for a company that has grown earnings this substantially and has taken the steps to foster strong EPS into the future.
A very conservative trailing P/E of 10 would zoom REX shares to $101.50 or roughly 70% higher, and a P/E of just 12 would be a double-gainer from here. Note well that REX and peers GPRE and PEIX often traded at P/Es in the mid-teens and even twenties for the first eight months of 2014.
I expect a price-target for REX of $100-$120 to be hit within several months as some sanity returns to the stockmarket after indiscriminate selling of all energy-related names with the ever-deepening plunge of oil prices since late September and the crash of ethanol prices from Sept. 11 into October and since Dec. 3 when front-month futures shifted to January's lower futures prices (yet REX is still selling ethanol at spot/cash prices 50 cents higher per gallon).
Even more generous P/E multiples for the ethanol sector will likely return in Winter-Spring 2015, as railcar congestion and robust export-demand from nations including Brazil drive ethanol prices back up (as happened in Winter-Spring 2014), and corn stays well under $4 on the largest corn crop in USA history, piling up inventories far into 2016.
Last but not least, with REX's already small share-float shrinking on renewed buybacks, and with many new institutions inaugurating and/or increasing their holdings in REX in 2014, conditions are setting up for a major "short squeeze" against those who indiscriminately shorted REX as part of the energy sector. The effect would be heightened if/when REX grants a dividend from its hefty cash-stash.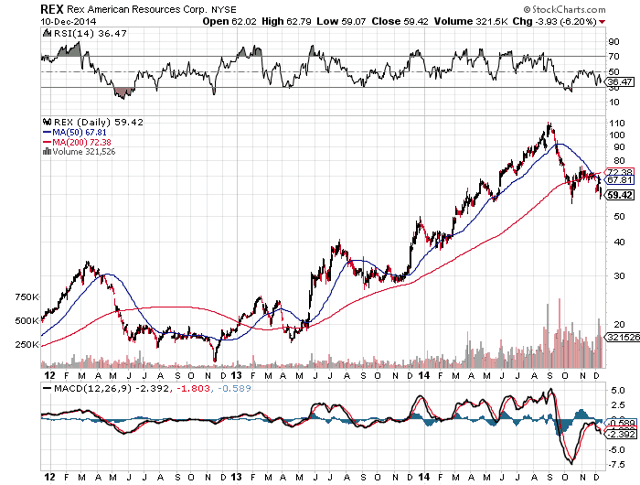 The 3-year chart shows REX surviving the 2012 "epic" Corn Belt drought ("the worst in fifty years") and high corn prices, and then shows the meteoric rise of REX's stock-price on stupendous earnings growth. The chart also shows, most recently, the steep share-price drop on widespread, panicked, and indiscriminate selling of nearly all energy-sector stocks and also on the misperception that volatility in ethanol futures actually affects companies like REX that switched months ago to selling their ethanol on much higher spot/cash pricing. This share-price drop presents savvy investors with what appears to be a unique opportunity to buy a severely under-valued company.
In late May of 2014, I wrote here a long introduction to ethanol producer REX American Resources and its tremendous earnings performance and prospects, with lots of background information on these "boom times" for the ethanol sector since Fall 2013.
An earlier version of that article from mid-May 2014 was unfortunately lost to a computer/cloud glitch and so could not be published when the stock was still trading around $56-$57 a share. When the article was finally published at Seeking Alpha on May 30, REX shares were trading around $70-$73 after the run-up from its splendid Q1 earnings-report a few days earlier (May 28). Since then, the stock continued to move up strongly, hitting an all-time closing high of $108.16 on August 28 the day after Q2 earnings report, and touching an intraday high of $110.65 the next day before settling on some profit-taking to just under $107 share.
With the sudden and unexpected crash of ethanol prices on Sep. 11-12th, the share-prices of REX and peers Green Plains (NASDAQ:GPRE), Pacific Ethanol (NASDAQ:PEIX), et alia plummeted, joined in misery by collapsing stock-prices for nearly all energy-related companies as oil-prices began their steep descent to today's (Dec. 10) five-year lows. I was extremely busy in September and when, in mid-month, I was finally able to examine trends more closely, I sold all REX shares around the $87 level for 49% gains on top of small gains from trades enacted soon after I first discovered the company in early March. Those who took their profits over $100/share did very well in a short time-period.
REX's intraday stock-price high on August 29 represented a 58% gain in just three months since my Seeking Alpha article on REX appeared (better than I predicted), and fully 94% higher than when I was strongly urging a "Buy" at the InvestorsHub.com Junior Energy discussion board in the third week of May, when REX could still be bought around $57.
My EPS projections for REX in those May 2014 posts were easily beat by the company on May 28 with their Q1 earnings report of 2.67 EPS for the quarter, and then again on August 27 with their Q2 report of 2.68 EPS. Most recently, on Dec. 4, REX far exceeded my reduced expectations by reporting stunningly good results, an all-time best-ever EPS of 2.86 for their Q3 period (Aug.-Sept.-Oct.).
This was during a time when almost everyone studying the company, myself included, expected REX to underperform their Q1 and Q2 earnings because of the crash of ethanol prices from Sept. 11 into October, and the lower prices since June for dried distillers grains or DDGs, the primary byproduct that ethanol companies produce from their leftover corn after manufacturing ethanol biofuel from that corn.
REX achieved that Q3 $2.86 EPS with…
average ethanol selling price of only $1.89/gallon for Q3 on 58.4 million gallons sold (down from Q2's $2.18/gal and Q1's $2.14/gal prices);
average DDGs selling price of $145.87/ton on 158,409 tons sold (down from Q2's $193/ton and Q1's $209/ton prices); and
average corn costs of just $3.64/bushel (down from Q2's $4.47/bushel and Q1's $4.36/bushel prices); one divides by a standard industry factor of 2.8 to get REX's corn input cost of just $1.30 per gallon of ethanol sold, for a basic "crush spread" profit of 59 cents per gallon. (Prior 10-Q quarterly reports from REX state that they averaged 58 cents crush spreads for Q1 and for Q2.)
As usual for REX, their procurement cost for corn was below the CBOT average, a boon based on the strategic location of their ethanol plants very close to major corn growers in the Midwest.
So here's an important takeaway point from this article: it's obvious that REX's low corn costs easily trumped the industry's lower selling prices for ethanol and DDGs. And this portends continued strength for REX despite some observers' concern over lower 2015 futures contracts for ethanol. REX's CEO Stuart Rose on the Dec. 4 earnings call explicitly stated that REX will outperform the ethanol sector going forward, on the strength of its lower input costs, its superior profit margins, its state-of-the-art Fagen/ICM ethanol plants, and its consistently better railcar access for transporting its ethanol.
Breaking it down further, ethanol represented 80% of REX's net sales for Q3, while DDGs represented just 17%, and corn oil 3%. Two cents of REX's 2.86 EPS came from their "discontinued operations" realty leasing segment.
By contrast, REX's two peers, Green Plains and Pacific Ethanol had third quarters that ended on Sep. 30, sparing them most of the brunt of the temporarily depressed ethanol prices (they will get hit with October's low prices in their Q4 results). With their chronically smaller profit margins and much higher share-counts, these companies did not come close to achieving REX's earnings-per-share. GPRE posted EPS of 1.03 on 246.9 million gallons of ethanol production and other revenue streams, with a net profit margin of 4.58% and an operating margin of 8.47%. PEIX posted a GAAP EPS of 0.15 and more realistic adjusted EPS of 0.33 on 46.8 million gallons of ethanol production plus a third-party distribution agreement for another 86.9 million gallons, with an overall net profit margin of only 1.63% and an operating margin of 8.9%.
REX's net profit margin for Q3 was 14%, three times better than GPRE's, almost nine times better than PEIX's. And REX's operating margin was 19.9%, double that of its two main "pure-play ethanol" peers.
In fairness, Green Plains conservatively hedges prices for the majority of their yearly production (e.g., management says 65% hedged for Q4), and also has had some problems with railcar availability the last two quarters because of plant locations less optimally sited than where REX's two majority-ownership plants (NuGen and OneEarth) and five minority-ownership plants (Patriot and four Big River plants) are situated.
Pacific Ethanol, the major producer and distributor for ethanol in the western USA, pays a good amount to transport corn to their plant locations in the western states, which eats into the profit margins. For Q3, PEIX paid a CBOT corn price of $3.88/bushel but an additional $1.27 basis for a total delivered cost of $5.15/bushel for their corn. Because of a slightly lower conversion rate, that's a $1.88 input cost per ethanol gallon, 58 cents higher per gallon than REX's corn costs in Q3, albeit these costs are partially compensated by the West Coast premium they get for selling their ethanol (in Q3, a 30-cent premium on average). PEIX also has had to deal with a temporary warrant overhang and Fair Value Assessment non-cash charges in Q1 and Q3 which have cut into their reported GAAP earnings for those quarters, making PEIX seem less profitable than they actually are. In terms of more realistic adjusted earnings, given that PEIX has already posted 2.26 EPS for three quarters in 2014, they should achieve at least 2.60 EPS for the year, but financial sites like Yahoo and the New York Times will only base the stock's P/E on the much lower GAAP EPS number. (From my remarks, the reader will gather that I'm very bullish on PEIX shares, too, though their profitability is less obvious than REX's to the casual investor. And casual investors apparently include too many institutional investors who don't look deeply into a company's fundamentals when investing in hundreds of stocks, ETFs, mutual funds and bonds.)
As for REX, along with earnings of 1.95 EPS for Q4'13, they now carry a hefty trailing twelve-month EPS of 10.15, a huge jump from their trailing EPS this past Winter when that trailing EPS sat at 1.80, coming off 2013's punitively high corn costs as a result of the 2012 Corn Belt drought, the worst in 50 years. Thankfully, such drought events have been rare in the Midwest, while terrible droughts and other "extreme weather events" due to climate change have often afflicted other regions of the USA and the rest of the planet in recent decades.
For REX's Q4, which began Nov. 1 and ends Jan. 31, 2015, I realistically expect at least 2.80 EPS up to as high as 3.20 EPS or maybe even higher. I base this on the fact that their lower-than-CBOT corn costs look to fall to or below $3.60/bushel and their ethanol selling price on spot/cash will likely average at least $1.90 per gallon if not a dime or two higher.
In fact, the 20-day average ethanol spot pricing up to Dec. 10 has been a lofty $2.184/gallon and the same 20-day average cash price for corn has been $3.694/bushel, with REX probably benefitting from even lower prices down in the mid-$3.50s to $3.60/bushel. This would entail a corn input-cost of around $1.28 per gallon of ethanol for REX, creating a "basic crush-spread" profit of around 90 cents per gallon of ethanol--far more lucrative than the basic crush spread of 59 cents per gallon they enjoyed in Q3.
So let's just say they're getting 30 cents better per gallon for their 58.4M gallons they sell this quarter (based on Q3 statistics for amount of ethanol sold). That represents an extra $17.5 million in revenues.
Here one has to subtract some revenues on REX's sales of dried distiller grains, because on the last earnings call CFO Doug Bruggeman told one analyst that REX was getting a lower price for DDGs than for Q3's $145.87/ton on 158,409 tons sold, a total of $22.1 million in DDGs sales. If we "guesstimate" just $130/ton and the same volume, $20.6 million would be collected for that segment, $1.5 million less than in Q3.
So take the extra $17.5 million in revenues from the healthy crush spread on low corn costs and good ethanol spot pricing, subtract the $1.5 million for lower DDGs revenues, and multiply that extra $16 million by REX's 14% net profit margin to get an extra $2.24 million or so in net income, representing somewhere around an additional 0.27 in EPS for Q4. Assuming all other line-items from REX's Q3 total the same for Q4, that would put REX's EPS up at 3.13 (2.86 plus 0.27) for their fourth quarter.
Yet REX will have extra boosts to its bottom line earnings for the current quarter, in the form of slashed debt-interest payments and a significantly lower share-count as a result of recent activity in paying off all debt and vigorously repurchasing their own shares.
So we can add nearly 4 cents boost to EPS on approximately $300k less in interest payments, and about 5 extra cents of EPS based on REX's repurchasing of nearly 179,000 of their own shares at share-prices averaging over $68 in Q3 and in November, bringing their share-count down to 8.0 million.
This would bring my Q4 earnings scenario up to 3.22 EPS.
REX may enjoy an even bigger boost to EPS for Q4 if the company has been repurchasing more shares of their own company on the recent steep dips on Dec. 4th, 8th, 9th and 10th into the low $60s and upper $50s with further panic in the energy sector, now afflicting the main stock-market indices.
It is for all these reasons I now strongly think REX can do at least 2.80 up to 3.20 EPS for Q4 if present trends continue. Even if ethanol spot prices suddenly plummeted and sagged below $2/gal for the last half of REX's Q4, I think REX could still do around 3.00 EPS for Q4 given all the aforementioned factors. And an EPS of 3.00 posted for Q4 would bring their trailing 12-month EPS up to 11.21.
The bigger question is: would the market finally reward that level of performance with a higher P/E? I bet, "eventually, YES!" This is the kind of investing situation that would make value investors like Benjamin Graham and growth investors like Peter Lynch salivate.
~~~~~~~~~~~~~~~~~~
REX's cash position and what it is doing with that cash
REX added $20M in cash for Q1 and $27M in cash for Q2, and then a lot more cash for Q3, bringing their cash and cash equivalents to $164.32M as of Oct. 31, 2014.
By contrast, REX's far more publicized peer, Green Plains , as of Sep. 30 has $411.1 million in cash but a massive $615.6 million in debt from several advantageous plant acquisitions in recent years. Pacific Ethanol had $56.3 million in cash as of Sep. 30, but management notes that $14 million of $16 million in capital expenditures still remains to be spent in Winter-Spring (for inaugurating corn oil production at two plants, etc.); PEIX had $30 million in debt at quarter's end but since then paid off the $13 million of debt at the parent level; the other $17 million, at the consolidated plant level, has punitive early payoff terms, and so is better reduced over time. PEIX spent $1.1 million in their Q3 to finance their debt (and will pay about 40% less over subsequent quarters until the remaining debt is zeroed), while GPRE paid $10.28 million in debt-interest for Q3.
REX's cash levels would be much higher except that REX enacted two very important goals which now position them even more strongly within the industry: First, in their Q3 and in the several weeks since then REX entirely paid off their remaining long-term and short-term debt, a total of $62M, with $33.5 million of it paid in the first weeks of Q4. REX spent $454,000 to service their debt in Q3 and will slash that by about 2/3rds for Q4 and then pay nothing in interest going forward on their pristine balance sheet.
Second, as mentioned earlier, the company renewed its shareholder-friendly policy of share-buybacks, making each share more valuable and guaranteeing a boost to future quarterly EPS amounts. REX had already repurchased a whopping 4.3 million of its own shares over the past 5 years, or 34.5% of its outstanding shares. Now we hear from the Q3 earnings news release on Dec. 4:
"REX repurchased 121,200 common shares in Q3 '14 at an average price of $68.58 [i.e., for $8,311,896]. In Q4 '14 to date [up to Dec. 3?], the Company repurchased an additional 57,610 common shares at an average price of $68.19 [for $3,928,426]. Combining the 500,000 common share repurchase authorization announced today with the 101,096 shares remaining from the prior authorization, the Company now has the authority to repurchase up to 601,096 shares of its common stock. Reflecting all common share repurchases to date, REX has 8,003,221 shares outstanding."
So REX in recent months repurchased 178,810 shares at $12.24M, and $8.31 million of that was spent in Q3, while thus far in Q4 $3.93 million has been spent. And to reiterate: it's very likely that more was spent to repurchase shares on Dec. 4th and Dec. 8th when the shareprice dipped into the low $60s, and on the past two days when it dipped into the upper $50s.
To underscore the importance of these share repurchases, REX would have earned 2.91 EPS, not 2.86, on the $23.34 million in net earnings if this were calculated on the new total of 8.0 million shares instead of the weighted average of 8.17 million shares for Q3. Furthermore, if REX were to reduce their share-count by, say, another 300,000 shares, that same amount of net earnings would yield a quarterly EPS of 3.03. Annualized over four quarters, this would amass 12.12 in EPS. And let's not forget that REX will pay a negligible amount of debt-interest in Q4 and none after that--which will add several more cents per quarter to their bottom line EPS.
Going forward, assuming a normal range of prices for corn and ethanol, it appears that REX could annually generate at least $75 - $85 million in cash. If the market at any future time takes REX stock-price down to irrationally under-valued levels, a portion of that yearly cash could be used to repurchase more shares to generate even higher quarterly EPS.
Perhaps even more significantly for attracting more institutional buyers, another portion of their growing cash could be used to issue a dividend. REX management has recently told some prominent shareholders that a dividend would be seriously discussed at the next board meeting, and the prospect has certainly been suggested as very likely by CEO Stuart Rose in prior earnings calls when asked what REX will be doing with all of its fast-mounting cash.
The non-action thus far in granting a dividend may have to do with two facts: 1) As stated in REX's 10-K document filed with the SEC on April 9, 2014, "Pursuant to their debt agreements, One Earth and NuGen [REX's two consolidated ethanol plants] are limited with respect to paying dividends." Such agreements are now non-binding, since REX has paid off all debt. 2) Management is carefully studying the prospects for building a state-of-the-art ethanol plant if the EPA will grant permission for the construction of any new corn-based ethanol plants. If the EPA approves the project, REX would need to spend a good chunk of cash and take on some low-interest bank-debt, though the return rate on a highly-efficient new Fagen/ICM plant would be very rapid and provide enormous growth in EPS, bringing a much loftier share-price as a result.
For readers interested in this particular growth prospect for REX, I encourage them to read Seeking Alpha's transcript of the earnings call discussing Q2 results in late August 2014, wherein CEO Rose talked a fair amount about the company's hopes to build a new Fagen/ICM plant. And if the EPA won't permit a new corn-based ethanol plant, then likely no other ethanol company will be able to build one, either, because of such strict regulations. This would only strongly bolster ethanol's selling price on greater and greater domestic and foreign demand for this high-octane, cleaner-burning, inexpensive fuel over the next several years. Rose stated that building a big Fagen plant might ultimately cost up to $200 million. The way I figured it at the time, when REX shares were near $100/share (this is my reasoning, not CEO Rose's), REX could spend just $60 million cash, get a bank loan for another $60 million, offer 800,000 new shares to the market (i.e., raise another $80 million) for only about 10% dilution, and get 40% growth in EPS if that new plant could generate approximately 115 million gallons/yr of ethanol. An excellent growth strategy.
Another area of potential mega-growth for REX is their unproven "Future Energy" steaming technology for liberating heavy oil at depths below what the oil industry heretofore has considered feasible. I described REX's small investment in this potentially lucrative segment at greater length in my May 2014 article on REX, and so refer the reader to that article. REX is hoping to have the permits from the state of California sometime in 2015 to launch a small, easily-built pilot plant to test the patented technology. If feasible, this Future Energy segment could easily double REX's market cap.
~~~~~~~~~~~~~~~~~~~~~~
Prospects for much higher P/E valuations for ethanol stocks in 2015
Earlier this year, even with the heavy "overhang" of the EPA threatening to cut back the RVO (Renewable Volume Obligation) for ethanol for the RFS (Renewable Fuel Standard), and the unusually severe winter delaying the corn planting season, ethanol stocks REX and GPRE were trading at much higher valuations with P/Es (Price-to-Earnings) way up in the 20s (PEIX at the time still had trailing EPS in the loss column and so a P/E was not applicable). And this was also well before this year's outstanding earnings by REX were considered remotely possible. REX was even trading up at a lofty P/E of 32 (on trailing EPS of 1.80) preceding its Q4 report on March 26, 2014.
It is quite conceivable, therefore, that stocks in the ethanol sector could be trading once again at P/Es of at least 14-16 by April. This would take REX's shareprice way up, somewhere over $150 on a trailing earnings-per-share that I expect to move up from the current 10.15 EPS level to 11.00 or higher when they post Q4 results of, presumably, at least 2.80 EPS. They will likely exceed 2.80 EPS and surpass the 3.00 mark for reasons mentioned earlier in this article.
Ethanol stocks would likely also get some tailwinds on the expected news in early 2015 that the EPA is not going to slash the RVO-- the mandated levels of corn-based ethanol to the fuel mix-- all the way down to the 13.0 billion gallons, an idea first proposed by the EPA back in Nov. 2013. This might have plunged the market for RINs (Renewable Identification Numbers) or quotas for ethanol sales and thereby lessened domestic ethanol demand. The Obama White House has made it clear that it wants the EPA to support biofuels, not hinder their use, as part of the national fuel mix. The word out of Washington since summer is that the EPA would probably set the 2014 RVO to a moderate 13.6 billion gallons of corn-based ethanol instead of the 13.7 billion gallons legally mandated several years ago. The 2015 amount is mandated to be even higher, but who knows what number the EPA will finally decided upon.
In any case, demand for USA ethanol looks to be robust for both the domestic and foreign markets.
It's worth listening to remarks by a veteran expert on the sector, Neil Koehler, CEO of Pacific Ethanol , during his conversations on October 30th with several analysts on PEIX's Q3 earnings call:
"We remain confident in the growing long-term demand for ethanol […] Even with the recent drop in fuel prices, ethanol continues to trade at a significant discount to wholesale gasoline. We believe this underscores the intrinsic value of ethanol as a high octane clean-burning transportation fuel as well as the cheapest available liquid transportation fuel on the market. Going forward, E15 [a 15% blend of ethanol per gallon of gasoline] is slowly gaining traction and will ultimately have a sustained positive impact on the domestic demand for ethanol. Net exports of ethanol continue to be a bright spot for the industry. According to the EIA, U.S. exports of ethanol rose 50% over the same period last year and they are on pace to reach up to 1 billion gallons for the year. Given the price, octane and carbon advantages of ethanol, we expect U.S. exports to further increase this quarter and next year." [Emphasis added in italics.]
The longtime CEO of Green Plains , Todd Becker, made very similar remarks to analysts on GPRE's earnings call on Oct. 29, with regard to both robust export demand and growing domestic demand for ethanol:
"We have volumes sold and destined to India, to Philippines, Brazil and other developing countries along with our normal buyers like Canada and others [Europe, the Middle East, etc.]. Interestingly enough, we're booking export sales into 2015 extending into the third quarter of next year. We typically have not [seen export] interest that far out in the future. Ethanol remains [at] a $0.45 to $0.65 a gallon or greater discount on [the] forward curve [relative] to wholesale gasoline, providing blenders and refiners the economic incentive to blend both domestically and globally. The industry continues to put E15 into the marketplace. There are now 92 stations across 14 states offering E15 to customers. We believe that E15 could generate an additional demand as we approach the end of 2015 and we also believe it could be the beginning of a steady growth of the extended blends available to the consumer."
This further color and commentary by two veteran, successful CEOs in this sector should allay the recurring concerns in 2014 that ethanol producers here in the U.S. are producing far too much ethanol, leading to a glut. Just today (Dec. 10), Chicago became the first city in the USA nearly ready to pass a law (after a public hearing period) requiring major gas stations to provide E15 fuel to drivers. Many other Midwestern cities will likely follow, as well as more progressive cities East and West. (See story here and a related story here about the "Prime the Pump" industry coalition group which is making great progress in helping other cities and regions of the country duplicate this type of legislation to make E15 more widely available to drivers.)
Fast-growing export demand should soak up any excess supply being generated by USA ethanol producers. In 2013, the U.S. exported 605 million gallons of ethanol (325 million gallons went to Canada, 52 million to the Philippines, 47 million to Brazil, 40 million to the Middle East, 39 million to Europe, 31 million to Mexico and 30 million to Peru, 13 million to India, etc.). In 2014, the expected total is somewhere near 1 billion gallons to be exported, a number expected to grow as more countries contract with USA producers and distributors for the low-cost, high-octane, cleaner-burning fuel.
A special word here about Brazil, which has traditionally been the main competitor to the USA in production of ethanol. All factors now point to Brazil becoming an even bigger importer of USA-produced ethanol in 2015. The country in late November finalized a law increasing ethanol content in their gasoline from 25% to 27.5%, raising annual domestic demand by another 300 million gallons, a huge amount. But also, on November 25th, UNICA, the Union of Sugarcane Industry Association, Brazil's largest trade group for sugarcane and ethanol producers, in its biweekly update report reported significantly lower ethanol production for the country because of poor crop growth, part of a trend this year and next. Todd Becker of Green Plains stated in his remarks to two different analysts on Oct. 29:
"I just can't see them [Brazil] competing [with our USA ethanol on] their price of sugar versus the price of [our] corn anytime in the next 12 months globally--unless we have some weather event next summer around planting or around growing season in U.S. […] I would say that if Brazil needs the gallons and wants them, we can export them. It's just a matter of [whether the USA can produce that much extra ethanol and] what our [ethanol] price structure would do if they came in aggressively to buy 200 million, 300 million or 400 million gallons-- that would definitely change our overall price structure."
A real wildcard here is China, as I explained in my May article for Seeking Alpha on REX. If that country begins to allow refiners, even in just a few provinces, to import ethanol as a cheaper, cleaner fuel (the country is desperately in need of clean-air solutions), only the USA would be able to supply it. And ethanol prices would likely not fall below $2.25 for years to come. REX, GPRE, and PEIX would become "cash printing machines" at that point, with P/Es likely bid up to 20, 25 or 30. Do the math on the heights to which their shareprices would soar….
~~~~~~~~~~~~~~~~
Looking further out for the longer-term health of the ethanol industry
Readers might still be wondering about the longer-term earnings potential of REX and the other "pure play" ethanol companies Green Plains and Pacific Ethanol. Is year 2014 just a "freakish" year for ethanol profitability? Not at all. The freak years were 2008-9 on the horrid financial crash and Great Recession and 2012-13 on the worst drought in 50 years to hit the Corn Belt.
Ethanol producers' primary cost is, by far, the price of corn. That price has come way down and looks to stay at low levels for years to come on just fair-to-good weather. The USDA in a widely-publicized report on Feb. 13, 2014, forecast average corn prices for the next decade (through 2023) to dwell down in the low-to-upper $3s per bushel.
The reasons for such a decade-long prediction for low corn prices are, first, every few years USA farmers impressively increase their productivity per acre via technological improvements; and second, longterm weather reports for the Corn Belt continue to indicate mild patterns, correlated with low sunspot activity. In other words, the horrific drought hitting the Corn Belt in 2012 and swelling corn-prices well into 2013 was clearly an outlier, "epic" event. That's right: while the western U.S. and other parts of the world have been dealing with terrible droughts for most of the past few decades, the Corn Belt has had only one really bad drought season that impacted ethanol producers.
So this suggests that the Corn Belt will continue to have adequate to excellent weather, as it has enjoyed for many generations, for producing bumper crops of corn (and soy) year after year. This can only add to the nation's large stockpiles of corn, low prices, and therefore cheap input-costs for ethanol producers.
With the gargantuan stockpiles of corn, farmers will likely plant somewhat less of it for marketing year 2015/16, and perhaps for some subsequent years, but inventories will remain so colossal that the USDA's prediction of cheap corn prices well under $4 for the next decade will likely hold through 2015 and 2016 as well.
All of this suggests another very profitable year for ethanol players in 2015, with the trends in place for it to continue into future years, barring another one of those rare, "epic" droughts or widespread extreme weather events that would elevate corn prices. But all three of the pure-play ethanol companies, REX, PEIX and GPRE, survived the 2012 drought and have shown the successful rebound capacity of their business models into more "normal" years, with REX clearly way out in front.
~~~~~~~~~~~~~~~~
Share structure, insider ownership and institutional ownership
Another factor propelling REX shares higher into next year and likely for coming years is the increasing institutional ownership of REX's very small share-float, a float that, as we have just learned, is growing smaller via share repurchases. The data on institutional ownership of publicly-traded companies for the period ending June 30, 2014, showed 132 institutions owning 68.3% of shares of REX, up significantly from 54.4% ownership at March 31, 2014. Institutions collectively held on June 30 nearly 5.59 million shares out of REX's 8.18M total outstanding shares.
The data for the quarterly period ending Sep. 30 became available in mid-November (see Nasdaq.com site here), and made it clear that institutional ownership of REX shares had increased strongly over most of the period, though some selling surely began after ethanol prices and ethanol stocks tumbled down from Sep. 11 onward, a trend that probably continued right into mid-October on the severe market correction and weakening energy sector. In any case, the data for the period up to Sep. 30 show 158 institutions holding 6,856,016 shares, over 83% of all outstanding shares. Fully 92 institutional holders increased positions (by 1.99 million shares), 55 holders decreased their positions (by 656,919 shares), and 11 maintained their positions. Meanwhile, 36 new institutional holders came in, buying 508,758 shares of REX, and only 19 sold out their positions, turning over 293,135 shares.
Most likely institutions were buying up REX shares after the stock price fell intraday on Oct. 15 into the mid-$50s, when the stockmarkets saw the nadir of their 10% correction. Despite the carnage in the overall energy sector, renewed institutional buying of REX shares likely resumed with the spectacular earnings results posted by the company on Dec. 4. The data for institutional ownership for the period ending Dec. 30 will not become available until mid-February.
Despite its impressive strength as a homegrown American business success story, REX is still extremely underfollowed by the mainstream financial media and the vast majority of retail investors. If that were to change, retail investors would obviously be competing with institutional funds and hedge funds to grab the remnant shares in a very tight float. This would be extremely bullish for REX's stockprice as more and more buyers bid up fewer and fewer available shares. This is even more true now that REX has revealed that the company itself is buying more of its own shares.
Recall that, as of the earnings news release on Dec. 4 reporting developments up to Dec. 3, REX now has only 8,003,221 shares outstanding and fully diluted.
I calculated all shares owned by insiders at this point in time, and the total amount is 1,261,160 shares, owned as follows:
650,758 shares for Stuart Rose, CEO & Chairman of the Board of Directors
294,574 shares for Robert Davidoff, Director
158,000 shares for Lawrence Tomchin, Director
58,000 shares for Ed Kress, Secretary & Director
50,860 shares for Zafar Rizvi, COO & Director
33,000 shares for Douglas Bruggeman, CFO, Treasurer, & Director
14,960 shares for Charles Elcan, Director
1,000 shares for Mervyn Alphonso, Director
This leaves a public share-float of merely 6,742,061 shares.
Obviously, when adding the 1,261,160 insider-held shares to the 6,856,016 shares owned by institutions as of Sep. 30, the total exceeds the 8,003,221 shares outstanding today. So some of the institutions reduced positions or sold out from Oct. 1 to the present, not unexpected given 1) the destruction of stock-prices in the energy sector and the triggering of dreaded "margin calls" on any leveraged investments; 2) the continuing weakness of ethanol prices into October; and 3) the ugly technical patterns on stockcharts for ethanol players and all other energy-related stocks, showing their share-prices crashing through their 50-day and 200-day moving averages, downturned stochastics and MACD lines, etc.
But at this point in time I surmise that institutions have locked up even more of the public float of shares available beyond what REX insiders hold. It is conceivable that institutions now own well over 95% of that float, a float that is shrinking with any further share repurchases by the company.
~~~~~~~~~~~~~~~~
Short interest
Yet another factor that could potentially skyrocket REX's shareprice is the almost proverbial "short-squeeze," wherein shortsellers are gradually or suddenly forced to exit their positions by "covering," which creates buying pressure on a stock.
For the first 8.5 months of 2014, REX had an uncommonly low percentage of its shares being shorted, ranging from under 2% to under 4% of shares. Then, with the sudden, unexpected collapse of ethanol prices on Sept. 11th and 12th, the short interest in REX shares increased significantly up to around 20%, as it also did for GPRE, PEIX and almost all energy-related companies as oil prices fell lower, lower and even lower.
The crash in ethanol prices was furiously and suspiciously exacerbated by a bogus story in the mainstream financial media (Bloomberg, et al.) about possible new competition for American-produced ethanol from Brazilian ethanol imports. The story was nonsensical, because this year's drought-induced sugarcane crop disappointment and Brazil's burgeoning domestic demand for ethanol have combined to make that country a net importer of our ethanol!
For a table showing the short interest on REX shares from early in the year up to Nov. 14, the last date for which reliable data are available, consult Nasdaq.com's reliable numbers here.
If REX's Directors decide at their next board meeting to grant a dividend, not only would short-sellers incur extra costs, they would be "road-kill" for all those institutional funds that can only buy dividend-granting stocks now suddenly coming in, finally able to buy REX shares for the first time.
~~~~~~~~~~~~~~~~~~~
What about the frequent insider selling of REX shares earlier in the year?
REX's CEO Stuart Rose stated on the Q2 earnings call of August 27 to a long-time shareholder concerned by all the insider selling from Sept. 2013 to early Sept. 2014, 85% of that selling done by Rose himself, that he needed to responsibly diversify a portion of his wealth and that "it's actually been a benefit, because one of the complaints we always had in the past was [the excessively tiny share-] float for getting the larger institutions involved. So to-date it hasn't hurt the stock price."
Rose's words were quite the understatement! He began selling large tranches of shares (e.g., 50k shares at a time) in Sept. 2013 in the low $30s, then in the high $40s, then in the $50s, $60s, $70s, $80s, and $90s. Yet the stock just kept going up, on higher and higher average monthly volume, hitting its all-time intraday high of $110.65 on Aug. 29, 2014. And the data show that institutional ownership progressively increased over this same period. As I tweeted to StockTwits on Aug. 16, REX is one of those stocks where big insider selling over past year means even more massive institutional buying and much higher shareprice.
In a conversation with REX's I.R. firm back in late May, it was confirmed for me that institutions actually liked the insider selling because of the expansion of the public share-float and extra liquidity it thus provided for the stock.
So anyone who sold REX shares because the CEO sold made a big mistake, missing out on enormous upside gains until the bottom fell out of the energy sector in September 2014.
It should be noted that the insider selling by Stuart Rose and some other officers of the company was no different than selling of shares by insiders at other companies like Apple and Facebook, et al., which have experienced a quantum jump in their shareprices during this 5-year bull market.
And REX, unlike most successful companies, has maintained a very shareholder-friendly policy of not granting any (dilutive) options to officers since way back in 2004. (All such options have long since been exercised.) Combined with the repurchasing 37% of their shares over the past several years, this has been a boon heavily outweighing Rose's finally getting around to selling a good portion of shares in the company he has been overseeing for many years.
Looking over the past few decades of REX's history, it operated as a retail seller of electrical appliances and service plans before management wisely exited that line in 2007, right before the horrific recession, and then began to cheaply acquire ethanol plant ownership over the next three years. Up until early 2012, the stock rarely traded above a split-adjusted share-price of $20. (There have been two 3:2 stock-splits, one in 2001, another one in 2002.) So when REX began to enjoy more and more stock-gains on their new ethanol business model really starting to bear substantial fruit in late 2013, it was only fitting that Stuart Rose and Director Lawrence Tomchin, the main two sellers, as well as some of the other officers, began to cash in on a much-deserved, long awaited mega-bonus.
~~~~~~~~~~~~~~~~
Conclusion
A trailing P/E down under 6 is what the market often gives to companies that are viewed as dangerously verging on bankruptcy. But REX, a true powerhouse public company,...
just paid off all its debt,
grew its cash so much it could take a nice chunk to continue repurchasing shares at substantial amounts,
amplified its already "best in class" profit margins,
increased its trailing 12-month EPS to 10.15, up from where it stood at 1.80 ttm EPS in Winter 2014,
just posted its best-ever EPS (2.86) for any quarter in its history, despite enduring depressed prices for distiller grains and, for half of their quarter, the lowest ethanol prices in several years,
insured that future quarters will have higher EPS on any earnings amount, due to zero interest payments and shrinking share-count,
and these days probably has a basic crush-spread margin around 90 cents after subtracting their corn costs (and REX has lowest grain input costs in the sector) from recent spot ethanol selling-prices. For some perspective, recall that REX had a basic crush-spread of just 59 cents in Q3 when posting their all-time best earnings.
So at a P/E under 6, the company is presently being valued by the irrational stock-market as if it's on the road to bankruptcy, when in fact it could go out right now and buy some profitable banks!
Whenever ethanol stocks return to favor, likely in Winter-Spring with railcar congestion and presumably soaring ethanol prices, REX (and perhaps GPRE and PEIX) could by that point easily be well along the way to being bid up to P/Es of 13, 15, or 18. That could mean a stock-price of somewhere between $130 and $180, a double or triple gainer from here.
In today's stock-markets, it's rare indeed to find a solid company like REX with such strong earnings and "pure platinum" balance sheet with this much potential shareprice appreciation over the next six months.
Let me conclude this section with a word about the difficulty in dealing with "utterly irrational markets." The market's perplexing behavior on how it terribly over-values or severely under-values many stocks, its sudden and extreme sentiment shifts and hyper-volatility, its manias and "depressions".... Such behavior is enough to drive the "rational investor" crazy! Consider the irrational, frenzied buying a few months ago over any stock that was just perceived (rightly or wrongly) as having anything to do with the Ebola virus; or, earlier in the year, the mad buying of over-the-counter shares of fringe companies involved with legal marijuana. Lucky but ignorant investors in these different companies who don't even know how to read a balance sheet or income statement got handed huge "rewards"-- 80% to 400% gains or more, sometimes in as little as a few weeks-- just because of buying and more buying by the voracious herd (and likely strategic buying by cabals of astute, corrupt "pump and dump" hedge-fund manipulators leading the herd).
Meanwhile, we see all sorts of good or even great companies (REX being in the latter category) mugged, mauled and mistreated in the marketplace as if they are dying enterprises. That's just market "insanity."
It's at times like this that one remembers the adages of the most successful investors like Ben Graham, Baron Rothschild, and Warren Buffett about the great virtue of patience and about "buying when there's blood/panic in the streets." For "this too shall pass," and value will win out in the longer term.
~~~~~~~~~~~~~~~~~~~~~
Addendum: REX's shareprice behavior this year and recently:
In my prior article on REX written in late May, I spent a few paragraphs analyzing REX's chart of the prior six months. It's worth looking at a few things on the 6-month chart since then, as well as reviewing the year-to-date chart.
REX's year-to-date chart: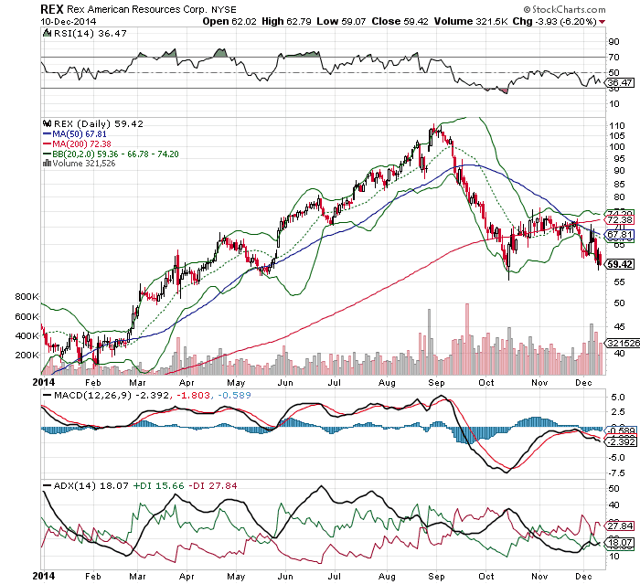 REX's 6-month chart: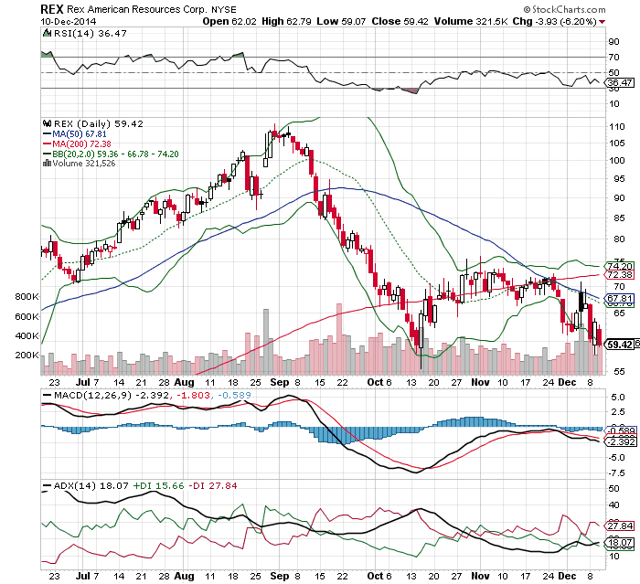 Until ethanol prices headed south on Sept. 11th-12th, eventually crashing by 40%, exacerbated by the scary drop of global and domestic oil-prices in October-November that smashed down the entire energy-sector of stocks, REX's chart had shown tremendous strength. Since February, the midway "50" line on the RSI indicator had been serving as strong chart-support for REX's stockprice. Despite the carnage for many smallcap stocks for much of 2014, for those seven months the RSI never even came close to "oversold" territory (= 30). During the worst part of a 10-day dip below the 50 RSI in May, when virtually all smallcaps were under siege, REX, on a technical retrace away from its upper Bollinger band, came down to about the 40 level. For most of the year since February, REX's stockprice also largely stayed above or well above its 20-day moving-average (dma) and, since late May, even above its 10 dma.
Moreover, a glance at volume of shares traded shows that, with the exception of brief dips in late March and June when ethanol prices briefly plummeted and then on August 21st with an analyst's downgrade to "Hold," the trading volume was usually greater on up-days than down-days, a bullish sign. It was likely all those institutional buyers coming in after each dip to quickly carry REX's shareprice right back up to new all-time highs.
More needs to be said about that August dip when a young analyst (with less than two years experience) for the boutique analyst firm Sidoti issued a downgrade on REX from "Buy" to "Hold." Her "Hold" rating wasn't entirely unreasonable, given the huge run that REX had enjoyed over the past year. Yet the stock at $102/share was still trading at a P/E of only 15.7 on trailing EPS of 6.53, with that trailing EPS about to be substantially increased (to 8.50, as it turned out) with the Q2 earnings report due in less than a week. Green Plains , with its far less healthy balance sheet and weaker profit margins and earnings power, was trading at a higher P/E than REX that same day. The problem with any downgrade from Buy to Hold is that it is not actually treated as a "Hold" by powerful hedge-fund "autobot" computer trading programs, but regarded as an immediate "SELL, SELL, SELL!" news event. With REX's tiny float and likely some fairly tight stop-losses in place, even with the strong institutional ownership the stock was susceptible to a quick selloff. And this is exactly what happened. An irrationally extreme 15% drop by Friday's lowest point sank the upward-trending REX from $102 all the way down to $87.05. Without that downgrade, REX likely would have been trading up around $120/share. A GPRE-like P/E would have put REX's shareprice at $136.
Those who actually practiced the recommended "hold" (not "sell") and/or bought more shares on the dip very quickly saw that small float work to extreme advantage as the terrific news of "best ever earnings" for REX on Wed., August 27, zoomed the stock well past its previous highs just the week before.
With the return of en masse buying on big volume, many chart indicators switched from bearish to bullish. The next day, Thursday, Aug. 28, the stock zoomed up and stayed up. That same day veteran analyst Jeremy Hellman reiterated his firm Singular Research's longstanding "Buy" recommendation on REX. (REX was their third best performer in 2013 and at that point their second best stock for 2014.)
REX continued to trade above $100 for well over a week, despite profit-taking from long-term shareholders who had enjoyed gains of double, triple, quadruple or more, depending on how many months or years they had held REX shares.
Then on Sept. 11, 2014, all the ethanol players (REX, GPRE, PEIX) were hit hard by suddenly plunging ethanol prices. On that day, REX and the others fell below their 20dma and then REX, having been taken down a couple of notches by that Sidoti analyst downgrade, broke under the 50dma the next day.
After that, ethanol stocks' price-charts went into free-fall, exacerbated by institutions and hedge funds indiscriminately selling off all energy-related names in October when it became obvious that Saudi Arabia was beginning its "oilprice war" by cutting their selling prices, not their production levels. The massive drop in stock-valuations likely triggered margin calls for all leveraged parties, causing even more blind selling.
The steep pullback by the general USA stockmarket indices further panicked investors, leading to a full-blown official "market correction"--a drop of 10%--on Oct. 15, when REX fell intraday to $55.46 (its lowest price since April 8), before closing up at $64.80. The strong, sudden "V"-shaped rebound by the markets helped power REX and other ethanol names suddenly back up by about 30% from their recent lows. After that, REX and the others traded in a limited range until Nov. 28 brought on another indiscriminate selloff of energy-related stocks after the Saudis and OPEC dramatically announced "No Oil Production Cut" on Nov. 27, Thanksgiving day here in the USA.
The shortened trading day Nov. 28 and the days of early December saw the ethanol stocks haplessly subject to the "mass murder in the energy field" which took down hundreds of energy-related stocks. Tax-loss selling and more margin calls likely also wrought their heavy damage.
Yet another factor leading to weakness for ethanol players was the changeover of ethanol prices on Dec. 4 from the December futures contract priced around $2.25/gallon over to the January futures contract priced down around $1.75 and falling a bit since then on much lower oil prices. The same phenomenon has occurred in other months, such as the switch from Nov. to Dec. futures.
In any case, CEO Stuart Rose explicitly stated on the Q2 and Q3 earnings calls that REX has been selling ethanol almost entirely on the much higher spot prices since late Spring, but the investing community (mainly institutions) holding REX shares seems oblivious of this fact. Either that, or, to repeat, they are experiencing horrendous "margin calls" and being forced into selling even high-quality companies' shares to pay off their brokerage loans.
Adding fuel to the fire, on Dec. 4, Credit Suisse issued a renewed "Hold" for GPRE but slashed its price target from $40 all the way down to $25. Remember that REX and GPRE are two very different companies in terms of the health of their balance sheets, their profit margins and their earnings prowess, with REX far superior to GPRE in each of these areas, but the entire ethanol sector seems to have been impacted by the Credit Suisse note.
After REX's recent Q3 earnings report on Dec. 4, the chart showed a big rebound in the making. The Parabolic-SAR indicator switched from "Sell" (where it had been for 16 trading days) over to "Buy" on Dec. 4, triggered by the shareprice's brief spike up. But then the stock (along with GPRE and PEIX) fell down that same day on terrible sector weakness due to 1) the Credit Suisse downgrade of GPRE, 2) worsening oilprice / energy sector weakness, 3) the badly-down market indices that morning, and 4) the technical "gap" on REX's chart. On Friday, the stock was up challenging its 50dma, actually nicely above it for a few hours though closing below it on continuing energy-sector fears. Then on Monday Dec. 8, oilprices sank further into their abyss, hitting 5-year lows, followed by the stockmarkets tumbling deeply into the red. REX, on its higher volatility due to its small float, saw its stock plummet all the way to the low $60s, triggering the Parabolic-SAR indicator to flip back to "Sell." On Dec. 9, with lower oil, lower markets, and still depressed ethanol futures, REX explored the upper $50s again, though only hitting the $57.86 level before rebounding up to close in the green at $63.35. On Dec. 10, investors witnessed a heavy selloff of the main stockmarket indices, ever-lower oilprices further spooking the energy sector (e.g., domestic WTI oil down from $68 to a low of $60.46 per barrel in less than five trading days), and weaker ethanol prices on a weekly EIA report showing higher ethanol inventories (which of course makes USA ethanol even more tantalizing as an export for foreign market customers). Predictably, REX's stockprice retreated back to the $59-$60 level before closing at $59.42.
I surmise that the company was strongly buying back its shares near the lows on Dec. 4 and again since Dec. 8th -- after all, the company revealed it had been repurchasing at much higher levels averaging over $68/share during the past two months.
Analyst Jeremy Hellman at Singular Research issued an update on REX on Dec. 5, reiterating "Buy" and setting a price target of $105, entailing a P/E of only 10.34 on REX's trailing 12-month EPS of 10.15. Meanwhile, Katja Jancic of Sidoti upgraded REX again to "Buy" back on Sep. 16, with a price target of $113, which would be a P/E of 11.1 on present trailing EPS.
To reiterate: whenever ethanol stocks return to favor, likely in Winter-Spring with railcar congestion and concomitant soaring ethanol prices, and expected soaring demand from Brazil for a few hundred million gallons of additional ethanol from the USA, then REX, PEIX, and likely GPRE too could easily be bid up to much higher P/Es and stock-prices, rewarding investors with "double- or triple-baggers."
~~~~~~~~~~~~~~~~~~
Standard Disclaimer: This article is not an investment recommendation or solicitation. Any analysis presented in this article is illustrative in nature, is based on an incomplete set of information and has limitations to its accuracy, and is not meant to be relied upon for investment decisions. Please consult a qualified investment advisor. The information upon which this material is based was obtained from sources believed to be reliable, such as SEC filings audited by Deloitte & Touche LLP, but has not been independently verified. Therefore, the author cannot guarantee its accuracy. Any opinions or estimates constitute the author's best judgment as of the date of publication, and are subject to change without notice. Past performance is no guarantee of future results.
Disclosure: The author is long REX.
The author wrote this article themselves, and it expresses their own opinions. The author is not receiving compensation for it (other than from Seeking Alpha). The author has no business relationship with any company whose stock is mentioned in this article.
Additional disclosure: The author has also at different times held "long" positions in PEIX, but does not hold any position at this time.