Author Update
For those that followed my advice and purchased TLM Preferred Shares, you are up 48% + a potential dividend payment. This is dwarfed by the ~112% premium the common shareholders received, but I feel the prefs reflected a better risk/reward trade-off as no deal is ever certain. The fact that management felt that $8/share is better than the alternative go-it-alone reflects the downside risk if the company was not sold.
Hal highlighted the varied challenges that stand-alone company has in selling non-core assets as the market for those assets have shrunk. Without asset sales, the company faced the risk of being downgraded to junk and subsequently would have required to put up capital to backstop its abandonment liabilities in the North Sea. This would have been a death spiral with the company forced to sell CF producing assets at discount prices, etc.
While the price paid may seem unfair to those who bought higher, it reflects a healthy premium and likely as close to fair value as possible. Repsol did not seem to leave anything behind as this transaction will bring its leverage up significantly.
If you do own the Preferred Shares, I recommend you sell. Although at the current prices of $23.75, you leave $1.25+~4.2% yield to close on the table. There are certain closing risks, including:
1) A better offer - the prefs are capped at $25/share but common may see a higher value with the buyer offering equity and keeping the prefs outstanding. This type of offer may be more appealing to common shareholders who would like upside in a recovering market.
2) Drastically higher oil prices - While this is a real long shot, the transaction does require shareholder approval and this deal may not look as compelling at $85? Will oil get there in the two months before a shareholder vote? I doubt it but it's still a risk.
On December 8th, 2014 Talisman (NYSE:TLM) issued a press release responding to media rumors and "acknowledg[ed] that it has been approached by a number of parties, including Repsol, with regards to various transactions." The stock is up 12% following the report. While rumors of a TLM takeover have been circulating for a while, the last rumors fell apart.
TLM has significantly underperformed peers recently and has fallen from ~$14 on Sep. 10, 2012 when Hal Kvisle took the helm from John Manzoni to ~$4.30 today. The company is composed of a large swath of far-flung assets dispersed around the globe. Hal has done a commendable job refocusing the business and moving it forward. Talisman now has two focus areas - Asia-Pacific and Americas - and some non-core areas that have dogged the company but have both positive and negative opportunities going forward.
North America is composed of assets in the Marcellus, liquids-rich plays in the WCSB, Colombia operations, on-going development at Eagle Ford and future development at Duvernay. North American operations were expected to become FCF positive in 2015. TLM is heavily weighted to gas in North America which has not been as drastically impacted as WTI recently. In the near-term, the company is exploring monetizing its Marcellus midstream assets, and given the economics of the Marcellus, should be able to realize significant value in the near term.
Talisman's Asia Pacific segment is a cash flow generating machine, and is earmarked to self-fund growing production and cash flow. The collection of assets is principally located in Vietnam, Singapore, Malaysia, and Indonesia. Despite part of the gas production being linked to recently declining oil-prices, growing demand in the region and otherwise fixed price contracts help mitigate part of oil's decline.
The non-core assets include a North Sea business that requires significant capital and whose longevity is questionable. Talisman has stated its desire to sell the assets, but they are restricted by their partnership agreement with Sinopec who may veto a sale to a potential buyer. Although the UK business is struggling, TLM Norwegian assets have significant potential, and given the on-going geopolitical concerns in Europe should continue to be explored and developed, helping to further diversify Europe's energy sources. In addition, TLM has interests in Kurdistan. TLM has held on to the asset to de-risk it and is now revising development plans with the government and once that is finalized should realize significant value.
So why would someone buy Talisman?
1) Synergy potential - despite Hal's strong cost cutting efforts, Talisman continues to have ~$400mm in annual corporate G&A on a company that had ~$2bn of annualized CFFO. Any acquirer who is able to vend in the assets into the current operating entity may be able to cut those costs in half. The company also discloses ~$1bn of Gross G&A (as per the 2014 MIC). If you think that figure reflects regional G&A that would overlap with a purchasers existing assets then the potential synergies may be closer to ~$500mm. (Suncor initially estimated $300mm in synergies on its merger with Petro-Canada but ultimately realized over $800mm).
2) LNG considerations - Talisman has significant acreage in the Marcellus, which can help feed an LNG plant in the Gulf Coast or potentially east to the Canaport Facility (if Repsol were to convert it to an export facility). In addition Talisman has enough acreage in WCSB to help fund any development of an export facility on Canada's West Coast.
3) Sum-of-the-Parts - Talisman has long been considered asset rich, but cash flow poor, and given the growth of shale and other resources the market has not favored that type of configuration. Given the declining share prices, a sophisticated corporate buyer could take the plunge, rationalizing that they can easily optimize the portfolio in a better manner. Many of Talisman's non-core assets and business divisions are attractive in their own right and much like Suncor, a buyer may be able to patiently divest non-core assets post-merger vs. a potential fire sale by Talisman.
4) Core assets can likely be separated to find the appropriate buyer. With a very rational and segmented business both the Americas and Asia-Pacific have logical buyers and a transaction could be structured to separate them.
So why hasn't it happened?
Much of the consternation about Talisman has revolved around its scattered portfolio that doesn't fit well with many natural buyers. The North Sea is FCF negative for the near term and is unattractive given the potential abandonment costs. For a company that is investing in Eagle Ford, Duvernay and Marcellus drain and can be extremely cumbersome. In addition I believe that the board's expectations may have been a bit overzealous previously. Hal had set a target during the March 2013 Investor Day putting a value of $17 - $25 / share, and while at the time the NAV of TLM may well have reflected that value, neither the market nor a purchaser were ready to do a deal at that price. At the $12.65 closing price in March 2013 those prices represented a 35% - 98% premium to the closing price. Add a stronger Canadian dollar to purchase the Canadian equity and that may have been an unreachable deal.
What might a deal look like today?
Based on TLM's 'unaffected' share price of $4.30 and using the same premium range as at the March 2013 investor day, a TLM offer might come in at C$5.80 - C$8.51. While the high end is significantly below what Carl Icahn may have paid (est. ~$11.50/share), if Icahn had hedged key exposures to WTI & NYMEX he may be much closer to breaking even at the high end of the offer range. Given that TLM is 'in talks' and Icahn has representation on the board, it would mean that the board is informed and approves of a proposed transaction. Also worth considering is the fact that Hal Kvisle has not stepped down and that the search for a replacement candidate seems relatively far off. Below are some key stats on Talisman at current and potential offer prices.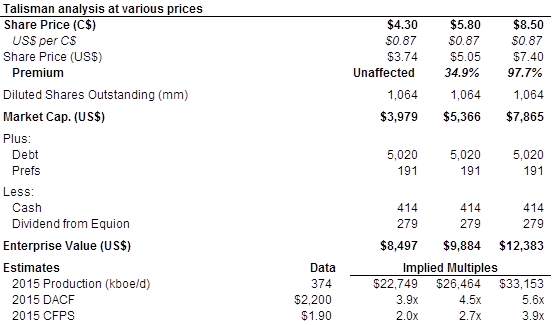 Can Repsol afford to pay C$5.80-C$8.50?
The key metric that Repsol will look at is NAV accretion, which is dependent on Repsol's long term commodity and FX outlook. Since we can't tell what those are for sure, and given the recent swing in commodity prices, even using research analyst NAVs will likely be highly inconsistent. I choose to examine the potential implications on share price in an all-cash deal on a P/CF and TEV/Production metric for 2015.
The math outlined below is simplistic in nature but shows that Repsol can easily afford to pay $8.50 and still maintain cash on the balance sheet and attractive metrics. In addition, the transaction is accretive on a pro-forma basis to Repsol even at the high end.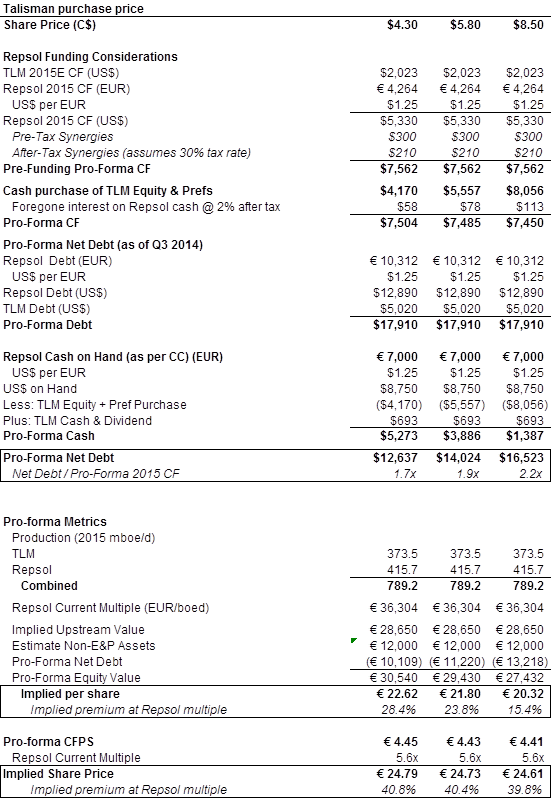 Downside considerations
While no transaction is ever certain, if one fails to occur Talisman will need to continue on as a stand-alone entity. That likely means continued re-focusing and potential asset sales at unfavorable prices. I do not foresee TLM facing immediate challenges, but I would consider it prudent and necessary to consider cutting the dividend. Given that the Street views this as a collection of assets whose parts are worth more than the whole, the reaction from the market will likely be muted. If the company continues to pay a dividend, it may be destroying long-term value by positioning the company to ultimately sell assets at below fair value, and in a recovery, they may be foregoing the benefits of those assets. At ~$280mm/yr that cash could easily be reinvested in developing or accelerating growth projects and could provide breathing room until the North Sea issues are resolved.
Given that the company's debt is just one notch above non-investment grade, a dividend cut in the near-term is nearly certain, and it would also provide any incoming CEO with a clean slate and greater flexibility.
So how should one play the rumors of a TLM merger?
For those with ready access to the Canadian market, TLM has preferred shares outstanding trading well below issue price. Currently the shares (which can be found under the ticker TLM.PR.A) are trading at ~C$16.00 and are yielding ~6.6%. If Repsol does indeed do an all-cash purchase, the preferred shares will likely be called back at $25.00 implying a 56% premium to their current price. The preferred shares essentially provide a free call option on a potential transaction while providing more certain coupons. While the premium may be below what the common shares could receive, the preferred are less likely to face the threat of a dividend cut and are likely less volatile than the common. If a deal does not transpire, the preferred shares are likely to still pay a dividend and provide a better way to ride out the commodity cycle.
Disclosure: The author has no positions in any stocks mentioned, and no plans to initiate any positions within the next 72 hours.
The author wrote this article themselves, and it expresses their own opinions. The author is not receiving compensation for it (other than from Seeking Alpha). The author has no business relationship with any company whose stock is mentioned in this article.
Additional disclosure: The author is long TLM.PR.A on the TSX, Talisman preferred shares. The analysis presented is for illustrative purposes only.