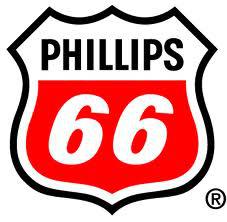 As my long time followers already know, I have called Phillips66 (NYSE:PSX) perhaps the best investment to participate and profit from the "Shale USA" energy renaissance. A review of the company's 2015 capital budget simply reinforces my opinion that PSX is a great long-term investment even in a low commodity price environment - or, perhaps because of it. The reasons are many: the company has the best management in the business, it has midstream and chemicals businesses that are poised for excellent growth, and its refining business is supported by perhaps the best logistics in the industry. And, PSX is making all the right moves heading into 2015. PSX is down 20%-plus from its high, has a PE under 9, and yields 2.9%. PSX is a strong buy.
One of the reasons I cited for PSX being a great investment in "Shale USA" was because I believed light-oil refining capacity in the US was going to be swamped with higher shale oil production (see US Light-Sweet Refining Capacity Hits A Wall). That, combined with the ban on oil exports led me to believe WTI was going to fall, perhaps substantially. While that thesis did not play out exactly as I had predicted, we did get a big drop WTI anyway - due to a variety of reasons, but primarily because of Saudi Arabia's refusal to cut production and defend $100/bbl oil as it had so often done in the past (see Saudia Arabia: Do The Math). Regardless, the resulting drop in PSX's stock price is giving investors who missed the big move up in the stock price a second chance to establish a position.
Last week PSX released its 2015 Capital Program. The summary is show below: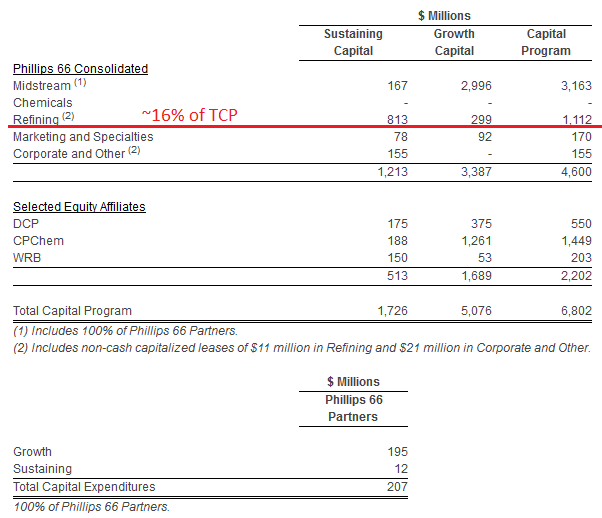 While PSX is generally lumped into the "Refiner" category, the company is much more than that. In fact, I would go so far as to say refining is not the primary reason to invest in Phillips66. While Phillips66 was very early in the industry to expand its logistics network to increase its "advantaged" slate of refining feedstock (a rail transport pioneer, for example), the refining segment is pretty much in "maintenance mode" these days. And this is not just management rhetoric - it is clearly shown in the 2015 capital budget numbers shown above - with the refining segment on the receiving end of only ~16% of the total capital program for 2015. In fact, note that total midstream investments (including DCP and Phillips 66 Partners (NYSE:PSXP)) are more that 3x that of the refining segment. Heck, even the chemicals segment ranked above refining in the pecking order.
The result is that PSX is investing in higher margin businesses that are going to see some new and very large-scale growth projects come online in the near future. These include:
CPChem's 220 million-pound-per-year expansion of the normal alpha olefins production capacity at Cedar Bayou (mid-2015).
The 100,000 bpd Sweeny Fractionator One (2H 2015).
Organic midstream expansion projects in the Niobrara, Permian, and Eagle Ford shale plays (2015).
The 4.4 million bbl/month Freeport LPG Export Terminal on the U.S. Gulf Coast (likely mid-2016).
CPChem's 3.3 billion-pound-per-year ethane cracker.
CPChem's two 1.1 billion-pound-per-year polyethylene facilities.
These are all high-margin growth projects that will benefit from lower commodity prices (primarily natural gas and NGLs). Not only that, increasing revenue and profits in the chemicals and midstream segments will begin to reduce the overall percentage of the refining segment and improve the company's diversification even further.
Shareholder Returns
As I have mentioned in a previous article (An Outstanding Dividend Growth Stock), Phillips 66's management is dedicated to delivering outstanding total returns to shareholders. And it has done just that again this year. The dividend increased 28% and through Sept. 30, 2014, $3.9 billion of capital was returned to shareholders through dividends, share repurchases and the PSPI exchange. And the company still has $2.6 billion remaining (at the end of the Q3) under its share repurchase authorization.
In the 2015 capital budget press release, PSX Chairman and CEO Greg Garland said the company expects double-digit dividend increases over the next two years.
Summary and Conclusion
The recent "take no prisoners" sell-off in energy shares has knocked PSX down some 20%+ from its high. Currently, the stock is quite undervalued in comparison to its historical growth in EPS, shareholder returns, and growth prospects going forward - the stock has a PE=8.9 and a dividend yield of 2.9%. In fact, the recent drop in commodity prices should lead to an increase in volumes across the board - from gasoline/diesel/jet fuel in the refining segment, volumes in the midstream business, and chemicals as demand from a growing economy picks up steam. Interestingly enough, while the EPS estimate have been coming down across the board for most energy companies, Q4 EPS estimates for PSX have barely budged over the last 30-90 days. Also, it is hard to ignore that yoy EPS numbers for 2015 are expected to grow significantly over 2014.
Phillips 66 is a strong buy.
| | |
| --- | --- |
| Market Cap: | $37.37B |
| P/E ("ttm"): | 8.86 |
| EPS ("ttm"): | $7.62 |
| Div & Yield: | $2.00 (2.90%) |
Source: Yahoo Finance.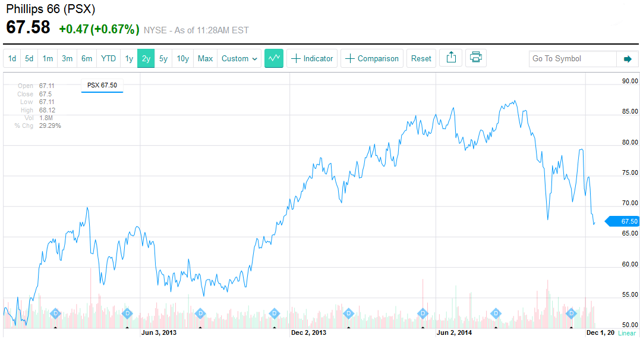 Disclosure: The author is long PSX.
The author wrote this article themselves, and it expresses their own opinions. The author is not receiving compensation for it (other than from Seeking Alpha). The author has no business relationship with any company whose stock is mentioned in this article.
Additional disclosure: I am an engineer, not a CFA. The information and data presented in this article were obtained from company documents and/or sources believed to be reliable, but has not been independently verified. Therefore, the author cannot guarantee its accuracy. Please do your own research and contact a qualified investment advisor. I am not responsible for investment decisions you make. Thanks for reading and good luck!