Nearly every investor at one point or another dreams of buying the penny stock that appreciates ten, twenty or even forty-fold. However, finding that stock takes a tremendous amount of research and a willingness to take on considerable risk. I seldom make the jump into the penny stock arena, but often keep an inventory of penny stocks that I watch for various reasons. My initial screening requirement for such stocks to join my penny stock watch list is they must have a real business currently generating revenue. This immediately eliminates many of the stocks trading under $1.00.

Other than the tumultuous times like we had in 2009, when even good companies got hammered under $1.00 due to overall market conditions, most penny stocks are small capitalization companies with limited revenue sources. However, that does not mean there is not a real business with growth potential or undervalued assets. Every penny stock is typically where it is for a reason. Sometimes that reason is temporary, such as the case during the market selloff in 2009. But more often you have to look much deeper. Investors must be willing to spend the time to analyze the company to fully understand if the business has any prospects. I believe talking to the management company is always good due diligence, but in the case of penny stocks, it is imperative.

The valid reasons for a penny stock to suddenly jump higher vary widely. It could be improved earnings, a new business direction, a merger announcement, monitization of assets or just plain oversold. Of course there are the "pump-and-dump" schemes and paid promotions. That is why investors must be very skeptical when looking at stocks that trade under $1.00 and understand the cause of the increased volume and stock price.

Below are four stocks from my watch list that have had a nice ride over the last year or so.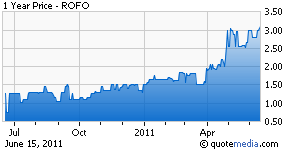 Rockford Corp. (OTCPK:ROFO) designs, markets and distributes high-performance OEM and aftermarket audio products primarily for the installation in cars, trucks, boats and airplanes. The company's products are marketed under Rockford Fosgate®, Rockford Acoustic Design®, Lightning Audio®, Brax™, Helix™ and Renegade® brands.

Rockford was negatively impacted by the recession and saw its stock price plummet to a low of $0.16 per share in the summer of 2009. The stock rebounded to trade in a range around $0.40 per share for the next eight months. The company then announced improved sales and a smaller net loss for 2009 when compared to 2008 on March 31, 2010. This gave the stock some strength, but it still stayed under $1.00. The company then announced a profit for the first quarter of 2010 on April 28, 2010 and the shares spiked nearly 245% to touch $2.00 per share by the end of April. Since that time, the shares have continued to climb, reaching a 52-week high of $3.25 in May and currently trading at around $3.00 per share.

Rockford continues to see improvement in margins and net income. The company reported in March of 2011 that it earned $0.30 per diluted share in 2010 and in April the company reported that earnings per share for the first quarter of 2011 doubled to $0.14 per diluted share, when compared to the same period in 2010. While the stock has come a long way over the last couple of years, it may have more to go if management can continue to deliver results.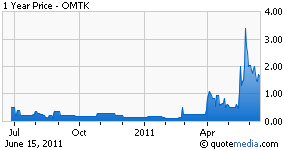 Omnitek Engineering (OTCQB:OMTK) develops and markets natural gas engines. In addition, the company can convert any diesel engine to a natural gas engine through a proprietary technology.

The stock price of Omnitek stood at only $0.15 per share at the beginning of 2011. The stock then proceeded to climb 3000% to briefly touch $4.75 on May 18, 2011 before settling back to close at $2.00. Since that day in May the stock has traded as low as $0.82 per share and as high as $3.40 per share. The stock is currently trading well off its highs at $1.90 per share.

Omnitek is a very small company which reported first quarter revenues of only $615K and a tiny net profit of $26K. The stock price has been moved by the increased hope that recent Environmental Protection Agency rulings regarding the certification and conversion of diesel engines will increase demand for the service in the United States. Currently, most of the company's conversions are done outside of the United States. The company claims to have more than 5,000 engine conversions in operation. The price of the stock has also benefited from positive comments regarding the future use of natural gas by prominent politicians. The company's prospects may be at the whim of politicians and bureaucrats, which makes this stock a very risky prospect given its skinny balance sheet and tiny revenues.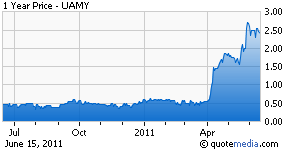 U.S. Antimony Corp. (NYSEMKT:UAMY) mines, transports, mills, smelts and sells antimony from mines located in Mexico. The company has two smelters located in Thompson Falls, Montana and Coahuila, Mexico. In addition, the company has a Zeolite operation in Preston, Idaho. Antimony is used as a flame retardant, an alloy in lead for ordinance, an opacifier in ceramics, a catalyst in plastic as well as other niche uses including in medicine and technology.

Over the last 10 years, prior to its recent spike, the stock traded as low as $0.12 per share and as high as $0.93 per share. That all changed in April of this year when the stock started the month at $0.55 per share and rose to its current price of $2.36 per share- hitting a 52-week high of $2.85 along the way. The action started when the company reported that its 2010 revenues more than doubled to $9.1 million and it reversed a net loss from the previous year to show a profit of $805K. The company further noted that sales of zeolite increased 57% and prices for antimony had hit new all-time record highs. Shortly after the earnings release, the company also announced it had received the necessary permits to set up a 150 metric ton per day mill in Guanajuato, Mexico.

The company has recently been getting some attention from the mainstream financial press and has caught the eye of a few money managers. Given the companies 329% rise just since April, this should give investors pause before committing any capital to this stock. The company does appear to have some quality assets, but is still very small, with equity of only $5.7 million. It is also important to note that China currently controls approximately 92% of the world's supply of antimony and has temporarily banned the opening of new mines. This has sent prices to records highs. Therefore, future success of the company is in part reliant on the policies of the Chinese.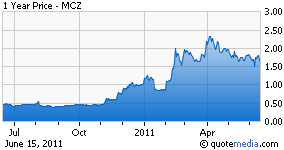 Mad Catz Interactive, Inc. (NYSEMKT:MCZ) develops and markets video game accessories and PC products, primarily in North America and Europe. The company markets its products under the Mad Catz, Saitek, Cyborg, Eclipse and TRITTON brands.

For the last decade, the stock has traded erratically between $.30 and $1.98 until the major market correction in 2009 took the stock down as low as $0.15 per share. On November 4, 2010 when the stock was trading at $0.48 per share, the company announced it had produced record revenues and earnings. This caught the eye of investors and volume climbed substantially in the days leading into the holidays. The stock closed 2010 at $1.02 per share, which was a better than 100% gain from the date of its announcement of record earnings in November 2010. After climbing higher in early 2011, the stock drifted below a $1.00 per share price by mid-January. The stock was then again boosted by the announcement in February of record third quarter revenues and earnings. The stock began a strong upward climb that would top out at $2.39 in early April, before drifting lower to the current price of $1.74 per share.

The company released its earnings for year ended March 31, 2011, on June 14, 2011 after the market closed. You can read the transcript from its conference call here.

Conclusion

The stocks mentioned in this article moved sharply higher based on events such as improved revenues and earnings, industry specific news and an improved pricing environment for its products. Of the four stocks, Omnitek carries the most risk as its stock price moved higher primarily due to being in the right industry with a media focus. If serious revenues and earnings fail to develop, look out below. The stock is already well off of its highs and could easily continue to slide.

It is probably not likely that any of the stocks mentioned will turn out to be the next VirnetX Holding Corp (NYSEMKT:VHC). However, it is possible they may still have solid growth prospects going forward. While VirnetX saw its stock appreciate from under $1 per share in 2007 to the current $28 per share, it was not a straight up shot and investors had to hold several years to see the highs reached earlier this month. VirnetX is the result of a reverse merger that was announced in January of 2007. The announcement of the reverse merger put the stock in motion, sending the shares over $4.00 from under $1.00 in short order. The stock was then range bound for more than a year when the market conditions of 2009 took the stock back down to nearly $1.00 per share. Since that time it has been nothing but good news for investors as the stock has shot up substantially with only a few bumps along the way.

With any stock that has had a big move to the upside, a great deal of caution must be exercised. Once the stock has made its move, the risk becomes much higher and it is usually better to just turn and walk away. If you choose to stay, it is important that you believe the catalyst is solid and is in place for the long-term.

I have not performed any in-depth due diligence on these stocks which would obviously be required before committing capital, nor am I recommending these stocks as investment quality. It is rather an illustration as to how scraping the bottom in penny stocks that have real businesses but which may just be going through a difficult time, can be rewarded. If you decide to take the time to enter the penny stock arena, be diligent and most importantly, be skeptical. For most investors, it is just better to stay away no matter how enticing the returns may seem.

Disclosure: I have no positions in any stocks mentioned, and no plans to initiate any positions within the next 72 hours.