Overland Storage (NASDAQ:OVRL) is a publicly-traded company that had been forgotten by the market, due to mismanagement by its previous management team. The company is one of the original innovators in the $2 to $3 billion tape market. The company's IP has become the foundation of every tape product in existence, and now the company has embarked upon the creation of new technology that will impact the market in the same manner in the future.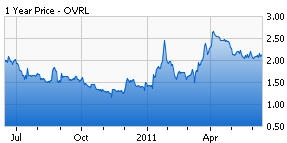 The new management team - Eric Kelly, Geoff Barrall, and Jillian Mansolf - have a history and a track record of success in creating new technology with rapid market adoption, as well as turning enterprise storages companies around within a 2-3 year timeframe, with the exit being sale of the company.
Below is the timeline of events of importance in my price target of $6 for OVRL:
Maxtor sold to Seagate
Snap sold to Adaptec
Snap was purchased in 2002 from Quantum (symbol QTM) for $10mm
Sold approximately 18 months later to Adaptec for $100mm
Repurchased by Overland in 2008 for $3.6mm
Eric Kelly and Jillian Mansoff at both companies
Geoff Barrall joined company 2010
Founded both Blue Arc and Data Robotics (Jillian Mansolf took sales at Data Robotics from $0 to $30mm in approximately 14 months with a product that had an ASP of $400)
Overland's strategy is to provide a complete suite of products to meet the needs of their channel partners and ultimately the needs of their target market, the hyper-growth SMB market, and eventually compete upstream for additional market share. Since Eric Kelly has taken over the company, the focus has shifted from an OEM strategy to a branded products focused strategy to leverage the company's valuable channel as well as operating system. Their product suite has grown from just tape products to a robust product line that encompasses near line storage to archival (the cloud). The only company to now have Scale-out NAS, Scale-out SAN (Block), VTL, and Tape. This change in focus has put Overland back on the path to profitability, also making the company a likely buyout target within the next 9 to 12 months.
WHY?
The turnaround is almost complete. At the time of the February 2010 financing, Eric Kelly gave a commitment and a timeline of 4 to 6 quarters to have the turn completed. Cost-cutting measures were immediately put in place to reduce the burn and operating expenses. The Company leased one building at the San Diego headquarters to Northrup (60,000 sq.ft) and the company is expecting to lease the remaining 90,000 sq.ft. building in the near term, which would save the company $500k per quarter.
OVRL moved to an asset-light model by taking manufacturing off shore to Foxconn (largest contract manufacturer in the world based in China) from San Diego. The company reduced head count from approximately 300 to less than 200. They acquired Maxiscale (New Enterprise Associates [NEA] backed company). Approximately $25mm was invested in technology, $8mm in last 12 months. Sold for less than $1mm to Overland in the summer of 2010. The Guardian OS-release of the new operating system in the first calendar quarter, with enterprise class features added in anticipation of the new products that will be launched in 2011, will allow Overland to effectively compete in the mid-range price point. It will also induce larger enterprise customers to purchase their products to save money while still receiving enterprise class features.
The Lawsuit:
The company launched litigation against BDT, the largest tape provider in the world (60-80% of the market). Defense of the litigation for BDT could eclipse $40mm, which is equal to the market capitalization of Overland. BDT won the contract with HP (NYSE:HPQ) approximately 5 years ago, by giving a discount with an identical product. The HP business represented 70% of Overland's revenue (approximately $150mm per year).
Overland is represented by DLA Piper (largest law firm in the world), with the case taken on contingency. John Allcock (lead counsel) has never lost a case in his career; he's taken 71 infringement cases to trial and won. The win number does not include settlements. The suit was filed with ITC (International Trade Commission), where DLA is 9-for-9 in their cases. The only strategic advantage to filing in the ITC is speed…approximately 15 months to decision by the ITC and there are no delays. It is also important because the ITC can stop shipments of products to U.S. tape customers any time during the process if BDT get sanctioned for any reason. IBM, Dell (DELL), and HP OEM customers may have to start qualifying a new OEM 6 to 9 months in advance of the trial in August 2011 to prevent customer product delays or disruption. There will be a domino effect when the order is delivered by the ITC if a settlement is not reached beforehand.
Dell's-strong-possibility-of-interest
In this hot acquisition market, they are looking for a company to bolster their product offering as well as become a true channel player. Eric Kelly ran a $1B business for Dell. A $100mm plus buyout would be very small for Dell, as seen when they offered $1.1B for 3Par. The VP of operations at 3Par worked for Eric at Snap and was preparing his way to join Overland prior to the buyout by HP. Overland's technology would fill many of the holes that Dell has currently - even with the recent Compellant acquisition.
3Par Acquisition
3Par was purchased by HP for $2.35 billion (approx. 10 times revs.) after a bidding war in which Dell bid $1.15 billion. Dell purchased Compellant for $960mm (approx. 7 times revs.) With the recent acquisition of Maxiscale, Overland becomes a company with both Scale-out NAS and Scale-out Block (SAN). No other company in the low-to-midrange has that product offering.
Disclosure: I am long OVRL.