In late November, we received some pretty positive news from chip giant Intel (NASDAQ:INTC). The company gave decent initial guidance for 2015, but also raised its dividend for the first time in a couple of years. Investors cheered the news, sending shares to a new multi-year high. At the same time, this positive news has helped to scare away a number of short sellers. Today, I'll discuss the latest news regarding short interest, and look at where Intel stands now.
We recently received the latest update on short interest. In the second half of November, more than 16.7 million shares short were covered. For the month, nearly 40 million shares were covered, a fairly significant move. You can see in the chart below how the November numbers have eliminated a sizable chunk of the October pop in short interest.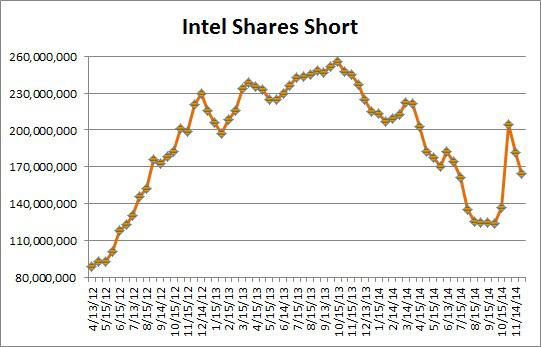 (Note: Last data point on chart is for settlement date of 11/28/14)
Short interest at the end of November was around 165 million shares, which is still a bit elevated from the recent low point a few months ago. However, it is nice to see investors cheer the latest news, and to see short sellers scramble a bit. Overall, about 3.4% of Intel shares are short. While that's not a large number, the chip giant is more heavily shorted than some other large-cap tech peers.
I was pretty impressed with Intel's investor meeting, especially the dividend news. A six cent dividend raise to $0.96 annually was more than I was expecting from the company's next bump. Given the cash flow situation, I was hoping that Intel would give investors an extra penny or two, but the increase was six cents. While I believe this will negatively impact the buyback a little, I think dividend investors will slowly start to re-enter the name. Some had left in recent years with no dividend raises.
Intel guided to revenue growth in the mid-single digits at the investor meeting, which was better than the low single digits that analysts were looking for. Intel is currently expecting about a 6% increase in revenues this year. Investors are happy that 2015 could see a similar increase in the top line rather than see growth drop off a bit. After 2012 and 2013 saw small declines in revenues, Intel seems to be getting things back on track with solid mid-single digit growth this year and next.
However, not everyone was impressed with the 2015 forecast, so there was a bit of a divide among analysts. I will admit that the company's expense forecast wasn't that impressive, but the revenue forecast was very good. Intel is making a larger push into tablets. While the mobile segment has lost a bunch of money in recent years, losses will come down in 2015. The segment also will start to generate meaningful revenues going forward. This push includes a recent deal with Royal Caribbean (NYSE:RCL) for 55,000 Intel-powered tablets that will power the world's first Smartship.
I think investors will mostly be okay with some added expenses if it helps generate revenues. Intel is making a big push into the hot "internet of things" category, which includes wearable devices. The Wall Street Journal recently reported that Intel will power the next version of Google (NASDAQ:GOOG) (NASDAQ:GOOGL) Glass. It is expected that Google's visionary product could have a big launch late in 2015, although it is unclear at this point how large the consumer market for it will be. Intel also partnered with premium eyewear company Luxottica (NYSE:LUX) to fuse luxury and sports eyewear with smart technology. The first product could come sometime in 2015, although it probably won't move the revenue needle much at first. However, at least Intel is showing that it is trying to make a push into a variety of areas instead of just depending on its legacy PC business and a few new mobile devices.
Intel has guided a bit conservative in recent quarters with some of its expenses, so perhaps by the time 2015 ends, things will look a bit better. We haven't seen analyst estimates change since my last update, with the averages still standing at $58.19 billion and $2.38, respectively. If the company keeps expenses in check, it would not surprise me if next year's earnings per share top $2.50. Don't forget, the company's buyback should help reduce the share count a little in 2015, which could add a few pennies to the EPS number.
In the end, it was nice to see short interest decline after Intel came out with some pretty good news. Intel is making a strong push into tablets and wearables, with some unique products scheduled to launch sometime in 2015. The company is expected to post a corporate revenue record next year, and earnings per share should rise nicely. The name also provides a nearly 2.60% dividend yield, which provides a nice bit of income. The stock is close to its 52-week high, so I wouldn't be opposed to waiting for the next pullback. However, the future looks bright for Intel, and I believe that is reflected in the latest round of short interest data.
Disclosure: The author has no positions in any stocks mentioned, and no plans to initiate any positions within the next 72 hours.
The author wrote this article themselves, and it expresses their own opinions. The author is not receiving compensation for it (other than from Seeking Alpha). The author has no business relationship with any company whose stock is mentioned in this article.
Additional disclosure: Investors are always reminded that before making any investment, you should do your own proper due diligence on any name directly or indirectly mentioned in this article. Investors should also consider seeking advice from a broker or financial adviser before making any investment decisions. Any material in this article should be considered general information, and not relied on as a formal investment recommendation.