ExxonMobil (NYSE:XOM) is the largest oil company in the sector. The company has operations in every corner in the world. It is also one of the free cash flow-strongest oil businesses in the industry. Considering ExxonMobil's size, free cash flow strength, low valuation, solid dividend yield, and the oversold state of oil businesses, the company is an excellent candidate to play the recovery in the oil market.
ExxonMobil is a true cash flow champion that generates billions of free cash flow each quarter, which should allow the company more than any other to withstand a short-term downturn in the oil business. I have written about ExxonMobil in November when crude oil was trading around $80 per barrel, and I concluded that ExxonMobil already made an attractive value proposition at the time (see my thesis here).
Fast forward four weeks, and crude oil has broken the $65 per barrel level. Do I still stand by my earlier position on ExxonMobil? Absolutely.
ExxonMobil's valuation has declined another 8% since my last article, although it is quite evident that oil companies are heavily oversold. In my opinion, the oil sector is the most attractive sector to deploy capital right now for investors with an investment horizon of three years or more. More importantly, thanks to the recent slide in valuation, ExxonMobil's dividend yield has shot up above the 3% mark, which should provide some comfort to shareholders.
Large, integrated oil companies like ExxonMobil, or smaller, independent drillers both need to increase their output at all costs. The only thing investors dislike more than falling oil prices is a visible contraction in production volumes. For the time being, U.S. oil companies will pump as much as they can.
The recent oil crash has demonstrated that some oil companies are more resilient than others. Just consider the valuations of the three largest integrated oil companies ExxonMobil, Chevron (NYSE:CVX), and ConocoPhillips (NYSE:COP). Over the last 12 months, ExxonMobil can present shareholders with the best performance of all energy producers in the peer group: Its shares lost only 4.17%.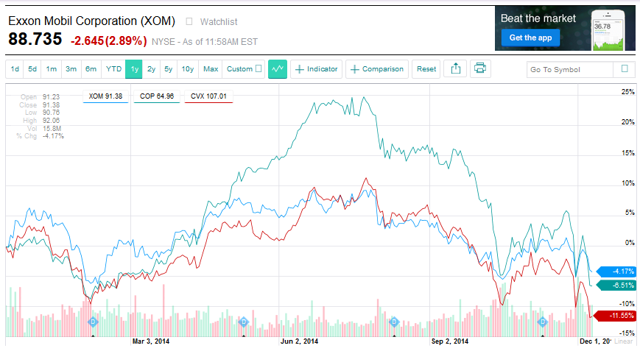 Source: Yahoo Finance.
But ExxonMobil does not only convince with a better performance record over the last 12 months compared to its peers. Its valuation (measured in percentage terms) also declined the least since shares reached their latest 52-week high.
ExxonMobil -- 52-week high at $104.76 on July 29, 2014, down since: 15.30%
Chevron -- 52-week high at $135.10 on July 24, 2014, down since: 23.41%
ConocoPhillips -- 52-week high at $87.09 on July 24, 2014, down since: 27.51%.
Market Rewards ExxonMobil's Resilience With a Higher Valuation
Compared to Chevron and ConocoPhillips, ExxonMobil is the most expensive oil company in the peer group, but that does not have to be a bad thing: Investors can understand ExxonMobil's higher relative valuation as a premium for size and resilience. Investors who solely go for low valuation metrics could find great long-term value in Chevron, too.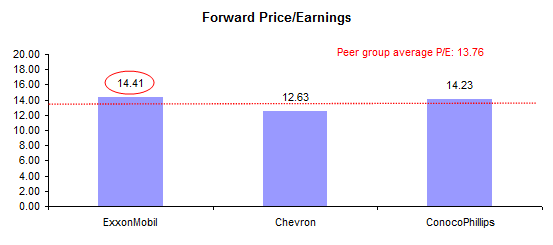 Source: Achilles Research, Capital IQ.
Free Cash Flow
ExxonMobil is a true cash flow machine. In the first nine months of fiscal 2014, ExxonMobil pulled in $37.7 billion in cash from operations (adjusted for asset sales), and $19.4 billion in free cash flow. ExxonMobil's free cash flow also regularly exceeded the free cash flows of its closest U.S. peers by a wide margin, which is somewhat expected given the much larger size of the company: ExxonMobil has a market capitalization of $387 billion vs. $202 billion for Chevron and vs. just $80 billion for ConocoPhillips.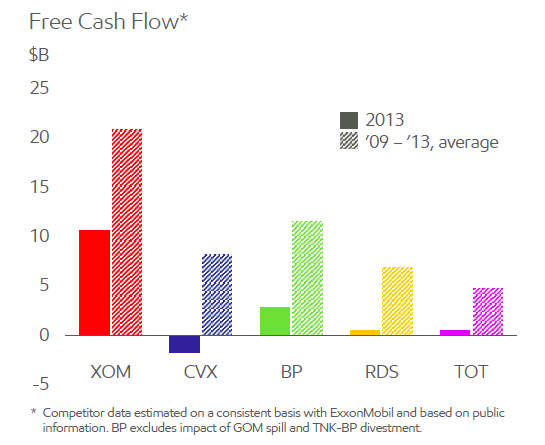 Source: ExxonMobil 2014 Annual Meeting Investor Presentation.
ExxonMobil's size and free cash flow strength positively differentiate the company from its peers. ExxonMobil has experienced and lived through many cycles in the oil market with falling and rising prices taking turns. Nonetheless, ExxonMobil has always grown both its business and its dividend over the long term, which suggests that the current oil price crash is manageable for the company as well.
Going forward, I expect a normalization of conditions in the oil market. Resource scarcity and increasing demand for fossil fuels, especially from developing countries, should lead to forward prices substantially above current prices in the $60s. Research from BlackRock, for instance, indicates that the U.S. is in a solid economic upswing, which could lend support to oil prices in the near term, and provide a boost to the U.S. GDP. Over the longer term, I also expect higher oil prices for the reasons mentioned above -- in line with forecasts from the World Bank.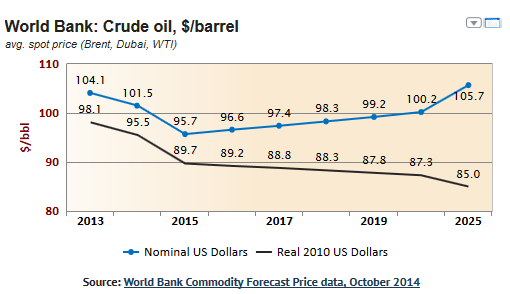 Source: World Bank.
Your Takeaway
I generally have little understanding for why investors would want to sell energy companies, including ExxonMobil, at a time when the U.S. economy is growing at a healthy rate and energy consumption worldwide is set to increase. When it comes to oil investments, I think investors are better served by understanding that cycles matter in the oil business. Hence, I think ExxonMobil is a great bet on depleting energy reserves and the approaching end of the fossil fuel age, which should lead to higher oil prices compared to the $60 per barrel we see now.
Investors who want to take advantage of lower oil company valuations could consider a fairly resilient and free cash flow-strong ExxonMobil at less than 15x forward earnings and at a dividend yield of more than 3%. I'd consider it a strong buy.
Disclosure: The author is long XOM.
The author wrote this article themselves, and it expresses their own opinions. The author is not receiving compensation for it (other than from Seeking Alpha). The author has no business relationship with any company whose stock is mentioned in this article.