If you're looking for value in today's market there's one sector that looks extremely attractive and that is the offshore drilling sector.
However, the sector is extremely cyclical, and right now, the industry is heading into a downturn, so you need to know your drillers before you fully commit.
Ensco (NYSE:ESV) is not one of the sector's largest players but is one of the most capable of riding out a downturn. For value investors it could be the sector's best pick as it currently trades at a discount to book, P/E multiple of less than 10 and supports a hefty dividend yield. Here are the five reasons why Ensco could be the best pick in the sector.
Robust Balance sheet
As with any cyclical downturn, the companies with the strongest, unlevered balance sheets are in the best positions to pull through and survive. Ensco has one of the strongest balance sheets in the offshore drilling sector. According to the company's investor presentation, using numbers from the third quarter, Ensco had a leverage ratio of 33%, which, as shown below is the lowest in the sector.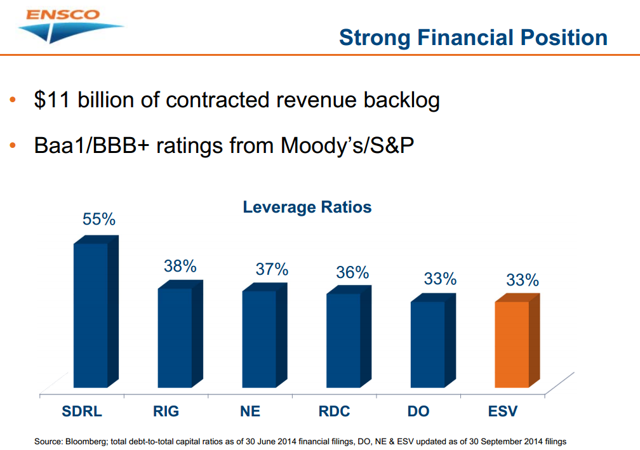 Source: Ensco investor presentation.
I don't need to state how important it is that drillers have a clean balance sheet going into this downturn. Seadrill's debt is mostly tied to future cash flows, which could be subject to downward revisions as dayrates fall and demand collapses. I'm not going to comment further on Seadrill's fiscal stability. However, you can find an in-depth breakdown of Ensco's debt here.
The company's first large maturity is March 2016, a $1 billion tranche of senior notes. The next tranche due does not mature until 2019. There are a few smaller bonds falling due between now and the first large tranche due during 2016 but these smaller debt assets only amount to $76m. The company has $1 billion of debt that doesn't fall due until 2040! Ensco also has a $2.5 billion revolving credit facility on hand.
So in terms of the company's debt profile, Ensco has little to worry about for the time being.
Margins
Along with the strongest balance sheet, Ensco has the widest margins of its peer group: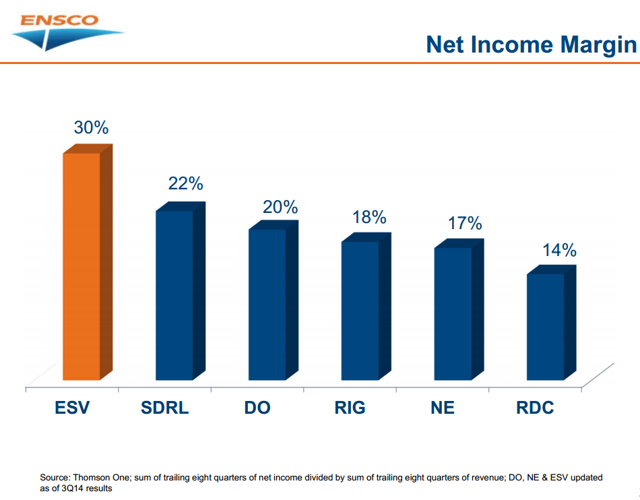 Source: Ensco investor presentation.
Morningstar breaks down the figures.
As shown at the bottom of the chart above, the figures above show the net income margin over eight trailing quarters. Due to space constraints, I'm only showing the figures for 2013 below, although the trends can easily be seen using this shortened time frame. Moreover, I've excluded Seadrill from the below table, as the company's net income figures have been boosted by one-off dropdowns over the past few years - usually I would adjust the figures but I've received so much negative feedback from Seadrill supporters over the past few months it's easier to exclude the company.
| | | | |
| --- | --- | --- | --- |
| Company | Ensco | Diamond (NYSE:DO) | Transocean (NYSE:RIG) |
| Revenue | 100.00 | 100.00 | 100 |
| COGS | 48.83 | 56.41 | 61.06 |
| Gross Margin | 51.17 | 43.59 | 38.94 |
| SG&A | 2.98 | 2.22 | 3.02 |
| R&D | - | - | - |
| Other | 12.44 | 13.92 | 12.47 |
| Operating Margin | 35.75 | 27.45 | 23.45 |
| Net Int Inc & Other | -2.03 | -0.94 | -5.90 |
| EBT Margin | 33.71 | 26.51 | 17.55 |
Margins % of Sales. Source Morningstar.
It is clear from the above figures, that Ensco is on the whole, a more efficient company than both Transocean and Diamond. The company also pays a lower tax rate as, like peer Rowan (NYSE:RDC), Ensco is registered in the UK.
| | | | |
| --- | --- | --- | --- |
| Company | Ensco | Diamond | Transocean |
| Tax Rate % | 13.60 | 29.13 | 15.50 |
Source Morningstar.
Efficiency and a lower than average tax rate has ensured that Ensco has the best net margin of the large-cap offshore drillers. What's really interesting, and this is explored further below, is the fact that even though Ensco has some of the lowest costs in its peer group, service to customers has not been jeopardized. In fact, Ensco's customer service has been voted as being the best in the sector.
Best-in-class reputation
A good reputation is now more important than ever in the current drilling industry. With so many new drilling units coming online, inexperienced crews are taking over, which is a concern for many customers. Companies like Rowan and Transocean have both spoken out about this trend. The drillers with the best reputations and highest quality crews are likely to survive the worst of the downturn.
As Ensco's investor presentation shows, around half of the jackup newbuilds currently coming to market are with non-established drillers. This is where older, more experienced companies like Rowan, Ensco and Transocean will be able to survive where others cannot: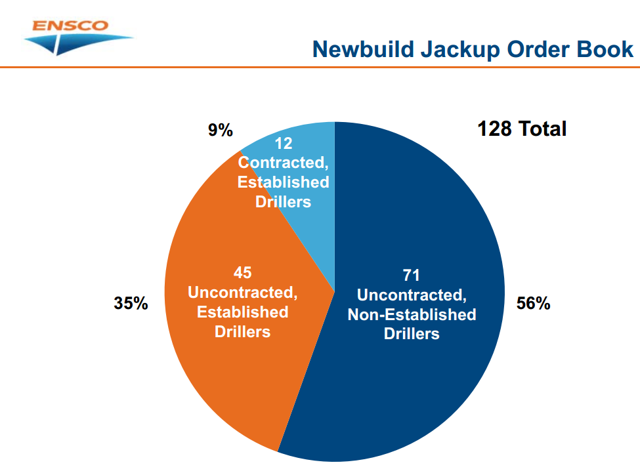 Source: Ensco investor presentation.
However, it's not just the age and experience of these drillers, it's also the quality of service. Ensco likes to make a point of the fact that the company is an award winning driller. A slide from the company's investor presentation: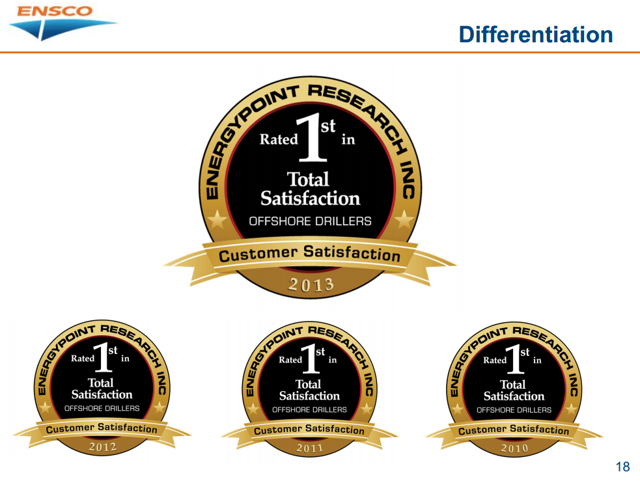 Source: Ensco investor presentation.
With these awards behind it, Ensco has one of the best reputations for quality of service behind it. On the other hand, Transocean's quality of service has been deteriorating for some time now, a topic I looked at earlier this year.
An excerpt from Wikipedia supported by data from EnergyPoint Research:
"...Transocean was rated as a leader in its industry for many years. However, since the company's merger with GlobalSantaFe in 2007, Transocean's reputation has suffered considerably, according to EnergyPoint Research, an independent oil service industry rating firm. From 2004 to 2007, Transocean was the leader or near the top among deep-water drillers in "job quality" and "overall satisfaction." In 2008 and 2009, surveys ranked Transocean as last among deep-water drillers for "job quality" and as next to last in "overall satisfaction." In 2008 and 2009, Transocean ranked first for in-house safety and environmental policies, and in the middle of the pack for perceived environmental and safety record…"
According to EnergyPoint Research once again:
"...On the offshore side, for every one-point advantage (on a 10-pt ratings scale) in customer satisfaction that a driller enjoys over its peers, 24-month stock-price returns have come in 39.3 percentage points higher on average. That's some serious shareholder value being created, especially given the amount of invested capital at these companies...Onshore, for every one-point advantage in customer satisfaction a driller enjoys over its peers, subsequent 24-month stock-price returns have been a still very significant 13.1 percentage points higher on average…"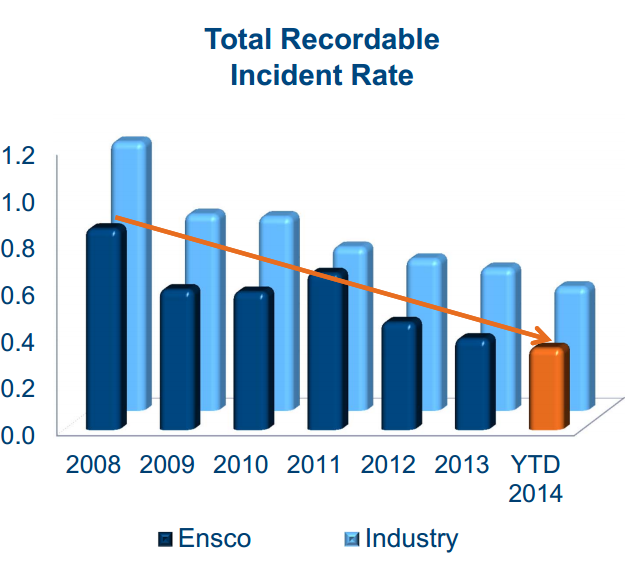 Source: Ensco investor presentation.
Dividend and valuation
A quick note on Ensco's dividend yield and valuation. The company currently supports a dividend yield of 10%, with a 51% payout ratio, which gives some headroom.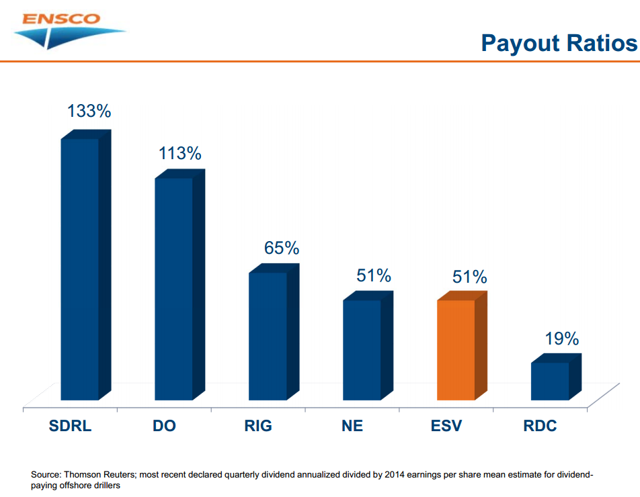 Source: Ensco investor presentation.
Additionally, Ensco trades at a P/B of 0.6 at present levels, indicating a 40% discount to net asset value.
Fleet
And finally, a quick note on Ensco's fleet. The most recent fleet status report can be found here. The majority of the company's drilling units are contracted out through 2016, which should help the company ride out much of the drilling downturn. Further, the company's reputation should ensure that customers return to the company again and again to contract units for a safe, efficient drilling experience.
The bottom line
So all in all, Ensco has all the tools available at its disposal to pull itself through a market downturn. The company has an industry leading reputation, strong balance sheet and wider than average margins, which should help support the dividend payout.
Disclosure: The author has no positions in any stocks mentioned, and no plans to initiate any positions within the next 72 hours.
The author wrote this article themselves, and it expresses their own opinions. The author is not receiving compensation for it (other than from Seeking Alpha). The author has no business relationship with any company whose stock is mentioned in this article.