Earnings estimates have been plummeting for Carmike Cinemas (NASDAQ:CKEC) following disappointing Q3 results.
The movie theater company experienced a big drop in attendance last quarter due in part to a weak domestic box office. This led to declining profit margins and negative earnings estimates revisions. Carmike is a Zacks Rank #5 (Strong Sell).
And while shares have sold off heavily recently, they still do not look like a value at 25x forward earnings.
Carmike Cinemas is a motion picture exhibitor with 278 theatres in 41 states. It is headquartered in Columbus, Georgia and has a market cap of $653 million.
Third Quarter Results
Carmike reported disappointing third quarter results on November 4. Adjusted earnings per share came in at a loss of $0.19, well below the Zacks Consensus Estimate of +$0.02. It was also significantly below EPS of +$0.16 in the same quarter last year.
Total operating revenues declined 1% year-over-year to $162.6 million despite 13% more screens on average in the quarter due to an acquisition. This missed the consensus of $168.0 million. Admission revenue fell 2% due in part to a weaker-than-expected domestic box office. This was somewhat offset by 1% growth in Concessions & Other, which accounted for 38% of total operating revenues in the quarter.
Average attendance per screen plunged 17% year-over-year to 5,069. Admission per patron rose 3.4% to $6.98 while average concessions/other sales per patron jumped 6.4%.
Meanwhile, the adjusted EBITDA margin fell 590 basis points to 11.3% of total operating revenues.
Estimates Plunging
Following disappointing Q3 results, analysts revised their estimates significantly lower for both 2014 and 2015. This sent the stock to a Zacks Rank #5 (Strong Sell).
The 2014 Zacks Consensus Estimate is currently $0.15, down from $0.52 before the report. The 2015 is now $1.11, down from $1.33 over the same period.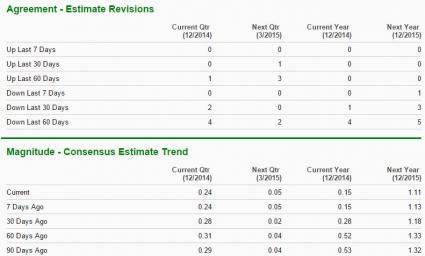 Lofty Valuation
Although shares of Carmike have fallen significantly over the last several months, it still doesn't look a value here. The stock trades at more than 25x 12-month forward earnings, well above its 10-year median of 17x. And its enterprise value to cash flow multiple of 17x is also well above its historical multiple of 12x.
The Bottom Line
With weak industry trends, falling earnings estimates and lofty valuations, Carmike doesn't offer investors much to like right now.