The Michaels Companies (NASDAQ:MIK) delivered a solid "beat and raise" on November 20. Sales and EPS both came in above consensus estimates, and management raised its full year guidance. This prompted analysts to raise their estimates for both 2014 and 2015, sending the stock to a Zacks Rank #1 (Strong Buy).
Given its strong earnings momentum, and with shares trading around 14x forward earnings, Michaels offers investors attractive upside potential.
The Michaels Companies is a specialty retailer focused on arts and crafts. The company owns and operates 1,166 Michaels stores in 49 states and Canada and 121 Aaron Brothers stores. It has a market cap of $4.7 billion.
Third Quarter Results
Michaels delivered better-than-expected third quarter results on November 20. Earnings per share came in at 31 cents, beating the Zacks Consensus Estimate by 5 cents. It was a 19% increase over the same quarter last year.
Net sales rose 1% to $1.13 billion, ahead of the consensus of $1.11 billion. Same-store sales slid 0.8% as the company lapped the hugely popular Rainbow Loom product in the same quarter last year. This was much better than analysts were expecting.
Gross profit declined from 40.5% to 40.0% of net sales due to slightly lower product margins, higher occupancy costs, and investments in e-commerce. However, selling, general and administrative expenses declined from 28.4% to 27.4% of net sales due to lower performance-based compensation and payroll taxes.
Overall, operating income rose 5% as the operating margin expanded 50 basis points to 12.6% of net sales. A major driver of earnings growth in the quarter was lower interest expenses due to a debt refinancing.
Estimates Rising
Following strong Q3 results, management raised its guidance for the full year. The company now expects to earn between $1.42-$1.44 per share, up from previous guidance of $1.38-$1.42.
This prompted analysts to revise their estimates higher for both 2014 and 2015, sending the stock to a Zacks Rank #1 (Strong Buy). The 2014 Zacks Consensus Estimate is now $1.48, up from $1.40 before the report. The 2015 consensus is now $1.72, up from $1.65 over the same period.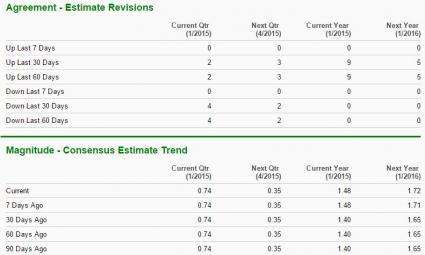 Reasonable Valuation
Michaels stumbled out of the gate following its IPO in June, but shares have been on a tear since early November. However, the valuation picture looks very reasonable with the stock trading at 14x 12-month forward earnings. That is a discount to the industry median of 18x.
The Bottom Line
With strong earnings momentum and reasonable valuation, Michaels has plenty of upside potential.