This week I initiated a position in these two companies -- Visa (NYSE:V) and Mastercard (NYSE:MA). As I mentioned in my previous post I made significant investments during October's market panic.
There were many companies that were trading at very attractive prices but like any investor, I had to make choices, and at the time, even though I considered Visa to be the most undervalued company, they were offering a very low dividend yield and I was interested in maintaining my average dividend yield around 3%. This led me to pass on it at the time. Ironically, I intended to initiate a position in December as soon as I had capital available. Unfortunately for me, the price increased dramatically on the results announcement combined with the announcement that China would open itself to foreign payment processing services.
As I evaluated the current opportunities presented by the market I noticed there weren't many bargains around. Everything I was following rebounded strongly after October. So, according to my analysis, after the rebound, I still see Visa as the best opportunity available.
Previously, the valuation difference between Visa and Mastercard was significant, which led me leave Mastercard out of my options. However, right now, I see their valuations as being in-line with each other and so I considered Mastercard as well.
In a quick summary, they are very similar companies, they both operate world-scale payment processing networks. Contrary to popular belief, they are not lending or credit companies. Their cards are merely a means for you to execute a transaction through their network, meaning that they are able to use other means to connect with their network, such as web APIs, apps on mobile, and apps and other devices. This is their moat -- a time-tested and already proven acceptably secure payment network combined with the trust already earned with so many financial institutions that rely on these networks. I am of the opinion that it is simpler for Visa and Mastercard to replicate the innovation of others than it is for others to be able to emulate the security and trustworthiness enjoyed by these brands.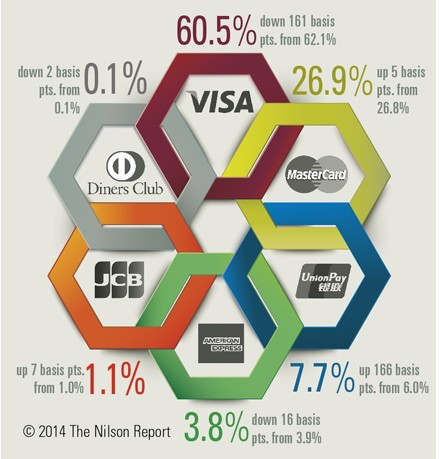 Currently, Visa is the bigger player of the two and has a much higher volume of transactions. On the other hand, Mastercard has traditionally been able to provide faster growth. They are by far the two biggest players in the non-paper payments industry.
This is an industry poised for immense growth. The advantages of non-paper-based payments are evident and so it is not hard to see that this is and will be a core industry of our society. However, what really sparked my interest was discovering that as of right now, only 15% of all the transactions made in the world are made through non-paper-based mechanisms, meaning that the growth in this space is still in front of us. Even notwithstanding the population growth and the rise of the middle class in emerging markets, there is currently an unserved market more than 5 times bigger than the currently served market. On top of that, no one is better positioned to capture this growth than Visa and Mastercard, which currently hold a combined market share of approximately 87.4%.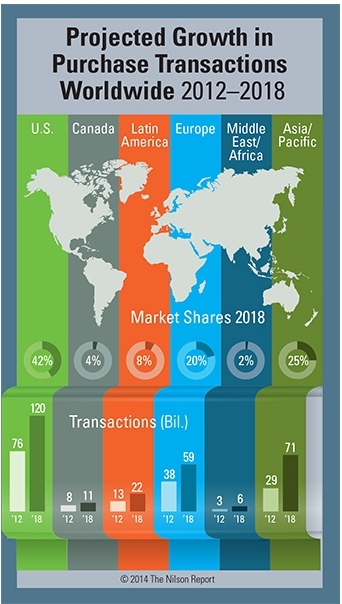 Not only is the market large and interesting, but the players in the industry have so far done a wonderful job at capturing growth. For example, Visa sports a 5 year EPS CAGR of 16.54% and Mastercard shows 21.12%. This growth is not forecast to stop anytime soon, as the industry itself is expected to keep growing at an accelerated pace.
Looking at their balance sheets individually, they are quite similar and follow roughly the same strategy regarding capital allocation. On top of that, they have flawless balance sheets sporting no debt and a high free cash flow on account of a low capex required to maintain and grow their earnings. Their capital allocation strategy is the following:
1. Invest in maintaining and improving the infrastructure to seize opportunities
2. Pay a small dividend but grow it aggressively
3. Use the remainder of the operational cash on share buybacks
These are exactly the kind of companies I like. They focus on ensuring a safe and growing dividend, sport a very high free cash flow, and have low capex requirements.
| Company | Capex Coverage | Cash Flow Dividend Coverage | 5yr Dividend Growth Rate | 5yr Share Buyback Growth Rate |
| --- | --- | --- | --- | --- |
| Mastercard | 87.34% | 88.11% | 37.68% | 51.37% |
| Visa | 90.25% | 86.03% | 35.52% | 32.72% |
As shown in this table, they have sported impressive growth coupled with impressive shareholder returns. Based on their initiatives to integrate with new players (such as Apple Pay) and to provide a strong service of mobile and e-payments, I see no reason for this growth not to continue well into the future.
I know that I am making this purchase right after a significant spike in the price and I would not be surprised if the shares drop in the short term. But that is not predictable, and I do not attempt to time the market; I deploy cash as soon as I have it available on opportunities that I consider fairly priced for the potential risk/reward they might provide, and that is just what I did.
Visa:
Stock Price: 262$
Dividend Yield: 0.7%
Dividend Raise Streak: 6 Years
Typical Yearly Dividend Growth (5yr): 30%
Mastercard:
Stock Price: 87.58$
Dividend Yield: 0.7%
Dividend Raise Streak: 8 Years
Typical Yearly Dividend Growth (5yr): 60.55%