Gold stocks have received relatively little attention from investors despite surging gold bullion prices, which have risen over 200% in the last half decade to over $1500 an ounce. As a result, if an investor were stranded on a deserted island and returned after a two-year absence, and first learned that gold has almost doubled during that time period, that person might be justified in assuming his or her portfolio of gold stocks would be up dramatically. However, that assumption would be incorrect.
As the chart shows, investors have not rewarded the senior gold producers with an increase in their valuations as a result of rising gold prices. By examining the five year return of the S&P/TSX Global Gold Index, investors who adopted a buy-and-hold approach would have returned just under 5% annually on a compounded basis. One of the common arguments put forward to explain this valuation gap is that the senior producers are having difficulties replacing their production with new reserves. While this is certainly a challenge for a company producing millions of ounces of gold each year, the chart also shows that in total they are managing to add to their reserves.
(Click chart to expand)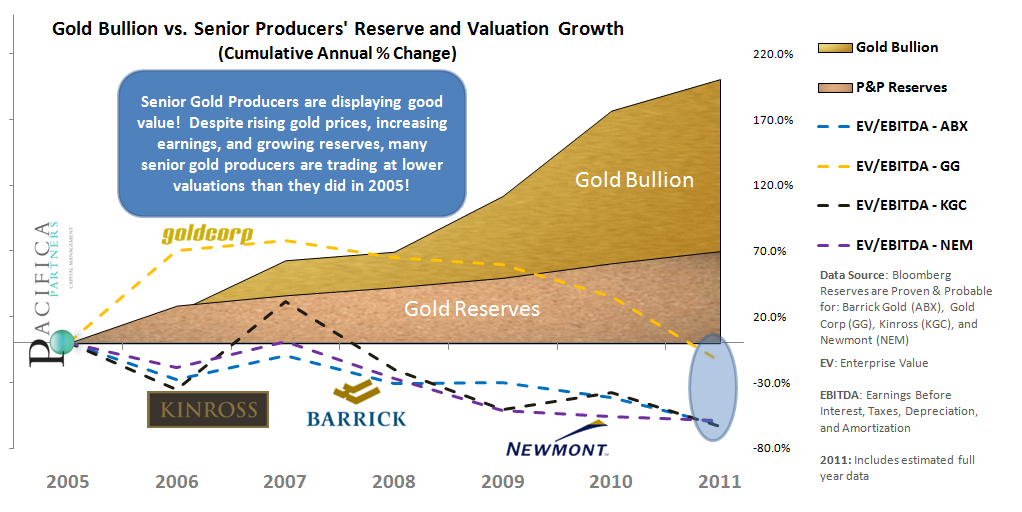 Another explanation for the lack of valuation growth in the senior gold producers is the fact that investors have so many other avenues for gaining exposure to gold in the form of ETFs that invest in gold bullion. One of the largest of these ETFs – the SPDR Gold Trust (NYSEARCA:GLD) - has a market value of approximately $60 billion. By comparison, the largest gold miner in the world – Barrick Gold Corp. (NYSE:ABX) - has a market value of approximately $43 billion. However, the SPDR Gold Trust holds about 40 million ounces of gold on behalf of investors while Barrick not only produced over 7.7 million ounces of gold last year, it also has gold reserves of over 140 million ounces in the ground. As a result, the market is deeply discounting the value of the un-mined gold reserves that Barrick and other senior gold producers possess.

The management teams of these companies are keenly aware of the lack of growth in their stock prices and have taken various measures to correct this. For example, Colorado based gold producer, Newmont Mining (NYSE:

NEM

) has now linked its dividend to the price of gold. Based on this method, Newmont shareholders will receive a dividend increase of over 60% compared with the previous quarter.

It is not often that the senior gold companies can be considered to be value stocks, but this might be one of those times. For investors, it might be worth taking a look at the senior gold producers as an option for some of their exposure to the precious metals sector.

Disclosure: I am long ABX, GG, KGC. and XGD.TO.

Disclaimer: This report is for information purposes only and is neither a solicitation for the purchase of securities nor an offer of securities. The information contained in this report has been compiled from sources we believe to be reliable, however, we make no guarantee, representation or warranty, expressed or implied, as to such information's accuracy or completeness. All opinions and estimates contained in this report, whether or not our own, are based on assumptions we believe to be reasonable as of the date of the report and are subject to change without notice. Past performance is not indicative of future performance.