I just read through an entire Seeking Alpha article that attempted to explain the unexplainable. Contributor King of All Trades spent 13 paragraphs trying to convince readers that the Pandora (NYSE:P) IPO means absolutely nothing to Sirius XM (NASDAQ:SIRI). After reading the article, I am still not sure how one goes about trying to prove such a thing. I am even more certain that it doesn't really even matter. Pandora's IPO, whatever its significance, represents short-term noise to SIRI, the stock, if it represents anything at all.

King of All Trades used a couple portions of his article to claim that it's not just the P IPO that means nothing to SIRI, but Pandora, the company, holds no relevance vis-a-vis, Sirius XM, the company.






In summary, the argument looks like this: Pandora comprises such a small portion of "total radio revenue" that you really have no business calling it a "real competitor" to Sirius XM or terrestrial radio. I assume it's this line of thinking that rode the slippery inferential slope to the notion that Sirius XM is merely being "thorough" when it lists MP3 players and Apple (NASDAQ:AAPL) iPods as competition in its SEC filings.

Obsession with who is "real" competition and who is not is the stuff that helps characterize some SIRI shareholders as little more than fanatical cult members. I agree that the hockey example is absurd, but it's no more absurd than claiming that Sirius XM only really competes with terrestrial radio.

In a business as rapidly changing as radio, there's no objective measure to quantify competition. A few years ago all we had was AM and FM terrestrial radio. Then we had satellite. Now we have all of the above plus Internet radio. Clearly, the financial landscape favors terrestrial over satellite and satellite over Internet. The same types of reasons drive the reality that, when it comes down to money, Toronto bests Boston and Vancouver and all three stand superior to Phoenix. When they play the game, however, it does not always shake out this way.

Sirius XM, Clear Channel (CCMO.PK) and CBS Radio (NYSE:CBS) are all greatly improving their online/digital offerings ahead of the Pandora IPO. Why waste time with a streaming offering if Pandora and its pure Internet radio counterparts mean nothing in terms of competition?

Regardless of today's revenues, profitability and subscriber counts, pretty much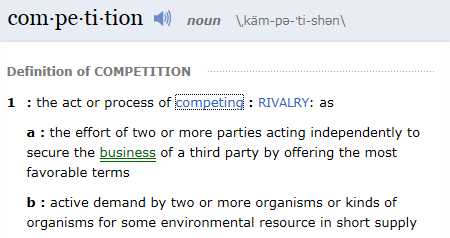 any and all audio entertainment competes with one another. It seems like such a basic and logical argument that I almost feel silly explaining it. It's as if I'm insulting your intelligence. My apologies in advance.

Consumers have options at their disposal. They make choices. As a Sirius XM subscriber, I make them everyday. At times, I choose to stop listening to Sirius XM. Sometimes I stop for five minutes. At other times, I stop for a few hours, a few days, and rarely, more than that. In lieu of Sirius XM, I often go to Clear Channel's iHeart Radio, CBS' Radio.com/Last.FM, or my iTunes library, either through the iTunes interface itself or my iPod. Again, I don't think you - the reader-- are a moron. But, to be clear, these things are competition to Sirius XM on the basis that they are business "organisms" in the same broad sector going after the same sets of ears.

Of course, the list of competitors is really endless. At some point it opens up for debate. While I don't endorse it, I think you run less of a risk of having them "waiting for you at Bellevue with their oxygen masks" if you argue that all forms of entertainment compete with not only Sirius XM, but all radio, than by arguing that Sirius XM has only one "real" competitor - terrestrial radio.

And, to be clear, size and current scope mean nothing in this non-argument. You cannot discount Pandora because it presently commands a small chunk of "radio revenue." That's like only playing your fourth line when the Coyotes come to town. Sure they have fewer fans, an ugly balance sheet, and, at times, an inferior product, but they come to play each night.

You cannot write off Apple as not "real" competition to Sirius XM just because the company does not directly target "radio revenue." That's like saying the NBA playoffs do not compete with the NHL playoffs. They're both trying to capture your sports-related attention span. It's no coincidence that they rarely, if ever, schedule their games on the same day at the same time.

Cherry picking terrestrial radio, and terrestrial radio alone, as the only "real" competition to Sirius XM is akin to the notion that cheesecake does not compete with chocolate mousse on the dessert menu. Of course it does, even if chocolate makes you break out in hives.

If Sirius XM CEO Mel Karmazin is waxing "tongue-in-cheek" when he speaks of the competition, you should probably sell all of your SIRI shares right now because that would make the guy certifiably insane. Thankfully, they're not waiting for the Karmazin at Bellevue.

He's of sound mind and body and more than ready to meet the challenges of Internet radio, terrestrial radio, and anything else this irrational world throws his way. One listen to Karmazin's performance on Sirius XM's last conference call provides more than enough support for using the CEO as the impetus or even foundation of a long play on SIRI. On the call, he pulled an Apple of sorts - tempering expectations on potential Japan-related OEM delays. This strategy represents a classic case of under-promise and over-deliver, as it's next to certain that Sirius XM will issue upward guidance prior to its August 1st call.

Karmazin knows the score. He fully realizes that a competitor's IPO, in and of itself, means little in the grand scheme of things. Investors can safely presume that Karmazin's primary focus settles around not only treating Pandora (and others) as "real" competition, but finding ways to fend off the competitive challenges they bring to the still emerging and evolving business of satellite radio.
Disclosure: I am long SIRI.
Additional disclosure: I may initiate a short or long position in any of the stocks mentioned in this article at any time.