We continue to believe Bob Evans (NASDAQ:BOBE) represents an under-the-radar special situation story. The company first caught activist investor Sandell Asset Management's eye back in July 2013. Bob Evans successfully fended off the activist for over a year. However, in August 2014, Sandell won four seats on Bob Evans' board of directors. We understand Sandell's infatuation with the company, due in large part to an abundance of low-hanging fruit. In our view, these opportunities would undoubtedly narrow the gap between the stock's current price and its intrinsic value.
We believe the board could create significant value for shareholders in a variety of ways, the most appealing of which would be a spinoff of BEF Foods, which has an estimated enterprise value of $600-800 million. Not only would this immediately generate a substantial amount of cash for a cash-strapped company, but it would allow management to refocus its efforts on efficiently running its restaurants. We continue to believe a separation of the foods business is likely, considering the board recently engaged Lazard to serve as an independent financial advisor (this time under a different scenario). Outside of this, opportunities exist to re-franchise restaurants, cut excess SG&A and explore the sale of restaurants and real estate.
With a spinoff of BEF Foods, harsh SG&A scrutiny and a conversion to an asset-light model, we value the stock at approximately $70-80 per share.
The quarter was slightly disappointing, but we didn't expect much else. For what it's worth, FY15 earnings guidance looks achievable, but we're waiting for a transformational transaction.
The Good In 2Q15
3Q15 QTD same-store sales running at 2.7% (3Q15 estimate at +1.7%)
Guided FY15 same-store sales between +1.5-2.5% (above current estimate of +0.7%)
Broasted Chicken platform drove same-store sales at lunch and dinner; outperformed restaurants without the platform by 130 and 690 bps at lunch and dinner, respectively, during the quarter
Off-premise sales were strong at Bob Evans Restaurants, up +13.5% in the quarter
Plant efficiencies at BEF Foods resulting in a 280 bps y/y improvement in adjusted operating margin
Side dish volumes up 9% y/y at for BEF Foods
BEF Foods should benefit from reduced full-year forecasted sow costs (down from $1.80-1.90 to $1.78-1.82), operating efficiencies, and higher sales volumes
Company is exiting its interest in a private aircraft
Board of Directors' Finance Committee (3/5 members newly elected to the Board) is "engaged in a comprehensive, fresh review of strategic, financial and capital allocation plans"
Finance committee has engaged Lazard to serve as an independent financial advisor
Company has retained Deloitte to complete a review of the company's SG&A structure
Company is exiting its interest in a private aircraft
Plan to drive 300-350 bps of operating margin improvement by FY18
The Bad In 2Q15
Missed revenue estimates and guided FY15 consolidated sales to $1.35-1.37 billion (below current estimate of $1.38 billion)
On-premise sales were weak at Bob Evans Restaurants, down -1.7% in the quarter
On-premise sales deteriorated across all three dayparts (breakfast, lunch, and dinner)
Food costs expected to increase 60-80 bps y/y in 2H15
Off-premise sales driving higher cost of sales, due in large part to higher packaging costs
Expect continuation of increased healthcare costs in 2H15
BEF Foods' net sales were flat y/y and guided FY15 net sales to $3.88-398 million (below current estimate is $412 million)
-16.4% decline in sausage pounds sold at BEF Foods
The following are three key slides from my BOBE Black Book slide deck that outline the opportunity for shareholders.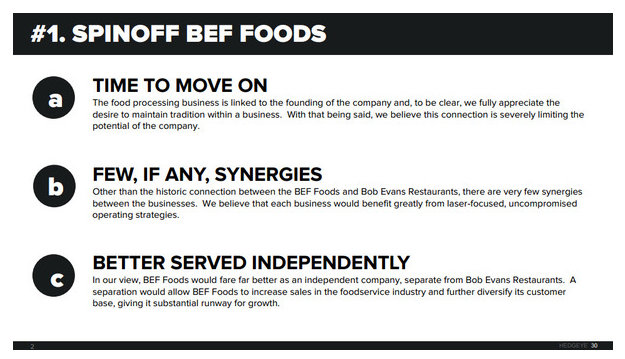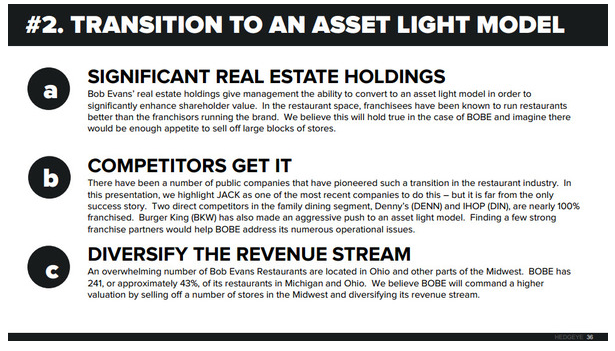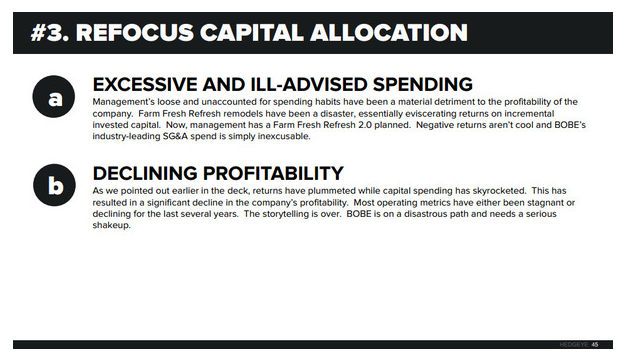 Disclosure: The author has no positions in any stocks mentioned, and no plans to initiate any positions within the next 72 hours.
The author wrote this article themselves, and it expresses their own opinions. The author is not receiving compensation for it (other than from Seeking Alpha). The author has no business relationship with any company whose stock is mentioned in this article.