Introduction
Canadian Pacific Railway (NYSE:CP) experienced a very impressive turnaround in operations after the Fall of 2012. A quick statistical review of the relationships between share price, revenue and net income reveal some interesting findings. Prior to December of 2012, the correlation between CP Rail share price and its Revenues was 92%. Since then, the correlation between share price and revenue is only 22%. Revenue has basically gone flat while the shares have risen quite rapidly. When we look at the relationship between share price and net income from December 2012 onward, quite a different picture emerges. Since December of 2012, correlation between net income and share price stands at 91%.
(Source: Author analysis)
The shares started to trade based more on Net Income than Revenue, as seemed to be the case prior to 2012. What changed? First, activist shareholder Bill Ackman cut 23% of the workforce at CP. Second, legendary railroad visionary Hunter Harrison took on the mantle of CEO of the firm. Third, many investors started to believe that the company would start to make marginal profits by expanding its petroleum transportation business from 1-3% of revenue today to represent 33% of revenue by 2018.
Revenue has flat lined at CP, all of the efficiencies that were going to be wrung out of the company have been wrung out of it. The company and the industry continue to face huge headwinds. It's not possible to 'cut your way to growth'. Given all of this an investor today must ask: 'what can management do to continue to grow'? The answer: not much. We lay out our bearish case below.
Context
An investor could be forgiven for being bullish on CP, as they've enjoyed a remarkable turned around since 2011. For instance they went from having the industry's worst Return on Net Investment figure in 2011 to one that surpassed arch-rival CN Rail in 2013 (see chart below).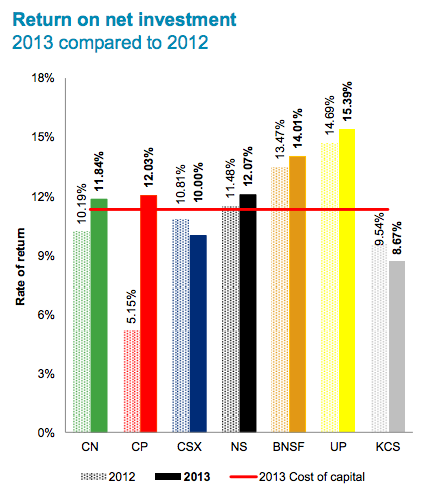 Source: Oliver Wyman
More immediately, investors have seen net income jump from 487.24 Million in December of 2012 to 1,011.53 Million in September of this year (a remarkable CAGR of 51.8%), see chart below.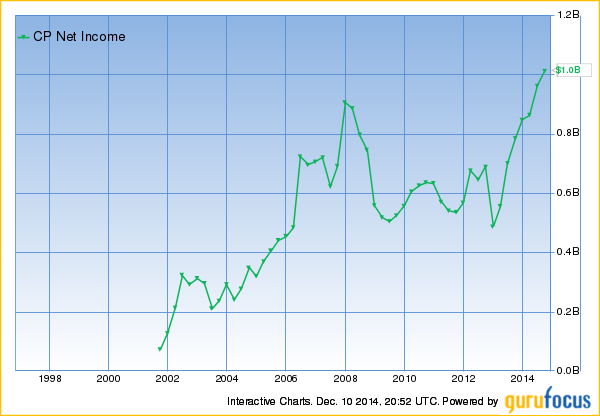 Source: Gurufocus
Management has claimed that they're going to pull another rabbit out of their hats and double earnings again, this time by 2018. Should investors go along for the ride? We believe not.
The Bearish Case
One of the issues facing all of the Class 1 Railroads - including CP - is capacity issues. Simply put, the interconnected network of rails in North America is at or very close to capacity. In fact, without large investments in capacity, the freight rail system has little room to grow and won't be able to handle any increases in volume until 2020.
A railroad is a network and according to the AAR (American Association of Railroads), when railroads get larger, they become more challenging to manage for a host of reasons having to do with:
Different types of trains
Costly maintenance
Unforeseen traffic volumes
Regulations
Greater congestion of already congested track capacity
In regard to CP in particular, in order to ramp up oil revenues from their current low level to 1/3 of company revenues by 2018, the company will need to spend somewhere between 1.4 and 1.6 Billion dollars on CAPEX expansions along CP's Western Corridor. Whether this actually happens is now actually up in the air. With the price of oil dropping there comes a point where the logic of moving expensive Canadian bituminous oil by rail is questionable.
Capacity Issues Specific to CP Rail
In a sense, any claims management makes about ramping up capacity or doubling revenue seems comical in light of CP's velocity issues. At present, CP has the lowest velocity of all Class 1 railroads (see chart below).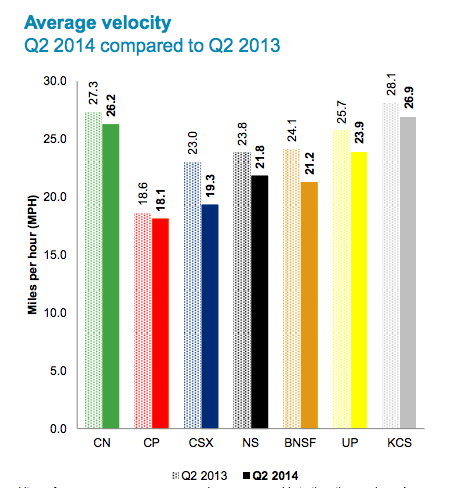 Source: Oliver Wyman
Perhaps a better use of CAPEX dollars and management focus would be to improve speed on the existing network before thinking of expanding further. This strategy would result in poor growth figures, but may make for a more sustainable business model.
We believe it would be better to fix current problems as customers are currently unhappy with CP. Low speeds and high dwell times have caused customer complaints to mushroom from an already bad 48% to 79%--leaving grain shippers particularly unhappy and leaving nearly 60 million tonnes of grain trapped on the Prairies because of rail capacity constraints. It seems that if there was an alternative, CP customers would kick it like a bad habit.
In fact, CP's service has been so poor that it's prompted the Surface Transportation Board (STB) to comment.
The Board has been closely monitoring the rail industry's performance metrics and is concerned about service problems across the nation's railroad network, particularly on the Canadian Pacific Railway Company and BNSF Railway Company (BNSF) systems."
Winter weather poses operational risk for all for all Class 1 railroads, but particularly those that operate, like CP, through the Chicago hub. In addition, CP also has exposure to more Canadian winter than any other Class 1 railroad. The fact that we're heading into the worst of the season is yet another reason to be cautious about CP here.
Finally, a railroad that wants to expand needs a well trained crew in order to manage that expansion. CP's earlier efficiencies have arguably harmed them in that way. Labor constraints may represent a problem for CP as they hope to expand.
Valuation
These headwinds may be tolerable for an investor if the valuation of CP Shares was compelling enough. Unfortunately, they are priced for perfection.
One metric we like to look at to understand valuation is to compare current price with tangible book value per share (TBVPS). When we compare CP's price to its TBVPS, we find that CP's price assumes TBVPS will grow at 17% CAGR per year for the next decade--from 36.8 to 177. That is quite an optimistic forecast given everything that's going on with capacity constraints, the price of oil etc.
In addition, when we look at more traditional valuation metrics we see a similar story. CP's Trailing Twelve PE Multiple is near the company's historical high at 32.6 times. We believe PEs mean revert so CP has really little upside and much downside potential ahead of it.
Another of our favourite metrics is the EV/EBIT. According to that metric, CP is priced for a perfection that will never materialize. At an EV/EBIT of 22.94, investors have an implied operating earnings yield of about 4.4% on their capital. A high interest savings account wouldn't be much worse and would be much safer.
Summary
In conclusion, we believe that now is a time to avoid CP Rail. It's had a great run, but it's time to get off this train before shareholders lose even more value. The price has recently dropped quite a bit. This represents a shape of things to come, rather than a comfortable entry price. Our advice: get out while you can and please stay tuned for our analysis of other, better investments in the "Class 1 Railroad Space."
Disclosure: The author has no positions in any stocks mentioned, and no plans to initiate any positions within the next 72 hours.
The author wrote this article themselves, and it expresses their own opinions. The author is not receiving compensation for it (other than from Seeking Alpha). The author has no business relationship with any company whose stock is mentioned in this article.