The S&P 500 opened higher Thursday, as undeniable strength was reported in November's Retail Sales Report. The stock market decline to start December is not an anomaly, and neither is the rally that should start around the mid-point of the month, if not already begun this morning. The data reported today showed important consumer strength and could serve as a support for stocks here.
Retail Sales were reported for the month of November on Thursday morning. The data showed sales increased 0.7%, versus economists' expectations for growth of just 0.4%. Also, October's growth rate was revised higher to 0.5%, versus the initially estimated 0.3% increase. Looking at retail sales ex-autos and gasoline, sales grew 0.6% versus expectations for 0.5%. Again the prior month's activity was revised higher to show growth of 0.7%, versus the initially reported 0.6%. For more detail on the retail sales report, please reference our article on it.
The message from the retail sales data is that consumer spending was robust in November. That contrasts with the concerns raised by the National Retail Federation (NRF); it reported poor Black Friday sales results and stalled the Santa Claus Rally. While Cyber Monday sales exceeded expectations, stocks have still not recovered from that message, at least not until now.
December is a curious month, with the beginning of the period proving unpredictable over recent years if not downright negative. However, history shows us that around the middle of the month, stocks tend to start higher. Before the period ends, December produces a return of 1.6% on average, or at least it has since 1950. It's the best performing month of the year.
So as we approach the middle of the month, we carry proof of U.S. economic strength in the retail sales data, in recent job openings data, in real estate data and most importantly in the latest GDP revision higher for Q3. What better reason could investors have then to bid stocks higher now than these signs of economic health.
The most recent market concern has been global economic contagion. Indeed, slowing global growth, especially in Europe and China, has had clear impact on energy prices. If the global economy is slowing, especially while new energy supply is opening up in North America and from alternative energy resources, then the price of energy should be discounted. However, we have come a long way quickly, and this has raised question about repercussions to the banking sector, which may have extended loans to exploration and production companies at the margin; those may now come under pressure. Is this a reason for the entire economy to be penalized through the stock market? I do not think so, given that lower energy prices will benefit a great swath of American companies and individual citizens. Indeed, today's retail sales data likely reflects the benefit of lower gasoline prices on consumer spending. I expect energy prices to stabilize around current levels for various reasons I may discuss in a future article.
The American economy, which is the one that matters most to U.S. investors, has shown robust growth over the last two quarters. Third quarter GDP was recently adjusted higher to 3.9%. Job creation is up, with nonfarm payrolls recently breaking through the 300K mark. Job openings are significantly higher than they were last year and the unemployment rate is about a point below where it stood earlier this year. The point that most excites me today is that our consumption economy is humming, with retail sales sharply beating expectations in November.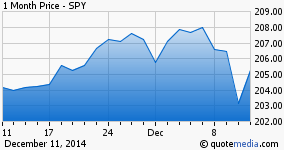 1-Month Chart of the SPDR S&P 500 Trust ETF (NYSEARCA:SPY) at Seeking Alpha
After having given back ground this month, the S&P 500 is up 0.8% in late afternoon trade Thursday. From the end of November through December 10th, SPY was down 1.9%. I believe we have hit bottom for this swoon, though, and can now look toward the traditional seasonal rally that historically has lifted December's performance. We have good enough reason for it.
Disclosure: The author has no positions in any stocks mentioned, and no plans to initiate any positions within the next 72 hours.
The author wrote this article themselves, and it expresses their own opinions. The author is not receiving compensation for it (other than from Seeking Alpha). The author has no business relationship with any company whose stock is mentioned in this article.