Kennady Diamonds (OTC:KDIAF) is a Canadian diamond company focused on advancing its Kennady North diamond project in the Northwest Territories, Canada. Kennady North contains four diamond-bearing kimberlite pipes (Kelvin, Faraday, MZ, and Doyle), including over 40 exploration targets. Drilling at the Kelvin kimberlite has picked up after poor weather conditions slowed drilling activities last month.
Kennady Diamonds recently outlined plans for the 2015 winter/fall drill program, along with a long-term outlook for Kennady North. Investors should expect the project's first NI 43-101 pre-feasibility report to release next year, followed by permitting in 2017, and commercial diamond production in 2020. The stock is high-risk, and speculative, but a core long-term holding in a diamond portfolio.
Big focus on delineating the Kelvin kimberlite
Exploration and delineation drilling at the Kelvin kimberlite has increased the strike to over 600 meters, with the volume increasing to the north, towards the Faraday kimberlite (see Figure 1). Delineation is a form of drilling that helps Kennady Diamonds understand the geological structure of a potential deposit. The company has carried out approx. 16,600 meters of drilling at the Kelvin deposit as part of the 2014 summer/fall program.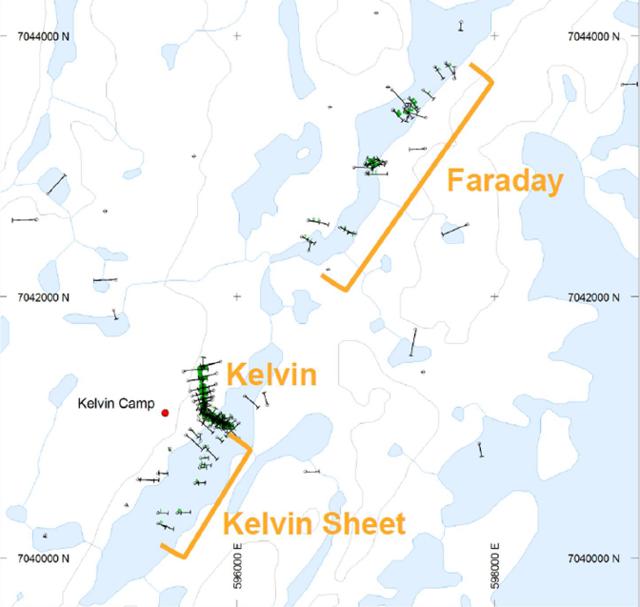 Figure 1: Map of the Kelvin-Faraday corridor complex at Kennady North. Source: Company presentation
The drill target for the extended 2014 summer/fall program is now 18,000 meters, along with a 30 tonne recovery target (28.7 tonnes recovered so far). Kennady Diamonds expects to realize a diamond resource along the Kelvin and Faraday corridor in the range of 9 to 12 million tonnes at a grade of more than 2.00 carats per tonnes.
Drill and bulk sample results to date have returned high-grade diamonds of 2.16 carats per tonne at the Kelvin deposit. Two new bulk samples from Kelvin are currently undergoing treatment by caustic fusion, and dense media separation. The company wants to further define the recovered diamonds grades, and diamond size frequency distribution from the deposit.
(Note: For further details about the latest bulk sample program, we recommend that investors read our previous article here).
Potential diamond production in 2020
Kennady Diamonds recently finished commissioning the new Kelvin Camp that is located directly adjacent to the Kelvin kimberlite (refer to Figure 1). The Kelvin Camp will support the current delineation drilling at Kelvin, including the extensive drill program along the Kelvin-Faraday corridor scheduled for 2015.
Forming a pre-feasibility study (or maiden resource estimate) is the company's main objective for next year's drilling and bulk sampling efforts. The 2015 winter/spring program seeks to drill over 10,000 meters at Kelvin and Faraday, respectively, along with drill testing the underexplored MZ and Doyle kimberlites.
Kennady Diamonds sets to develop a feasibility study in 2016, following the all-important maiden resource estimate. With only $5 million in cash, we expect the company to raise cash through equity (dilutive) to fund its scheduled drilling and exploration activities moving forward.
Shareholders could experience further dilution during the permitting stage in 2017 if the company seeks cash from equity markets to pay for the capital costs for the construction phase in 2018/19. Raising cash through debt is much preferred (in our view) and non-dilutive to shareholders.
Potential diamond production could commence in 2020, but this could vary depending on the construction and mine plan outlined in the forthcoming feasibility studies.
We have no position in Kennady Diamonds. We rate the stock high risk, and speculative, but a core long-term holding in a diamond portfolio.
Disclosure: The author has no positions in any stocks mentioned, and no plans to initiate any positions within the next 72 hours.
The author wrote this article themselves, and it expresses their own opinions. The author is not receiving compensation for it (other than from Seeking Alpha). The author has no business relationship with any company whose stock is mentioned in this article.