While uncertainty swirls around the market and everyone's eye is on the falling price of oil, water remains a necessity, as well as a finite resource. Amidst this current backdrop, Connecticut Water Service, Inc. (NYSE: CTWS) continues to quietly supply water to roughly 121,768 customers throughout Connecticut and Maine. No matter what happens in the markets, these customers will rely on the company for their essential supplies of water, which helps make CTWS an ideal defensive play.
The company
Connecticut Water operates in three separate segments:
Water Activities: supplies the public with drinking water.
Real Estate Transactions: involved in the selling or donating of company real estate holdings.
Services and Rentals: This segment provides contracted services and operations to water and wastewater facilities. The segment also rents and leases both residential and commercial properties to third parties.
The company has expanded into Maine over the past few years as well, which has grown its customer base by roughly 35%. During its most recent quarter (three months ended September 30th), Water Activities accounted for around 94.86% of revenues, Real Estate Transactions less than 1%, and the Services and Rentals segment accounting for roughly 5.11% of revenues.
Increasing earnings
Connecticut Water's Earnings-per-share have trended upwards over the past few years, reaching $1.68 per share at the end of fiscal 2013 compared to $1.55 for FY2012 and $1.29 for FY2011, respectively. For its most recent quarter, the company missed estimates by a penny, reporting $0.76 in earnings per share.
Looking at the first nine months of the year, CTWS reported net income of $18.9 million on total revenues of $78.7 million for all three of its segments through the first nine months of 2014. The company is on track to continue on its trajectory of strong earnings growth.
Examining its two major segments, net income for its Water Activities segment was $17.7 million, translating to $1.63 EPS, which was an increase of roughly 16% year-over-year. In the same period of 2013, net income from the segment was $15.2 million, or $1.41 EPS. The Services and Rentals segment contributed income of $1.2 million, versus $1.1 million in the same period of 2013. This was an increase of about 5.8%.
Total diluted EPS for the first nine months totaled $1.70 versus $1.49 for the first nine months of last year. Due to the essential nature of water, earnings should remain relatively stable both in good times and bad.
Strong financial health
Taking a look at the balance sheet, the company looks relatively strong financially as well.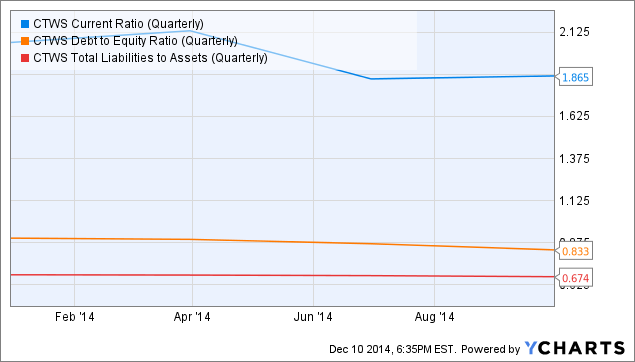 CTWS Current Ratio (Quarterly) data by YCharts
The company's balance sheet also holds up well when compared to some of its larger peers.
Aqua America's (NYSE: WTR) current ratio sits at just 0.88 with a debt/equity ratio of 1.02. American Waterworks Co. (NYSE: AWK) also appears weaker financially, with a current ratio of 0.72 and a debt/equity ratio of 1.20. American States Water Co. (NYSE: AWR) looks closer to CTWS in liquidity and solvency, with a current ratio of 1.55 and a debt/equity ratio of 0.6214.
Stable earnings + solid balance sheet = sustainable dividend stream
Perhaps the most attractive aspect of Connecticut Water's shares is the dividend. CTWS is a dividend aristocrat, increasing its dividend for 45 years.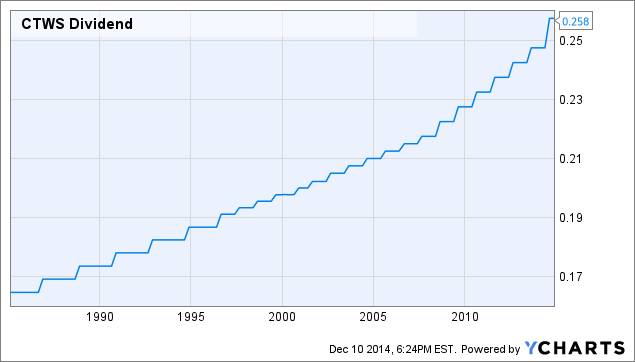 CTWS Dividend data by YCharts
The company recently bumped its dividend by 4% in August, and shares currently yield around 3%. The company has paid a dividend ever since it was incorporated in 1956.
One thing to keep in mind, however, is the growth rate of these dividends. CTWS typically only bumps the dividend at a snail's pace -- usually around 2% a year -- so the recent 4% bump is on the higher end of the increase spectrum. The quality of the dividend is great, but the growth rate isn't.
Increased capital spending
The company plans to increase its projected capital spending plan by 20.8% in 2015, which was approved for a total of $55.1 million. The spending will be split between its regulated water utility subsidiary, The Connecticut Water Company for $47.6 million; while its other unit, The Maine Water Company, which will receive the rest of the funds.
$16.6 million will be used to replace its aging pipeline systems and upgrade infrastructure. $17.9 million will also be spent for improvement of its treatment plant and lab. The company generates stable cash flow and maintains a strong balance sheet that should easily help cover these expenses.
Valuations
Connecticut Water looks more attractive valuation-wise both now and going forward when compared to some of its larger, more well-known peers. Its also offers a higher-yielding dividend.
| | | | | | |
| --- | --- | --- | --- | --- | --- |
| | P/E | Forward P/E | Dividend (Yield) | Payout Ratio | Market Capitalization |
| CTWS | 18.34 | 17.34 | $1.03 (3.00%) | 53% | $381.59 million |
| WTR | 20.69 | 20.53 | $0.66 (2.50%) | 50% | $4.60 billion |
| AWK | 24.23 | 20.11 | $1.24 (2.40%) | 54% | $9.40 billion |
| AWR | 22.62 | 21.87 | 0.85 (2.50%) | 54% | $1.32 billion |
Considering its strong financial position, cheaper valuations, and higher dividend in relation to peers, CTWS offers value in the water utilities space.
The bottom line
While Connecticut Water won't provide explosive runaway growth, it will provide a safe stream of dividends that tend to increase annually around the rate of inflation. The company is expected to earn $1.90 in EPS for its FY2014, or an increase of roughly 14% year-over-year. It is expected to earn $1.98 in EPS for 2015, however, so growth is also expected to slow.
CTWS makes an ideal defensive play, however, and its stable earnings and dividend increases make it a suitable low-beta holding for income.
Disclosure: The author has no positions in any stocks mentioned, and no plans to initiate any positions within the next 72 hours.
The author wrote this article themselves, and it expresses their own opinions. The author is not receiving compensation for it (other than from Seeking Alpha). The author has no business relationship with any company whose stock is mentioned in this article.
Additional disclosure: Articles I write for Seeking Alpha represent my own personal opinion and should not be taken as professional investment advice. I am not a registered financial adviser. Due diligence and/or consultation with your investment adviser should be undertaken before making any financial decisions, as these decisions are an individual's personal responsibility.