Following its investor day presentation, Qualcomm (NASDAQ:QCOM) has been hit by a spate of bad news. The biggest problem is the potential delay of its future SoC (system on chip), the Snapdragon 810.
As seen in Business Korea:
Local smartphone makers are nervous at the prospect of a delay in the launch of new models next year, including the Galaxy S6 and the G4. It is unclear whether or not the supply of the Snapdragon 810 will exist in the first half of next year due to technical problems such as overheating and a decline in speed.
Not good, however, Intel's (NASDAQ:INTC) products going into 2015 are aimed at the low-end so even if Qualcomm were to release the Snapdragon 810 a little later, the financial impact isn't going to be devastating.
But the company denies a delay (via Fudzilla):
Jon Carvill, Qualcomm's Senior Director of Public Relations, told Fudzilla that the company won't comment on any of the rumours or speculation referenced in our report (based on Business Korea's reporting).


"I can tell you that everything with Snapdragon 810 remains on track and we expect commercial devices to be available in 1H 2015," said Carvill.
So maybe Qualcomm will be able to address the technical issues within the first half of 2015?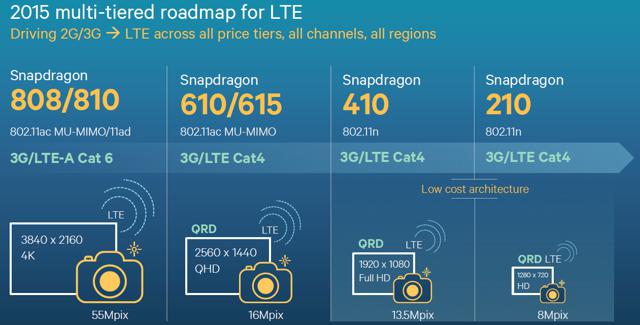 Source: Qualcomm
Snapdragon 810 will support 4k resolutions and higher megapixel cameras, along with faster graphics and a speedier CPU. So it's a pretty important launch cycle, as it will help determine whether competing smartphone manufacturers can remain competitive with Apple (NASDAQ:AAPL).
As it stands, Apple's A8X and A8 chips are pretty powerful and better than the Snapdragon 805 based on benchmark comparisons. Smartphone OEMs such as Samsung (OTC:SSNLF), HTC (OTC:HTCXF), and LG need their flagship products to at least have a performance advantage over their rival, Apple. But to do this will require the 810 to be launched in the first half of 2015. That way before the A9 and A9X come out, people can talk about the significant performance improvements when compared side by side.
Right now, Apple has a hardware, ecosystem and branding advantage. So it's pulling way ahead of other OEMs on the high-end. This is bad for Qualcomm because it doesn't sell/license its CPUs and GPUs to Apple. So if Samsung and LG sell fewer high-end phones, the impact also hits Qualcomm's bottom line.
Recently, Qualcomm announced job cuts (via CNET):
The spokesperson said just fewer than 300 employees would be cut in California, where the company has its San Diego headquarters and several other offices. A "similar number" of international employees will also be laid off, the person said. At the end of September, Qualcomm had about 31,300 full-time, part-time and temporary employees, up about 300 from the year earlier, according to regulatory filings. The spokesperson declined to say how many full- or part-time employees would be cut.
Qualcomm may be reducing headcount to reach financial targets. And with the projected loss of shipment volume in high-end handsets due to Apple, Qualcomm may need to trim costs this year to reach analysts' consensus estimates of $5.21 EPS. Admittedly, the cut is hardly meaningful in terms of scale and may just indicate that R&D and other expenses are likely to stay at a constant level for the next fiscal year as the company tries to resolve its issues in China. With organizations of this size, small reductions in headcounts or years without hiring are typical.
So, if anything, the long-investment thesis remains intact. I'm certain Snapdragon 810 will come out on schedule and that keeping costs at a near constant level will give the company enough room to meets its own revenue and earnings outlook. However, there's no denying that a couple factors are weighing on financial performance, such as Samsung's loss of market share on the high-end. Hence, Qualcomm anticipates revenue growth will be near anemic in FY 2015 because of a combination of falling ASPs (average selling prices) and China-related issues.
However, over the next five years, revenue is expected to grow at 8-10% CAGR because of adjacent business opportunities (like the Internet of Things), global rollout of 4G LTE and eventually 5G technologies and shipment growth for low-end devices. Therefore, I continue to reiterate my buy rating and 12-month, $78 price target.
Disclosure: The author has no positions in any stocks mentioned, and no plans to initiate any positions within the next 72 hours.
The author wrote this article themselves, and it expresses their own opinions. The author is not receiving compensation for it (other than from Seeking Alpha). The author has no business relationship with any company whose stock is mentioned in this article.