Introduction
On Nov. 12, 2014, BB&T Corporation (NYSE:BBT) ("BB&T") and Susquehanna Bancshares, Inc. (NASDAQ:SUSQ) ("Susquehanna") announced the signing of a merger agreement under which BB&T will acquire Susquehanna. Under the agreement the shareholders of Susquehanna will receive 0.253 shares of BB&T and $4.05 in cash per share.
Merger review
The buyer group, BB&T, is a large financial services corporation in the U.S. It has $184.7 billion in assets and offers consumer and commercial banking, brokerage services, insurance and mortgages. The holding operates 1,824 offices in 12 states.
The target, Susquehanna, is based in Pennsylvania and has $18 billion assets. Its business model is pretty much the same as BB&T but it counts with only 260 branches in four states.
The M&A market is not new for BB&T. Since 2009 the bank has been delivering value to shareholders through inorganic growth:
On Aug. 14, 2009 acquired $22 billion in assets from the Colonial bank. With this acquisition BB&T became the 10th largest commercial bank in the U.S.
On Nov. 1, 2011 acquired Bank Atlantic adding $5.4 billion more in assets.
On Dec. 18, 2013 the corporation added $1.2 billion assets from Citigroup. In 2014, the bank bought 5.3 billion more in deposits.
Finally, in 2014 bought the Bank of Kentucky adding another $1.9 billion in assets.
The deal was introduced in the merger presentation as a confirmation of the proven practices of the bank: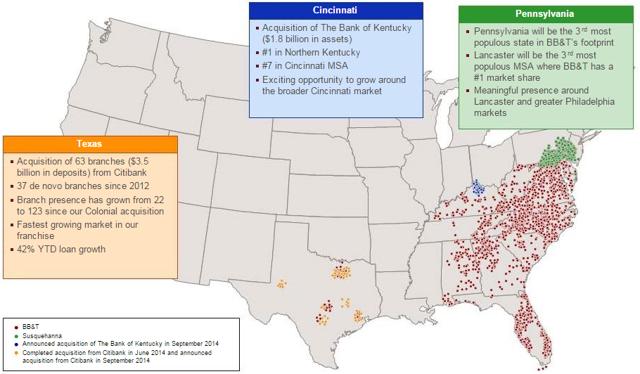 Source: SEC
In the conference call with investors the M&A experience was presented as an asset of BB&T by the CEO:
"We've spent a huge amount of time making sure we can continue those developments on systems and processes and assimilate these organizations, and we're 100% confident we can do that. For example, we've done a lot of development of [years].
Because we've done so many mergers, we have flex expansive opportunities in terms of programming for mergers that while we use flex from outside consultation in terms of providing those programming activities, it does not drain our internal people. So it's really good question, and we'll be working really hard, be really focused, but we do not anticipate any difficulties."
In addition, when asked about the timing of the transaction it was said to be long:
"We're thinking today, it's more like nine months just because it's a bit more complicated environment in terms of years of doing amended CCAR plan and different things. It takes a little longer than it used to. So just a matter of trying to be transparent in terms of what time it may take."
Deal Details
In order to make a quick review of the terms of the transaction I have prepared the following table including: the type of buyer and the type of target with links to find information about them, the conditions and the potential profit.
Transaction: BB&T Corporation to acquire Susquehanna Bancshares, Inc.

Buyer

Nationality: U.S.

Private/Public: Public

Market cap/AUM: $27.5 B

Strategic/Financial: Strategic
Hostile: No

Target

Nationality: U.S.
Price: $20.50

Market cap: $2.4 B
Sector: Financial

Conditions

Cash/stock: cash + stock
Premium: 24%

Termination fee: target 3.5%

Merger approval: 50%

Antitrust: FDIC, HSR Act, Federal Tax Opinion

Financing condition: No

Special conditions: No
Go-shop: No

No solicitation of transactions: Yes

12/8/2014 Spread: 1.5 %

12/8/2014 Annualized Spread: 2 %

Expected termination date: Second half of 2015 (9 months)
Spread Calculation
The press release reads:
"Under the terms of the agreement, which was approved by the Board of Directors of each company, shareholders of Susquehanna will receive as merger consideration 0.253 shares of BB&T common stock and $4.05 in cash for each share of Susquehanna common stock. The merger consideration is valued at $13.50 per share based on the average closing price of BB&T over the 45 trading days ending on November 10, 2014"
Therefore the value of the offer is a function of BB&T's common stock. As an example, the merger consideration today Dec. 12, 2014 is:
Cash consideration = $4.05 in cash
Stock consideration = 0.253 * 38.18 (BB&T) = $9.66
Total merger consideration = $13.71
The spread calculated is:
((13.71/13.50)-1)*100 = 1.5%
Assuming the transaction will last 9 months, the calculation of the annualized spread is:
1.5% * 12/9 = 2%
In my opinion, 2% annualized is extremely low for the risk we take. I do not understand this number since the target is not small and the premium is not high (24%).
How do we explain the spread?
The spread is pretty illogical in this case. Although the company has experience in this kind of transactions the spread is too small for a transaction that is going to take 9 months. In addition, the target has $2.4 billion of market capitalization which is not small.
In my opinion, the spread is going to have a volatile behavior for some time and it is likely to increase in the future. Many investors have not looked correctly at the timing of the transaction and the risk.
Investment idea and conclusion
I do not recommend the arbitrage of this deal yet. We have 9 long months to do it and we will find opportunities in the future. I think the best that it can be done in the first period is short selling the spread (buy the buyer and short-sell the target) until is logical. This last strategy can take long (months) but it can be very profitable. Once the research is done we cannot be afraid of expecting the market to be reasonable.
Disclosure: The author has no positions in any stocks mentioned, and no plans to initiate any positions within the next 72 hours.
The author wrote this article themselves, and it expresses their own opinions. The author is not receiving compensation for it (other than from Seeking Alpha). The author has no business relationship with any company whose stock is mentioned in this article.