Sotheby's (NYSE:BID) needs no introduction. It has been around for well over 250 years, helping the rich sell their collectibles to the richer. As a stock, Sotheby's is essentially a pure-play on the finer things in life. In fact, it's one of the only plays. Sotheby's is the only publicly traded auction house. Its only major competition, Christie's is a private company.
With Sotheby's, you're betting on the fact that there will always be billionaires looking to one-up their peers. And it's worth noting that Sotheby's main business is acting as the middleman. It brokers the transaction and takes a fee.
Thus, as long as there remains an art market, whether it be for a mushroom or Van Gogh painting, there will be a market for Sotheby's.

THE ACTIVISTS WON, OR DID THEY? Dan Loeb of Third Point has likened Sotheby's to an old painting that needs some serious restoration. For some context, Dan Loeb (and his Third Point hedge fund) and Mick McGuire (founder of Marcato Capital) have been activist investors at Sotheby's since 2013.
The recent news is that Bill Ruprecht is out as CEO after nearly 15 years in the role. This is a big win for Loeb, who has had a personal battle with Ruprecht since getting involved with the company.
But it's tough to declare victory just yet, where shares of Sotheby's are down 12% over the last 15-months, while the S&P 500 is up 25%.
Both Marcato and Third Point have Sotheby's as one of their top 10 holdings. Together, the two funds own nearly 17% of the company.
MARCATO CAPITAL 3Q PORTFOLIO - Marcato owns 5mm shares or 7.35% of the company.

Source: stockpucker.com
THIRD POINT 3Q PORTFOLIO - Third Point owns 6.65mm shares, putting it as a 9.6% owner.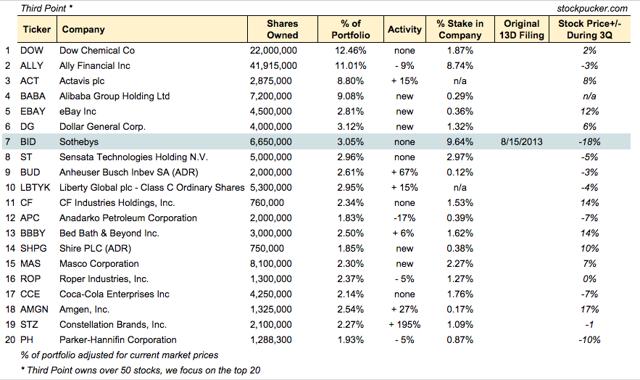 Source: stockpucker.com
The year and a half battle that Loeb and Marcato have been waging at Sotheby's has included Loeb claiming a "holy jihad" on Sotheby's (in an email to a colleague), while former CEO Ruprecht said Loeb's campaign was all about "ego" for the "scum" (referring to Loeb in an email to a board member). More on that back-and-forth here.
BID MISSTEPS: As mentioned, Loeb has said that Sotheby's management has been unwilling to change with the times. This comes as the company had a poor shareholder policy for providing financial information and for shareholder returns.
What's more is that with Sotheby's somewhat lackluster efforts in emerging markets and online, Christie's has taken market share. In 2013, Christie's market share for fine art auctions was 29.5%, compared to Sotheby's 25.8%. This comes after the two were neck-in-neck back in 2010.
"This in a time when competitor Christie's continues to wield an ever-increasing market share" (artfcity)
EMERGING MARKET GROWTH OP: Jim Chanos is short Sotheby's, but Jim and I haven't seen eye-to-eye on a few things (think: Caterpillar and HP). His thesis is there is a rise of smaller art dealers that are taking market share from the major auction houses. He's probably right, and they may steal some share in the U.S.
But Sotheby's major advantage is that it's an established player in the art market where fraud is a big risk. That means there will always be a place for Sotheby's, but it also means there's an increasing need for Sotheby's in emerging markets, including China. Last year, China accounted for 24% of the global high-end art market sales.
"The art and antiques market in China has been by far the strongest growing market worldwide over the last 10 years" (artnet)
Sotheby's entered the China market in 2012, with Christie's following shortly after. Unlike Christie's, which is trying to bring Western culture to China, Sotheby's is focusing on local tastes.
In a country that's fraught with fraud issues, and where auction winners have been paying late or not at all, Sotheby's high standards could be welcomed by the growing number of millionaires in China.
ONLINE GROWTH OP: As mentioned, Christie's has a strong presence with online auctions. Sotheby's is partnering with eBay (NASDAQ:EBAY) to boost its online presence. The move is an effort to modernize its brand and better resonate with younger shoppers.
And by using eBay to tackle the online market, Sotheby's will hopefully be able to tackle a larger part of the collectibles market. There are some concerns, however,
"There has been considerable discussion in the press and online about Sotheby's diluting its brand utilizing eBay, but that may be more about how adept the company is in using the eBay platform and how well it keeps its own distinct and upscale image. If it does wind up associating more closely with eBay, it will certainly do the company damage, but I am not ready to believe that its management is that shortsighted - at least not yet" (iphotocentral)
While partnering with eBay may appear brand diluting at first, it could be an incremental opportunity if executed correctly. We view the online market as a large plausible opportunity for Sotheby's, where it's tough to quantify how big the art market could be, but it's definitely going to be growing. Current buyers will shift toward online bidding and new bidders will become interested given the online bidding capabilities.
QUICK TAKEAWAYS:
Sotheby's is a bet on the high-end art market, which is correlated with global wealth. Global wealth has proven very resilient. Millionaires are always in high supply and aren't impacted by the economic swings.
Sotheby's stock price has come a long way from the $5/share during the financial crisis - up 30% in three years. However, it's all relative - as the S&P 500 is up 60% over the last three years.
BID's top line continues to grow nicely. Its $925mm in revenue over the trailing twelve months is the highest annual revenue ever. But its EBITDA margins of 28% are below the historical average of 30% to 35%.
The art market is incredibly strong right now, but Sotheby's investors aren't enjoying the success because the company's margins are compressing. But if you dig deeper, there's still shareholder value to be extracted beyond operating expense and compensation cuts.
Sotheby's is part of a duopoly on the high-end art market, with its only major peer, Christie's, being a private company. Industry dynamics are a key thesis driver for us in many respects (read: oligopolist car rental and ATM market).
A FEW THINGS THAT SIGNAL SOTHEBY'S CAN CHANGE:
Sotheby's has gotten more friendly when it comes to providing more info to shareholders. The CEO is out. A new CEO could help drive home the incremental revenue opportunities (think: emerging markets and online), while also addressing the compensation issue (think: margin expansion).
It has an accelerated buyback plan in place, worth up to $150mm, that it put in place in March. Last quarter, Sotheby's bought back $25mm in stock. Shares outstanding have decreased this year for the first time in five years. Sotheby's has paid out $4.74 in dividends over the last twelve months (thanks to its special dividend).
It's exploring opportunities for its real estate and has identified cost-cutting opportunities. Along the lines of cutting expenses, the company has already identified $20mm to $25mm.
WHAT'S LEFT TO BE DONE (think value extraction):
We still have the real estate, which should be the biggest and most obvious catalyst. Sotheby's owns its showrooms and galleries in New York and London. Sotheby's has already said it doesn't need its entire space in New York - only about half. The idea is that Sotheby's can do a sale-leaseback on this property and extract value. Its total real estate could be worth $850mm, but just focusing on its NYC location: Assuming it can get $400mm, less the mortgage and taxes, that would be some $150mm freed up for shareholders.
Incremental revenue opportunities online and in penetrating emerging markets.
More costs cuts, where Sotheby's hasn't even considered workforce reduction or pay cuts yet. Compensation expenses were up 7% in 2013 and are projected to be up another 7% this year.
It could also take on more debt to free up cash flow for shareholders.
THE CALL OPTION: Certain companies have call options. These are potential things that the market might not be forecasting. The chances of these things happening might be remote, but they could be big. For example, we think GoPro (NASDAQ:GPRO) has a call option on being able to tap into the software/media market. Back when Apple (NASDAQ:AAPL) was solely a computer company its call option was smartphones.
For Sotheby's, it's a potential buyout. Would Loeb buy Sotheby's? He is an avid art collector, with a number of contemporary and postwar pieces, but owning an auction house likely isn't a business he's interested in getting into.
However, many hedge fund managers are buying up prized assets in rapid fashion. Bill Ackman purchased a $90mm apartment in Manhattan this year, calling it the "Mona Lisa" of apartments. He won't be living there - it's merely an investment. John Paulson bought piano maker Steinway for $500mm last year. Steve Cohen was buying up $150 million Picasso paintings while fending off insider trading allegations. A premier auction house catering to the super-rich, doing nearly a billion dollars in revenue a year, would be a prize asset to own by any billionaire (or collection of billionaires).
"The possibility of taking Sotheby's private is always a consideration" (artnet)
WHERE WE STAND: Sotheby's is a misunderstood story. It is a well-known name and is one of just two global auction houses. There's a lot of lumpiness in earnings and free cash flow given the timing of auctions, which is something Wall Street doesn't like. But we're comfortable paying 1.2x ev/assets for the stable long-term growth Sotheby's can bring.
Disclosure: The author is long BID.
The author wrote this article themselves, and it expresses their own opinions. The author is not receiving compensation for it (other than from Seeking Alpha). The author has no business relationship with any company whose stock is mentioned in this article.