In yesterday's conference call, Wet Seal (NASDAQ:WTSL) warned of a potential bankruptcy forthcoming. After-hours, the stock tumbled nearly 40%, and has fallen quite heavily today, totaling a nearly 72% drop in stock price since the news broke.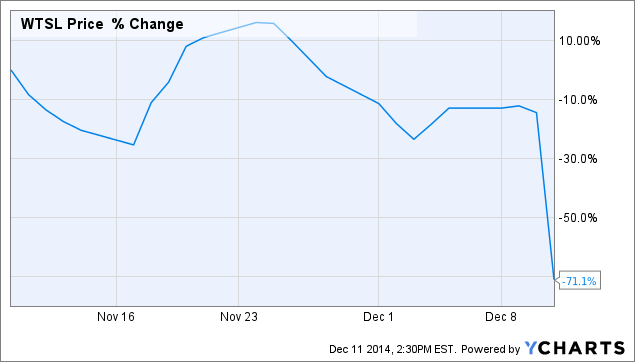 While the bankruptcy is not certain, and a successful turnaround could shoot the stock near our aforementioned $1.00 price target, we believe the risks are simply too high at the current moment to own stock in WTSL.
This comes in light of a similar mall specialty teen retailer, dELiA*s (NASDAQ:DLIA), filing for bankruptcy less than a week ago. dELiA*s and Wet Seal market very similar clothes, with a focus group of female teens. While we do believe WTSL has better management and a better business model than DLIA, we also believe that DLIA's bankruptcy is a huge warning sign for WTSL shareholders: the specialty teen retail market is shrinking, and there isn't enough room for the amount of players currently involved.
The result? The ousting of a few once-popular teen retailers.
This is happening for multiple reasons.
First, in a macroeconomic sense, it seems that mall traffic is indeed decreasing, as L Brands (NYSE:LB) was one of the only companies that posted positive results in the fall quarter. Others, such as Michael Kors (NYSE:KORS), Urban Outfitters (NASDAQ:URBN), and American Eagle Outfitters (NYSE:AEO), had less than stellar quarters with less than stellar forward guidance.
Second, the influx of mega-discount retailers such as H&M (OTCPK:HNNMY) and Forever 21 has really stolen companies such as WTSL and DLIA's target audience: female teens. The older the target audience, the more it seems the audience is willing to pay for quality. It's quite a simple concept: middle-aged shoppers have higher incomes than teen-aged shoppers, and therefore, middle-aged shoppers have more money to spend than teen-aged shoppers. As a result, teen-aged shoppers are always looking for a discount on a product that still looks good. H&M and Forever 21 are businesses rooted in the concept of selling products that look good at budget prices, and with their growing monopolies, it seems companies like WTSL will have a really tough time surviving.
Third, rent concessions have proven to be a major problem for this struggling retailer. A major reason we were in favor of a WTSL turnaround was CEO Ed Thomas' track record (he led a very similar turnaround in 2007). That turnaround, though, was successful in large part due to WTSL and Thomas' ability to re-negotiate for more lenient rent concessions. Indeed, we credit Thomas as an expert in this field. It seems, however, that with the improving economy, this once popular practice has become a rather difficult thing for companies to achieve. This ultimately may prove to be the company's Achilles heel.
All in all, we feel that now is no longer a good time to hold a long position in WTSL. While we still affirm that the $1.00 price target is reachable, we believe it is a long shot at this point as the turnaround currently looks bleak, at best. We will follow the stock closely for any further news, and may re-enter a long position pending company updates.
Disclosure: The author has no positions in any stocks mentioned, and no plans to initiate any positions within the next 72 hours.
The author wrote this article themselves, and it expresses their own opinions. The author is not receiving compensation for it (other than from Seeking Alpha). The author has no business relationship with any company whose stock is mentioned in this article.
Editor's Note: This article covers one or more stocks trading at less than $1 per share and/or with less than a $100 million market cap. Please be aware of the risks associated with these stocks.