A storm is brewing over the high yield bonds in particular and capital markets in general. After what has been a remarkably strong and largely uninterrupted advance since the financial crisis went dormant in early 2009, the high yield corporate bond asset class is showing signs of growing stress. The primary culprit has been the precipitous decline in oil prices. But exactly how great is the direct exposure? What are the specific companies that are worth monitoring to gauge the pace of fundamental deterioration both in the sector as well as across the asset class? And what are the implications, if any, for the stock market?
The high yield corporate bond market has been increasingly struggling as we have moved through 2014. At first in July 2014, the asset class as measured by the iShares iBoxx High Yield Corporate Bond Fund (NYSEARCA:HYG) broke through an upward sloping trendline that had been in place since the summer of 2011 on a dividend adjusted basis. Next in October 2014, it broke decisively through its 200-day moving average also for the first time since 2011. Finally, high yield bonds cut through its long-term 400-day moving average for the first time in more than three years.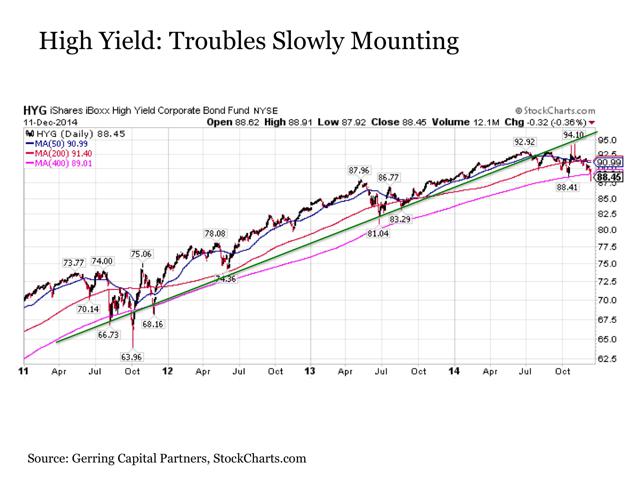 Clearly, something is amiss within the high yield corporate bond market. And as a technical breakdown progresses, it becomes increasingly difficult to regain upside momentum, particularly when the Federal Reserve money pumping spigot is now shut off.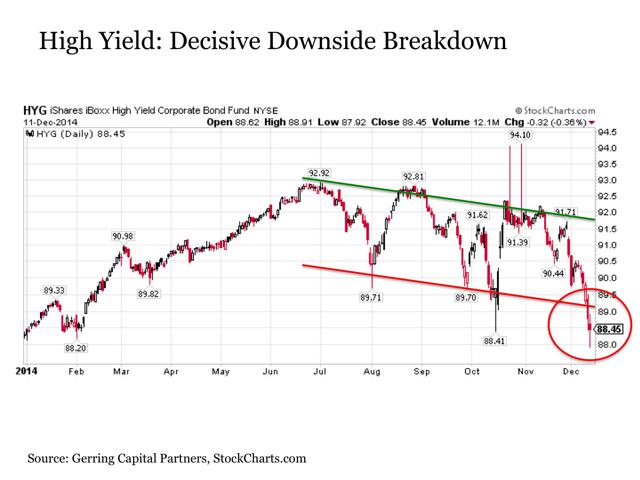 The rapid deterioration in the oil sector has been the primary driver of the recent downside. So what exactly is the exposure to oil in the high yield bond market? In short, it is meaningful. For example, the iShares iBoxx High Yield Corporate Bond Fund has 13.61% of its total market value dedicated to the sector. This ranks second only to the consumer services industry within the product. Moreover, this percentage weighting does not include some of the closely related names in the basic materials sector.
Of course, not every oil company in the high yield corporate bond category is currently under duress. Many are continuing to hold up relatively well and are showing no immediate signs of credit stress. As a result, it is worthwhile to dissect the category to determine exactly what names are facing the greatest pressure from a credit market perspective today as well as those that may be next in line in the battle.
The Front Line
Thirteen companies with credits that make up 1.36% of the iShares iBoxx High Yield Corporate Bond Fund are currently facing the greatest immediate threat. These are companies with high yield credits that are trading at discounts anywhere between 25% to 50% or more below par. Included among these are credits tied to Energy XXI (EXXI), Exco Resources (NYSE:XCO), Halcon Resources (NYSE:HK), Hercules Offshore (NASDAQ:HERO), Midstates Petroleum (NYSE:MPO), Paragon Offshore (PGN), Sandridge Energy (NYSE:SD) and Seventy Seven Energy (NYSEMKT:SSE). Perhaps each of these companies will overcome their current challenges to go on and thrive into the future. But a look at the current stock price of each of these companies suggests at least a degree of concern about their ongoing viability. In short, in working to monitor whether the decline in oil prices is starting to spread in a detrimental way, these are the companies that are likely to provide the earliest warning signals.
The Second Wave
Another twenty-two companies that constitute another 3.86% of the HYG stand behind the front line in the liquidity and solvency battle. These are companies with high yield credits that are trading at discounts anywhere between 10% and 25% below par. Included in this second wave are credits associated with Breitburn Energy Partners (BBEP), California Resources (NYSEMKT:CRC), Denbury Resources (NYSE:DNR), Linn Energy (LINE), Memorial Production Partners (NASDAQ:MEMP), Oasis Petroleum (NYSE:OAS), Pacific Drilling (NYSE:PACD), Peabody Energy (NYSE:BTU), Penn Virginia (PVA), Precision Drilling (NYSE:PDS), QEP Resources (NYSE:QEP), Rosetta Resources (NASDAQ:ROSE), Sanchez Energy (NYSE:SN), SM Energy (NYSE:SM), Ultra Petroleum (NASDAQ:UPL) and Whiting Petroleum (NYSE:WLL). Much like the front line, these are companies whose stock prices have come under particularly severe recent pressure, suggesting potentially meaningful concerns about their future operational outlook. This does not necessarily imply that immediate default is even remotely a likely outcome. For example, the Bloomberg 1-Year Default Probability for names like Denbury Resources, QEP Resources and SM Energy on the list above are still extremely low. But if those on the front line begin to increasingly fall off, such default probabilities may subsequently rise. And with it, further credit and stock price declines are also likely to follow.
Others Engaged In Battle
A number of other firms find themselves on the battle line with the high yield oil companies listed above. Within high yield, notable basic materials names such as Alpha Natural Resources (ANR), Arch Coal (ACI), Cliffs Natural Resources (NYSE:CLF) and Walter Energy (NYSE:WLT) remain under persistently heavy high yield credit market fire. And the damage is not limited to the high yield space, as notable investment grade credits such as Apache (NYSE:APA) and Transocean (NYSE:RIG) are showing still small but growing signs of credit stress.
The Broader Implications
For now, the problems facing the energy sector remain isolated. But this has the potential to quickly change. For if measurable default risk continues to rise and spread, it has the potential to spillover and place meaningful downward pressure on the broader high yield market. And recent history has shown that a sustained breakdown in high yield corporate bonds is often either accompanied or soon followed by the U.S. stock market to the downside. And unlike other past instances of capital market stress, the U.S. Federal Reserve may find itself much harder pressed to intervene with yet even more liquidity support, for it becomes politically more complex to rush to rescue an industry in oil whose recent decline is providing what so many analysts claim is a major income boost for American consumers in the form of lower gasoline prices at the pump.
As a result, the mounting weakness in the oil sector, particularly as it relates to credit markets, warrants close attention for negative spillover effects in the days and weeks ahead. And monitoring those credits and stocks that are on the front line of the fight is a good place to start.
Disclosure: This article is for information purposes only. There are risks involved with investing including loss of principal. Gerring Capital Partners makes no explicit or implicit guarantee with respect to performance or the outcome of any investment or projections made. There is no guarantee that the goals of the strategies discussed by Gerring Capital Partners will be met.
Disclosure: The author has no positions in any stocks mentioned, and no plans to initiate any positions within the next 72 hours.
The author wrote this article themselves, and it expresses their own opinions. The author is not receiving compensation for it (other than from Seeking Alpha). The author has no business relationship with any company whose stock is mentioned in this article.