After having fallen in tandem with declining oil prices, solar stocks are rallying again. Canadian Solar (NASDAQ:CSIQ), a Canadian Solar PV company with manufacturing facilities in China, is also making a comeback. Canadian Solar is one of the companies to have figured in IHS' top-ten solar equipment companies in the world, based on the module shipment guidance for the full year.
As the world is moving toward a cleaner source of energy, renewable sources of energy - solar, wind, hydropower - are going to be the key beneficiaries. A two-part report from the IEA suggests that solar could be the largest source of energy by 2050, ahead of fossil fuels, wind, hydro and nuclear. Solar PV and solar thermal together are slated to be 27% of the power mix by then. The declining cost of production of solar PV modules over the years is also making solar energy a viable source.
Using the opportunity efficiently
Canadian Solar is making good use of this opportunity as it is making good moves in the U.S., which is slated for strong growth in 2015. The company's third-quarter pipeline of solar projects in the U.S. was 81 megawatts (MW) DC and completed construction of solar project totaling 21.7 MW DC.
Since solar energy is witnessing growth in the U.S., there is room for Canadian Solar to continue growing going forward. In fact, around 53% of new electric generating capacity in the U.S. in the first half of 2014 was through solar power.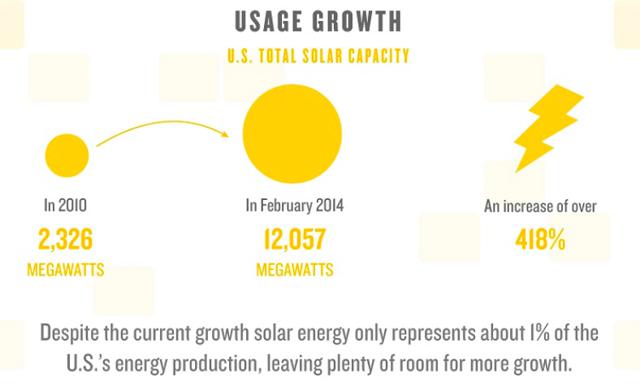 Source: CleanTechnica.com
Looking ahead, Canadian Solar is evaluating opportunities to expand its footprint in the U.S. by way of joint ventures and sales development. Moreover, the solar company's PV modules will power a series of projects in Georgia, totaling 5.1 MW. The projects are expected to be completed by the end of this year. Also, Canadian Solar is in the race to acquire solar developer Recurrent Energy from Sharp, as the company continues to withdraw from the solar market.
Why China is important to Canadian Solar's prospects
At the same time, Canadian Solar is also expanding its presence in global solar markets. For example, the company is on an expansion drive to beef up its production capacity in China. Canadian Solar will be adding 500 MW of solar module capacity at its Changshu and Luoyang plants. This will ramp up the total module capacity to 3.5 GW once it is operational by the second quarter of fiscal 2015. Also, the company has planned to upgrade the furnaces at the Luoyang plant to expand total wafer capacity from 260 MW to 400 MW by the middle of 2015.
Moreover, the construction of an 80 MW high-efficiency crystalline cell line in Funing is on schedule. By the second quarter of 2015, the company plans to expand this by another 400 MW to take the high-efficiency cell capacity to 1.9GW. Once completed, this will boost solar cell efficiency north of 19%.
Making its mark in China is important for Canadian Solar, as this particular market is growing at an impressive pace. China's solar power push is aimed at a cleaner environment, as the country is currently the world's largest emitter of carbon. China has been the leader in solar PV installations for the past two years, and the momentum looks set to continue in 2015. It is on target to exit 2014 with 33 GW of solar power, ahead of Spain, Italy, and the U.K. combined.
In 2015, Bloomberg New Energy Finance predicts that China will add as much as 15 GW of solar power capacity. To tap this market, Canadian Solar has also started construction on a 100 MW project in China and going forward, the company is working on few partnerships for expanding its footprint there.
Japan and Brazil can be additional tailwinds
Beyond China, Canadian Solar is also witnessing growth in the Japanese and Brazilian markets. Japan aims to generate 20% of electricity from renewable sources by 2030, according to the industry minister Yuko Obuchi. In fact, Japan will soon have the world's largest floating solar power plant. Floating solar power plants are said to be more efficient than conventional solar PV plants.
More importantly, Canadian Solar has maintained its position as the leading foreign-brand supplier in Japan with shipments of 181 MW DC. During the fourth quarter of fiscal 2014, the company plans to expand its utility-scale pipelines to approximately 540. The company has plans to connect 80MW to the grid in 2015. So, it is evident that Canadian Solar is also making its presence felt in Japan. Meanwhile, in Brazil, Canadian Solar recently won a contract for a 114 MW plant under PPA with the Brazil government.
Conclusion
Hence, Canadian Solar is making impressive moves in a number of geographies around the world where solar power is expected to grow at a healthy pace in the future. The company is upgrading its capacity, and is also working on improving efficiency. As such, after losing 23% of its market capitalization in 2014, Canadian Solar looks like a good bet at just 7 times last year's earnings.
Disclosure: The author has no positions in any stocks mentioned, and no plans to initiate any positions within the next 72 hours.
The author wrote this article themselves, and it expresses their own opinions. The author is not receiving compensation for it (other than from Seeking Alpha). The author has no business relationship with any company whose stock is mentioned in this article.