Amid interest rate hikes, the Russia ruble continues to weaken as the country's economic fundamentals deteriorate. The U.S. dollar has appreciated against the ruble by over 76% since July as sanctions and the falling price of oil damaged sentiment surrounding the currency.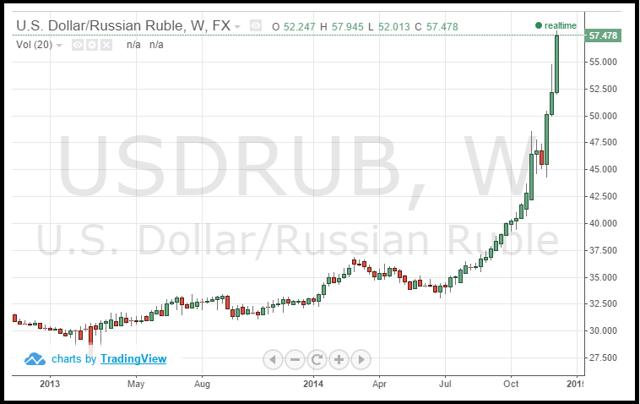 Data provided by Tradingview
Russia's central bank has attempted to curb speculative attacks on its currency this year by raising interest rates repeatedly; to this point, it hasn't worked. On Thursday, the Bank of Russia increased its key rate to 10.5% from 9.5%. At the start of the year, the key rate stood below 6%, but has now risen over 4.5% by year's end, as is seen in the chart below. Although Russia has done much to defend its currency already, rates may rise further in the future.
"The rate increase shows the narrowing options left to policy makers after they spent about $80 billion on defending the ruble and shifted to a free-floating exchange rate ahead of schedule last month. The central bank stands ready to take unorthodox steps if the situation worsens, Governor Elvira Nabiullina said after the decision, without elaborating," according to a report by Reuters.
Meanwhile, Russian President Vladimir Putin stands ready to criminally prosecute currency speculators in the future, as improbable is it may seem.
"The rate increase comes a week after President Vladimir Putin told the central bank and the government to take ''harsh'' coordinated measures to deter speculators and steady the currency market. The Investigative Committee said today in a statement that currency manipulation may be added to the criminal code," according to a report by Bloomberg.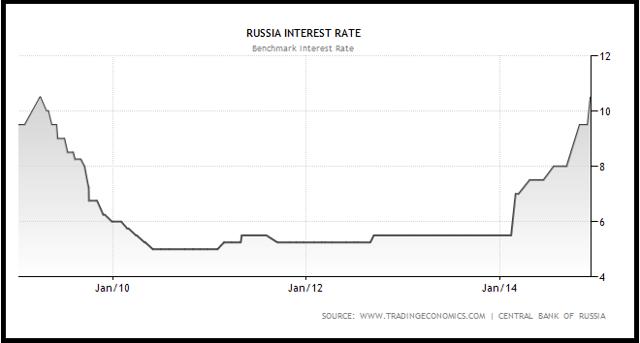 Data provided by Trading Economics
While speculators have been blamed for harming the Russian currency, weak underlying fundamentals are fueling the move. Declining oil prices and Western sanctions have contributed to Russia's declining economic activity.
Russia depends on oil revenue as a major energy producer, with close to half of the government's revenue coming from oil and gas exports, according to Trading Economics. Since 2000, Russian crude oil production nearly doubled from 5 million barrels a day to over 10 million barrels a day now, as is seen in the chart below.
Similarly, sanctions imposed by Western countries due to Russian violence against Ukraine, and its annexation of Crimea have led to falling trade revenue. Sanctions have both harmed investor confidence in the region, as well as adversely affecting foreign assets of government and corporate leaders in the region.
Falling oil prices and Western sanctions against Russia are adversely affecting economic activity in the former Soviet powerhouse. While currency speculators are being blamed, the declining currency is justified. Although Russia's central bank may attempt to raise rates further to curb outflows, expect the ruble to continue its large depreciation against foreign counterparts.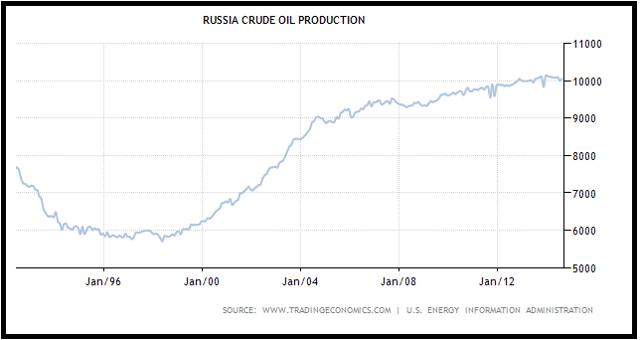 Data provided by Trading Economics
Disclosure: The author has no positions in any stocks mentioned, and no plans to initiate any positions within the next 72 hours.
The author wrote this article themselves, and it expresses their own opinions. The author is not receiving compensation for it (other than from Seeking Alpha). The author has no business relationship with any company whose stock is mentioned in this article.