I originally wrote about Attunity (NASDAQ:ATTU) in early October 2013. My article "Small-cap Big Data Player Attunity At Inflection Point" gives an overview on my bullish thesis, and the company's unique positioning in the data-transfer market.
In the past year Attunity has executed tremendously on the expansion of its sales force, and the related growth of their flagship Replicate product.
Strong Q3 2014 Results
Attunity reported (non-GAAP) revenue of $9.5M, and operating income of $1.2M. This represented year over year growth of 45%, significantly higher than Q2's growth of 37%. This was Attunity's second straight quarter of record sales.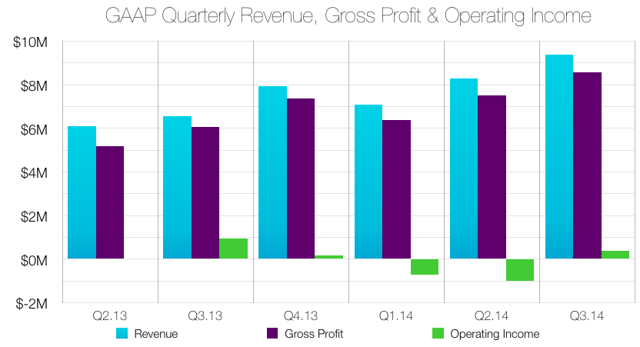 As shown in the chart above, Q3 marked an important turning point in Attunity's operating income. The company invested heavily in its sales and marketing efforts in Q1 & Q2 of 2014, causing temporary un-profitability. In Q3 Attunity was able to regain profitability with GAAP operating margins of 3.37%.
Q3 is typically one of Attunity's weakest quarters, due to the seasonal nature of its business. Generally, the company reports very strong sequential growth in Q4.
Attunity's most recently updated product, Replicate 4.0, is specifically geared for the Hadoop market. This new addition may be its most important yet.
Hadoop
The big data market is expected to total $100B by 2020. Half of this ($50B) is projected to be made up of Hadoop products and services.
This info-graphic from Datameer, published in 2012, gives an overview of the biggest players in the Hadoop ecosystem.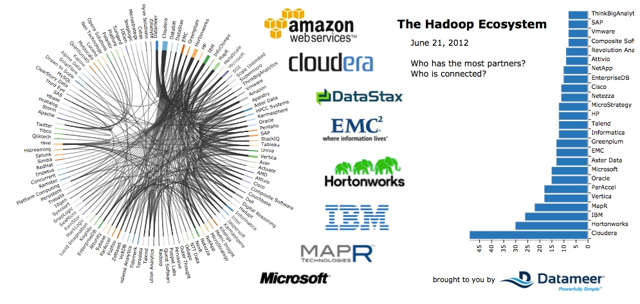 On October 20th of this year, Attunity launched its Hadoop product, with Replicate 4.0.
Attunity's entrance into the Hadoop market had been discussed by management on prior conference calls. One of the main drivers for the development of the product was customer feedback and desire for an effective Hadoop solution.
The company's two main partners in Hadoop will be Hortonworks (NASDAQ:HDP) and Cloudera, both of whom were quoted in the company's launch press release.
Hortonworks and Cloudera are the undisputed leaders of the Hadoop market. They have received the bulk of the industry's VC funding, and are looked at as the clear leaders in the space.
Cloudera recently raised $900M at a $4.1B valuation from prominent investors such as Intel (NASDAQ:INTC).
According to a recently published blog post, NYC's Strata+Hadoop World Conference was a great place to launch the company's new Hadoop solution. This is a direct quote on Attunity's booth; "the traction was phenomenal and kept the Attunity team busy for two days straight."
With help from Hadoop's biggest players (Cloudera & Hortonworks), Attunity has the opportunity to capture a piece of growth in the fastest growing niche of the big data market.
Maestro
In April 2014, Attunity launched Maestro. This product has been a long time coming, and leverages all of Attunity's advantages into one data management platform.
CEO Shimon Alon initially guided that the first Maestro customer wouldn't be signed until Q3 2014. However, Attunity was able to sign its first Maestro customer earlier than expected, in Q2. This is was an early confirmation of the demand for this type of solution.
Maestro may soon become Attunity's largest revenue producing product. The ASP (Average Selling Price) of the software was initially estimated at $50-$700K per year, on Attunity's Q2 2014 earnings conference call.
Here is a screen-shot of the software from Attunity's website: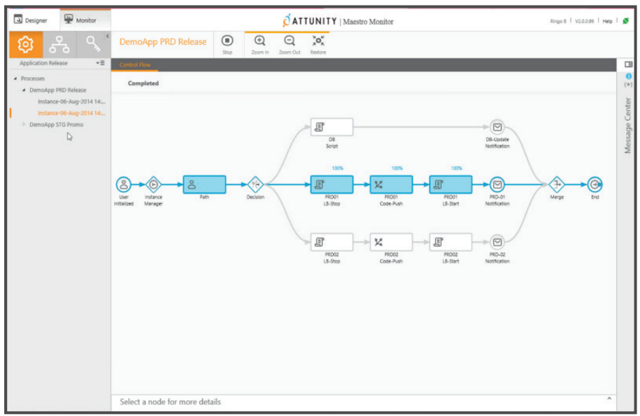 Maestro gives enterprises the ability to oversee all of their data and transfer it in real-time. This unique data management platform leverages Attunity's signature Replicate software to move massive amounts of data to and from any data center, with just a click.

More and more firms are initiating big data programs to analyze their growing pools of customer data. Insights buried in this data must be transferred and translated into interpretable, and potentially actionable reports for end use. Attunity specializes in allowing for simple and efficient extraction of this data (whether it be structure or unstructured) from almost any source.
Now that Attunity has a complete suite of big data solutions, Maestro becomes a powerful tool for orchestrating the flow of data across an entire enterprise in real-time.
Attunity has already updated Maestro once since its initial release, and will likely roll out additional functionality and features in 2015.
BIReady
Below is a screen-shot of BIReady's website, taken on 12/11/2014.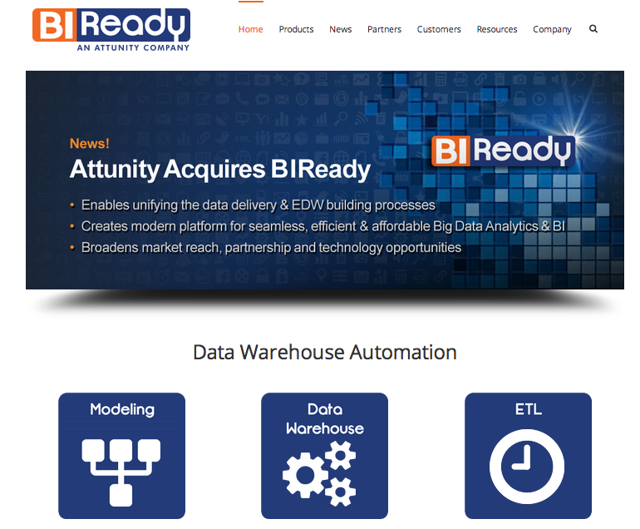 Just under 2 weeks ago Attunity announced the acquisition of BIReady for $1M upfront and $375K in potential future earnouts.
Although the price tag may seem small, this acquisition will have large implications if it can be successfully integrated in Attunity's current set of solutions.
Attunity's management has a great track record of successful past M&A transactions. For example; Attunity acquired Hayes Technology in December of 2013 for $6M, and guided for an additional $4M in 2014 revenue. This acquisition, done at 1.5X forward sales, was incredibly cheap and accretive with the company now growing at 50% year over year.
Cross-selling solutions presents a low-hanging fruit for Attunity with BIReady clients, and has proven to be successful with Hayes clients.
I expect Attunity to announce the integration of its products with BIReady, or a new product incorporating their software in the near future.
CloudBeam
Attunity CloudBeam is a product that was launched specifically for Amazon (NASDAQ:AMZN) in 2013. Since then it has found a niche within the Amazon Web Services (AWS) Marketplace.
Here is a screen-shot of the company's products. They have received a total of 7 reviews, every single one has been 5 stars.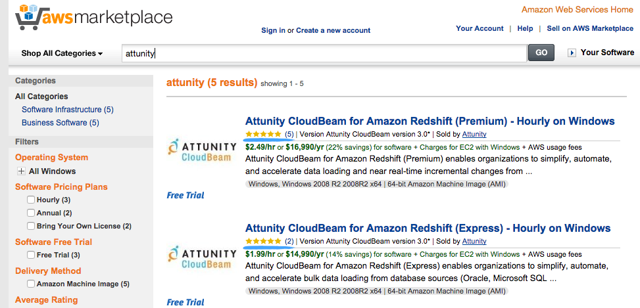 This review in particular shows how effective Attunity's CloudBeam solution can be in the right situations. To develop a new site for client Couchsurfing.com, Bytecode IO needed to transfer large amounts of data into its AWS database.
CloudBeam reduced the time of transferring that data from an estimated 3 months with the original solution to just 3 hours. I've highlighted some lines in blue for emphasis.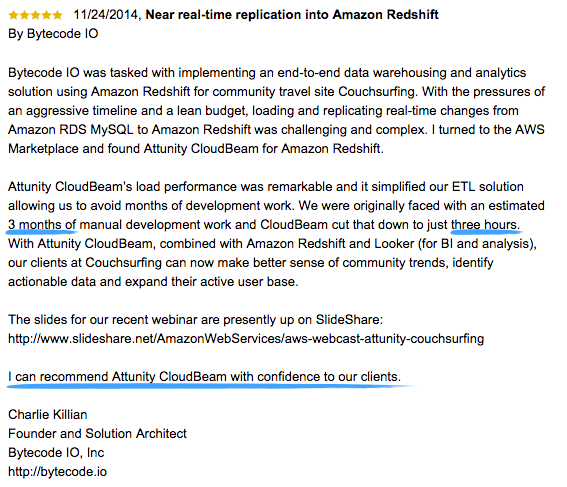 Attunity's relationship with AWS is relatively new, but growing nicely. The recent promotion to being an Advanced Technology Partner will only accelerate the deal flow from the partnership.
It's no secret AWS is the 800 pound gorilla of cloud-computing. Any increased integration of Attunity's products on the AWS Marketplace will be yet another tailwind for growth.
Valuation
Guidance is set for revenue of $34-$37M in 2014. The company also guided for non-GAAP operating margins of 9-13%, and GAAP operating margins of 0-5%.
Assuming 15.5M shares outstanding, Attunity has a current market capitalization of $148.2M (at $9.56 per share). The company has no debt, and $19.3M in cash as of Q3 2014. This makes Attunity's current enterprise value approximately $130M.
Using a 2014 revenue guidance midpoint of $35.5, here are some theoretical 2015 revenue numbers in relation to certain growth rates.
| | | |
| --- | --- | --- |
| Scenario | 2015 Revenue Growth | Projected 2015 Revenue |
| Bear Case | 25% | $44.4M |
| Neutral Case | 30% | $46.2M |
| Bull Case | 35% | $47.9M |
A 'Neutral Case' scenario would value Attunity at a 2.8X forward EV/S ratio (130M/46.2M). This could turn out to be a very cheap valuation if the company can begin to show increasing operating leverage.
Attunity's gross margins remain consistently above 90%. This may translate into a quickly scalable business model over the next several quarters.
If it can achieve GAAP operating margins of 10% next year, Attunity will produce $4.62M in operating income (based on the 'Neutral Case' above). This would value the company at 28X forward EV/EBITDA. Although it may be an expensive earnings multiple, Attunity's leadership position in a coveted data-transfer niche, justifies at least a minimal premium.
The real upside in Attunity's valuation is in the potential expansion of operating margins to 20-25%. If Attunity can grow at a 25% annual rate for the next 2 years, it will produce $55.5M in 2016 sales. At an operating margin of 20%, that is 11.1M in income.
This illustrates the power of the scalable SAAS (software as a service) business model Attunity has chosen. For the reasons above, it will be critical to watch the company's operating margin in the next several quarters.
Conclusion
In the past year Attunity has executed tremendously on its strategy to pivot towards the fast growing Big Data market.
The launch of Maestro and Replicate 4.0 (w/Hadoop) have been a testament to the company's commitment to innovation and maintaining leadership in the data-transfer market.
Accelerating GAAP revenue growth of 44.6% in Q3 was a confirmation of pent up demand for the Attunity's newest products (Replicate and Maestro). If this trend continues into Q4, and gains momentum in 2015, sales growth could stay above 35%.
Attunity's ability to grow its top-line with the big data market, and steadily expand operating margins will dictate its share price going forward.
Based on the recent traction from Maestro and Replicate 4.0, I'm bullish on Attunity's future growth and its leadership position in the rapidly growing data-transfer niche.
Disclosure: The author is long ATTU.
The author wrote this article themselves, and it expresses their own opinions. The author is not receiving compensation for it (other than from Seeking Alpha). The author has no business relationship with any company whose stock is mentioned in this article.