In response to the developing financial crisis, the Department of the Treasury / Federal Reserve posse set out to pump the world economy full of liquidity. While money supply has certainly reached unprecedented heights, monetary authorities have been unsuccessful in generating the desired level of monetary velocity or transactional frequency as employment and real estate remain soft.

This lack of velocity is especially apparent in the corporate sector. Despite strong cash positions, near record levels, large corporations in many sectors seem hesitant to direct their capital towards organic growth either because growth opportunities are limited or they are uncertain if the market will provide them with financing to meet obligations down the road.

Accordingly, the coupon payments guaranteed to corporate bondholders, particularly in the short-term, are well covered by the cash positions of many issuers. While intermediate and long-term issues may also be well covered, in the context of an investment opportunity, one must avoid the tremendous duration or interest rate risk embedded in such offerings today.

When surveying the retail investment landscape for access to the short-term, investment grade space and cost is a primary consideration in the current environment. With paltry yields available from high quality issuers, high expense ratios and trading costs cannibalize what little income these vehicles produce. Below is a comparison of two index ETFs offered by the same well known provider, and targeting the same maturity. The first tracks corporate issues while the second tracks Treasury issues.
| | | | | |
| --- | --- | --- | --- | --- |
| Fund Name | Ticker | Gross Expense Ratio | Distribution Yield | Effective Duration |
| iShares Barclays 1-3 Year Credit Bond | CSJ | 0.20% | 1.88% | 1.87 |
| iShares Barclays 1-3 Year Treasury Bond | SHY | 0.15% | 0.92% | 1.85 |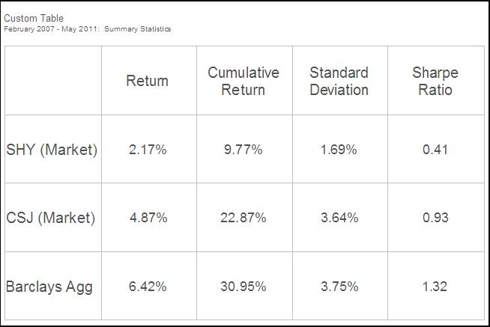 As these graphs demonstrate, in exchange for the perceived credit risk of a corporate issuer vs. the U.S. government, investors may be rewarded with markedly higher income and total return. While (NYSEARCA:CSJ) has under performed the Barclays Agg (NYSEARCA:AGG) over the past several years, this trend is unlikely to continue should intermediate interest rates begin to move upward.

Disclosure: I have no positions in any stocks mentioned, and no plans to initiate any positions within the next 72 hours.