Portfolio construction takes nearly as many forms as there are investors. Building a portfolio around an array of individual stocks is quite popular, yet this method is prone to leaving diversification holes. Other investors prefer to mimic the S&P 500 through the use of sectors. While my preference is to use asset classes, in this article I will focus on building a portfolio using Vanguard's eleven ETF sectors.

Suppose one is unsure which sectors to overweight during different market cycles. Is there any sort of analysis one might perform to know if it is prudent to tilt the portfolio toward any of the eleven sectors? In the screen shot below, we have a QPP analysis of the eleven Vanguard sector ETFs. QPP is Geoff Considine's Quantext Portfolio Planner software that I frequently use to provide guidance when putting together possible portfolios. In this example, I am assuming the S&P 500 will return 7.0% annually and the analysis period uses data from the last three years. These assumptions are easily changed, but need to be stated for this analysis.

In this investigation nearly equal percentages are allocated to each of the eleven sectors. It is worth noting two results from this QPP probe. 1) The projected risk or uncertainty, as measured using Standard Deviation, is quite high at 17.9%. 2) The Diversification Metric (DM) is a very low 14%. In this market, DM should be 40% or higher. Those are two glaring problems with a portfolio assembled using sector ETFs.
Click to enlarge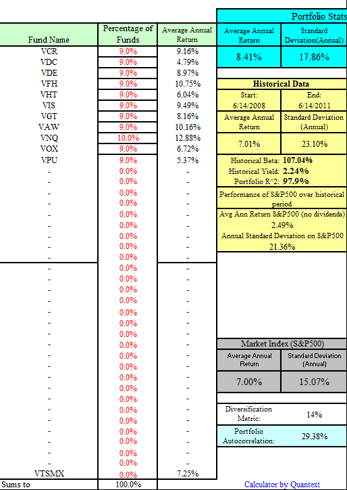 Given the above three-year time frame and equality of allocation, are there any sectors which merit over weighting at this time? Before answering this question, let's go back to October 1, 2007, when the market was close to a high. What was the sector outlook at that time? To answer this question, consider the Delta calculation shown below. Delta is the difference between the projected return going forward compared to the historical performance over the past three years. The October 2007 data table is shown below. Note that Delta column is filled with "red" warning signals, as one might expect near a market high. More specifically, all the numerical values are negative with exception of VCR, Consumer Discretionary. The basic message is -- stay away from the sector ETFs.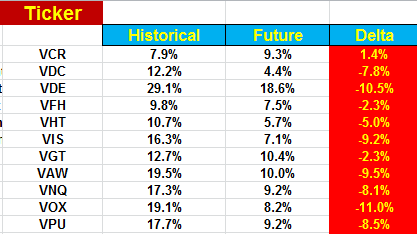 Now we move to a period, March 30, 2009, when the market was near a low. Below are the same eleven sectors using identical analysis. Examine the financial sector (NYSEARCA:VFH) and REITs (NYSEARCA:VNQ). Both were decimated by the end of the first quarter of 2009 and now both are primed for a buy. Those sector ETFs coded in green are expected to grow faster than the total market over the next year. The message is now one of opportunity.

The reason for using these two market extremes is to gain some confidence in the predictive powers of the Delta calculation.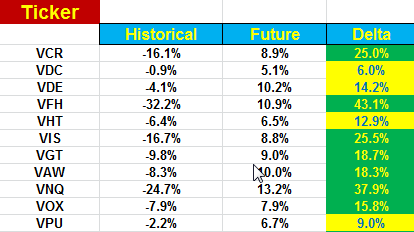 While the above "Delta" tables show market extremes, we are rarely in those situations. Most of the time the market is bouncing around between the high and low extremes. What is the "Delta" table showing right now, and are there sector ETFs that present buying opportunities?

As one easily sees from the table below, not one sector is coded green. Five of the eleven are projected to do worse over the next year vs. what they did over the past three years. Of the eleven, only energy (NYSEARCA:VDE) and financial (VFH) show much potential.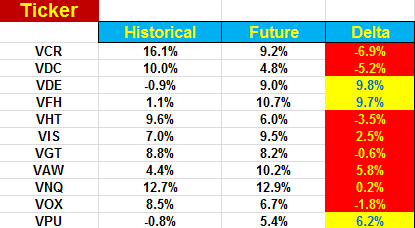 While market timing merits all kinds of red flag warnings, the above Delta projections are a way to tilt or skew the sector allocation when opportunities arise. It is best to patiently wait for a sector, stock, or asset class to flash a green coded signal if one is looking for favorable moments.

Disclosure: I am long VNQ.