There is way too much going on from an uncertainty standpoint to invest in Neff Corporation (NYSE:NEFF) following its recent IPO.
"Neff Corp. operates as a construction and industrial equipment rental company in the United States. It rents earthmoving, material handling, aerial, concrete/compaction, and related equipment, as well as trucks, air compressors, welders, generators, lighting products, and pumps. The company also involves in the sale of new and used equipment; and provision of complementary parts, supplies, and merchandise, as well as maintenance services. It provides equipment and services to customers in various industries, including manufacturing, public utilities, offshore oil exploration and drilling, refineries and petrochemical facilities, municipalities, golf course construction, shipping, and military, as well as residential, non-residential, industrial, and civil construction. (SOURCE: Yahoo Finance NEFF Stock Summary)"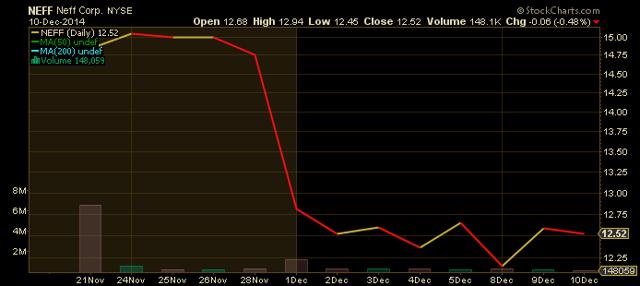 Shares have taken a bath in the early trading after NEFF was forced to come down from a targeted midpoint offering price of $21 to a whimpering actual price of $15. Shares immediately proceeded to plummet to the $12 range in intraday trading as real existential concerns have been raised in regards to the company's ability to continue to drive sales and create cash flows.
NEFF, a large but regional equipment rental company located primarily in the Sunbelt states, has seen one of its largest end markets suffer its worst pricing downturns in five years - NEFF realized 13% of its revenues from the Oil and Gas markets during the 12 months ended 9/30/2014. Now, for clarity, with both Oil and Natural Gas commodity pricing being under pressure, natural gas for the prior twelve months and oil most recently but with a much steeper recent decline, neither end market is outright announcing lower projected 2015 CAPEX as a result but one can deduct that with at least 15% of U.S. shale producers losing money at current prices and more than half not economically viable at ~$55 for crude pricing that announcements to CAPEX estimates could soon be made. You better believe that will materially affect NEFF as NEFF has a major "cluster" of offices in the Texas markets which are in the higher cost Permian basin which many in the energy industry estimate will be the first to have to cut production at current oil pricing.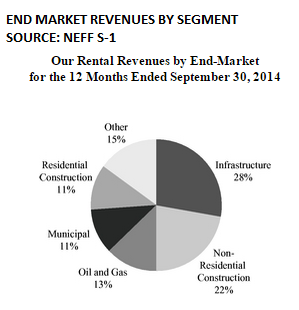 There's also been a marked slowdown in non-residential construction activity, although much slower than nationally, in the Sunbelt region (that has begun to taper off and even recently seen a slight uptick of trend line) which matters to NEFF as you can see by the above graphic that NEFF depends on this segment for ~22% of its trailing 12 month revenues. All told, between the two end markets detailed ~37% of NEFF's revenues have been called into question.
For me, that's reason alone to wait on shares even after pricing to a discount at IPO and further dropping on revenue segment deterioration contagion. That's not where the heightened risk of ownership ends, however. NEFF also has other concerns that while not immediate in impact do need resolved before I can consider the company for a long position.
Now, you might be asking, why would NEFF still come public if it knew it couldn't price where it wanted and if it knew that it was already operating in a tough pricing market, at least from a natural gas standpoint? The answer lies in its debt and interest expense issues. NEFF had to come public when it could because if it didn't when it did it might not have had the chance and frankly NEFF needed the money. It needed the liquidity that could be provided by the IPO and it needed the reduction interest expense as a result of the debt pay down to help with its cash flows. The story has certainly changed for the worse for NEFF from a macro-standpoint as of late, and NEFF couldn't have seen the precipitous fall in oil pricing coming, so it's a really good thing NEFF didn't get brave and try to wait for better IPO pricing. It took what it could get when it could get it and good for it.
NEFF has a significant amount of debt, which while recently refinanced still isn't at the most attractive rates, and was depending on its IPO as a front-end way to deleverage. I think NEFF wanted to run this IPO to risk off a bit of ownership to the public markets (clearly), to provide a monetization outlet for its owners who purchased the company in Chapter 11 bankruptcy in 2010 - Wayzata Investments Partners, LLC (clearly), and to provide some balance sheet flexibility so that if an activity downturn is sustained that it won't have to sell rental equipment or defer CAPEX to manage cash flows.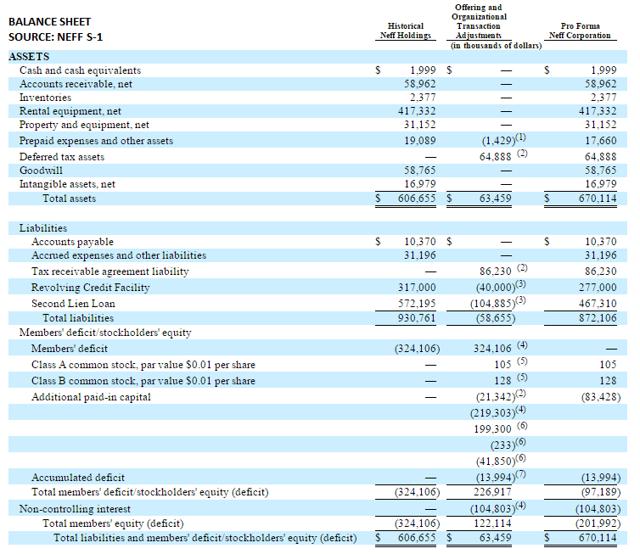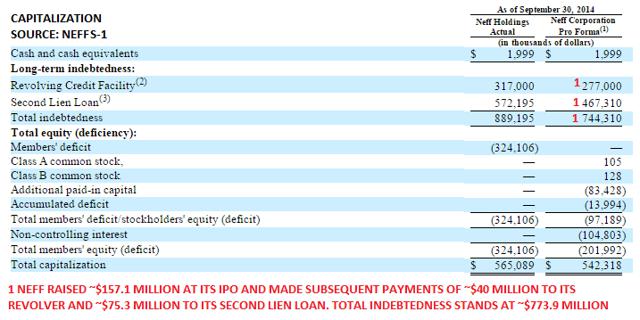 With the greatly reduced proceeds from the IPO not quite deleveraging the balance sheet and the fact that the company could be seeing some period of time ahead in which it has slower than expected sales I don't see how NEFF can maintain its current fleet at current depreciation costs at a pre-end market downturn time utilization rate of ~71% (which is an improvement from 65% Y/Y) which should be reduced with a reduction in CAPEX from both above described end markets. It should be noted at this point that while an established secondary market for rental equipment does exist NEFF notes in its S-1 filing that typically "industry resale values of equipment have averaged approximately 49% of OEC (original equipment costs) over the past three years". I actually think the fact that NEFF has these secondary markets as an outlet to provide flexibility is bullish the long-term NEFF story, which one does exist and I'll detail it shortly, but it certainly wouldn't be viewed as bullish in the short term if NEFF had to sell fleet investments at a discount this early into the publicly traded game.
The big positive to come from the pre-IPO NEFF story is in the debt refinance mentioned above. Essentially this makes NEFF's debt story an interest only affair until 2018 when its Revolver matures, which if NEFF is still in business the large majority of that balance will be refinanced further down the road I'm sure, and when its Second Lien Loan matures in 2021. Again, this is why the IPO pricing so much lower materially changed the NEFF story - NEFF's Second Lien Loan is currently accruing interest at 7.25% per annum, which is huge and was generating $41.7 million per year in interest expense (~39% of full year 2013 operating cash flow). NEFF intended to bring that figure down to ~$33.8 million with a pay down resulting from the IPO proceeds and now with the significant drop in pricing (NEFF raised an estimated 71% of targeted funds) we'll have to wait until the release of NEFF's 10-K to find out exactly how much it actually did pay down (I've estimated it paid ~$75.3 million to its Second Lien Loan rather than the $105.4 million it expected) and how much it actually reduced FY15's interest expense. Both are significant unknowns that make NEFF an absolute avoid at this point. My estimates are that NEFF lowered its Second Lien Loan interest expense by 71%, which is equal to the amount of funds I've calculated NEFF paid towards its Second Lien Loan from its targeted amount, or $36.1 million.
I will say, however, that based on borrowing availability, based on the minimal levels of cash outflows in 2014 (which will be reduced in 2015 regardless of the final figures presented by NEFF in its 10-K) - NEFF's FY14 outflows were ~$7.82 million for interest on its revolver, ~$19.2 million on its now non-existent Senior Secured Notes (these were refinanced to the new Second Lien Loan), and $6.3 million for operating leases, and the fact that NEFF paid down both its credit facility and its now much larger Second Lien Loan (inclusive of the Senior Notes at this point) that liquidity and the ability to continue operations is not in any way a concern at this point. Even in a worst case scenario, and this would have to happen over the course of the next several years because NEFF has the borrowing availability to simply borrow to operate for at least the next year, that NEFF could begin selling assets in the highly liquid secondary market outlined above. NEFF did this prior to its BK before Wayzata took control of the company. I don't anticipate a complete evaporation of cash flows from operations (but I do anticipate these being further reduced in FY15 - which would be the second consecutive FY reduction dating back to FY13), meaning for NEFF to generate zero or a negative cash flow from operations, so NEFF won't realistically have to rely solely on borrowing to meet its obligations, I was simply outlining a worst case scenario.
Now, despite everything I've written to this point I actually like the underlying story at NEFF (minus the leverage issue which needs some addressing). I like the fact that the company is well-established in a market that is consistently growing and is expected to continue to grow at healthy rates. I like the fact that the overall space is continuing to see consolidation which could lead longer-term to NEFF being acquired for its logistical network or for its considerable customer base and I like the fact that the customers themselves, who some (especially in the Oil and Gas end markets) have preferred to own their own equipment in the past, are slowly and consistently moving away from seeing this as a benefit and are becoming more reliant on the rental companies, NEFF being a large one in the bottom half of the country.
I also like that when the economy is on the upswing, and Oil and Gas plays a large role in this not just for the end market revenues NEFF has detailed but because those two industries employ a lot of people in the markets that NEFF services, that NEFF is a levered beta position that can potentially move. NEFF's historical financials show as much: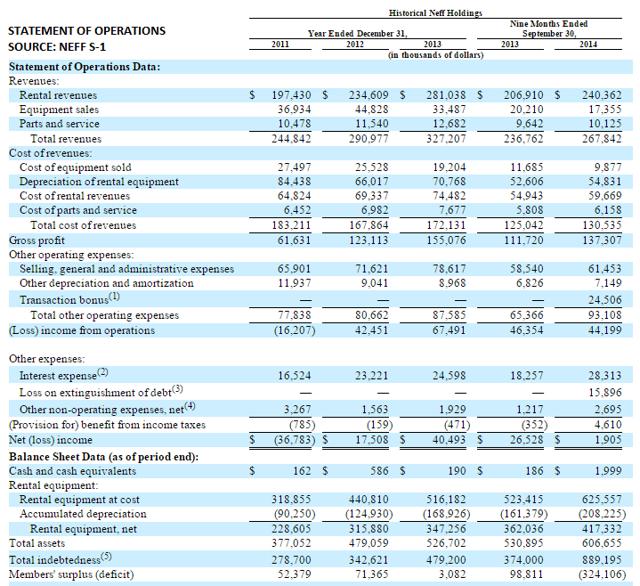 NEFF has consistently grown its top-line, gross profit, managed its expenses, and grown its bottom line the last few years as the economy has continued to improve. NEFF has also seen a strong 9M/14, when backing out the one-time and non-cash charges, which is a plus. NEFF doesn't have a horrible business on its hands and I'm certainly not writing this article to imply that, in fact I like the business. I just think that as of right now there are some serious issues that need addressed. Operationally, NEFF has driven results via debt and CAPEX and I'm just not sure that can be done forever but at this point it sure has provided for some consistent results.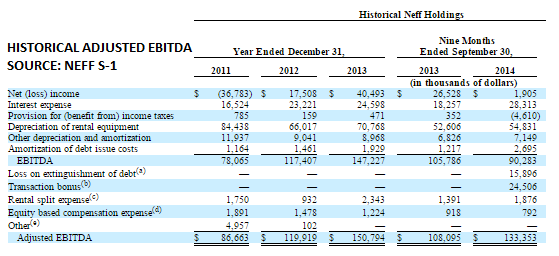 NEFF's Adjusted EBITDA probably provides the clearest example of how the company has consistently driven results including the recent 9M period. Again, not much analyzing of these two graphics is needed as the line items are all performing really well - lines that are expected to grow have and line items expected to be managed (largely expenses outside of interest expense) have. All of this is easy to do on the income statement side when you have the ability to simply spend more and more as you please. The real test for NEFF comes in the coming 4 quarters when it's going to be expected to grow the business without being completely reliant on debt, which is something the market will demand or it will continue to punish shares.
Where's the trade?
The good thing about following NEFF is that its business is simple and so are its statements. Actually, so is the mechanism with which NEFF has been able to drive results (debt driven). If you're wanting to own this space, and I don't see any good reason to not want to own this space, NEFF is a good option once (if…) the Oil and Gas markets shown some underlying commodity pricing reversion to the mean.
I think that NEFF should be listed as an avoid on a Big Board until those two markets improve and until the company can give granularity as to its debt situation (outside of my estimates) and as to the FY15 interest expense. I also don't recommend initiating or adding to an existing NEFF position until the company can show that it can slowly begin to drive margins higher as a percentage of its debt. What I'm saying is that it's going to be really important for the company to show that it isn't simply a CAPEX driven growth story because, again, that can't be done forever. If NEFF can show that, or at least present an acceptable plan, when the Oil and Gas sectors turn back up a little I wouldn't be reluctant to start a position.
I would expect NEFF shares to continue to trickle lower over the next few months as it's really just a levered beta play at this point with some underlying issues. I see no reason to buy shares here and think shares can be purchased at a discount on the other side of the New Year.
I look forward to providing continuing coverage in the future. Good luck to all.
Disclosure: The author has no positions in any stocks mentioned, and no plans to initiate any positions within the next 72 hours.
The author wrote this article themselves, and it expresses their own opinions. The author is not receiving compensation for it (other than from Seeking Alpha). The author has no business relationship with any company whose stock is mentioned in this article.