A stock can have many of the attributes of a classic value investment and not be a value investment. Case in point: LifeLock Inc. (NYSE: LOCK).
For those of you who are unfamiliar with it, LifeLock sells "Identity Theft Protection Services" and advertises heavily on radio and television. The Identity Theft Protection consists of a package of monitoring services designed to tell customers if somebody has stolen their identity and a $1 million guarantee or insurance policy designed to reimburse customers for losses if the service does not work.
The memberships are sold on a monthly or yearly basis, providing LifeLock with a regular cash flow. Some people consider LifeLock a value investment because the memberships give it float. The float is similar to that which premiums give an insurance company without the regulations or obligations an insurer has to put up with. Some value investors such as Warren Buffett look for companies with float because they like the cash flow.
LifeLock Has Float
LifeLock does have float; it reported a free cash flow of $22.65 million on Sept. 30, 2014, up from $16.63 million in September 2013. LifeLock also reported $97.68 million in cash from operations on Sept. 30, 2014, compared to September 2013 when it reported $59.53 million.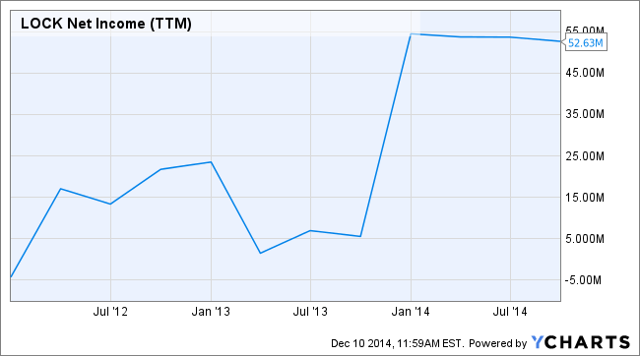 LifeLock also reported a net income of $52.63 million on Sept. 30, 2014, or 10 times that of September 2013, when it reported a net income of $5.59 million. The company's business plan of selling regular memberships in its service is certainly generating cash.
The business is also growing too; LifeLock reported a TTM revenue of $448.63 million on Sept. 30, 2014. That is a $102.46 million increase from 2013, when the company reported a TTM revenue of $346.17 million. Business has been good for LifeLock over the past year probably because of all the news stories about the data breaches at major retailers such as Target Corp. (NYSE: TGT) and Home Depot.
Some of the other numbers at LifeLock are good as well: the company reported a return on equity ratio of 17.80%, a profit margin of 4.43%, and an earnings yield of 3.16%. From a purely mathematical standpoint, LifeLock looks like a value investment, but is it?
Why LifeLock Is Not a Value Investment
Classic Benjamin Graham style value investors such as Uncle Warren do not just buy stocks; they buy companies. To meet their criteria, a company must have more than just financials; it must also be a good business selling a good product or service.
This is where LifeLock fails the Graham value test; it is not necessarily a good company selling a good product. The Identity Theft Protection Services at the core of its business plan are of very dubious value.
In February 2012 Consumer Reports Money Advisor charged that the credit monitoring services offered by Identity Theft Protection companies do little or nothing for customers. The magazine did not name LifeLock specifically, but it made some damning charges against the entire "Identity Theft Protection" industry.
The credit monitoring services can actually miss many signs of identity theft, Consumer Reports alleged. The Money Advisor also noted that it might take such services days or even weeks to alert customers that there was something wrong. Consumer Reports also noted that most people could do just as good of job of monitoring their bank and credit cards themselves as monitoring companies could.
Consumer Reports also noted correctly that most people already have protection against the most common identity theft related crime, fraudulent credit or debit card charges. In most cases, the customer's liability is limited to $50 if it is reported quickly. Many banks and credit card companies offer even more protection.
The magazine also noted that true identity theft-stealing somebody's Social Security number and similar information and using it to set up accounts-is actually fairly rare. Consumer Reports estimated that the average American's chance of falling prey to that crime was 1%. It charged that identity theft companies overstate the danger of such theft in their advertisements. It based its estimate on U.S. Justice Department figures that showed that there were only around 765,000 cases of such theft in the USA in 2010.
Although Consumer Reports did not mention LifeLock in 2012, it did publish an article in June 2013 that did take LifeLock to task. The magazine charged that LifeLock falsely insinuated that it could somehow stop criminals from stealing identities when all it really does is try to detect identity theft.
LifeLock's Legal Problems
Another reason why LifeLock is not a value investment is that it has some serious legal problems. In 2010 the Federal Trade Commission, or FTC, ordered LifeLock to pay $11 million to 35 state attorney generals. The attorney generals had alleged LifeLock made false claims to sell its services.
"The FTC's complaint charged that the fraud alerts that LifeLock placed on customers' credit files protected only against certain forms of identity theft and gave them no protection against the misuse of existing accounts, the most common type of identity theft," an FTC press release stated.
The Courthouse News Service reported in March 2014 that LifeLock has been sued more than 80 times in recent years. The suits include a securities fraud class action brought by shareholders that charged the company was not complying with the FTC order.
Former Executive Makes Serious Charges against LifeLock
Another lawsuit brought by LifeLock's former chief information security officer Michael Peters makes even more serious allegations against the company. Business Insurance reported that Peters is alleging he was fired to conceal the results of a risk assessment he had made of LifeLock's data protection systems.
The assessment revealed that LifeLock was only doing 27% of the minimum intrusion prevention, encryption, data leakage prevention, and other security measures needed to protect customers' data, Peters alleged. Peters also claims that LifeLock's Chief Financial Officer Chris Powers and Chief Information Officer Rich Stebbins ignored his risk assessment and manufactured a reason to fire him. He claims his firing violated federal laws, including the Sarbanes-Oxley Act and the Consumer Protection Act.
"Mr. Peters concluded that millions of customers were at risk given the data LifeLock possesses and was incapable of protecting," the lawsuit complaint in Peters v. LifeLock Inc. et al. filed in U.S. District Court in Phoenix on March 20, 2014, alleges.
Courthouse News Service reported that Peters' lawsuit complaint also contained this disturbing claim: "LifeLock would turn off or reduce the services alerting elderly customers to reduce the call volume received by LifeLock's customer support center."
Peters was fired because of "alleged improper behavior" toward female coworkers and lying on his resume, an unidentified LifeLock spokesperson told Business Insurance. The spokesperson also denied all of Peters' allegations against the company.
Peters' lawsuit indicates that there could be some big legal troubles ahead for LifeLock. The suit also raises serious questions about both the company's management and its products. Something to remember is that Warren Buffett buys companies with good management teams; both Peters' suit and LifeLock's response to it make LifeLock's management look very bad.
Despite its appealing financial numbers, LifeLock is not a good company or a value investment. Instead, it sells a questionable product and faces serious legal problems that could bring down the entire company. It is hard to see how LifeLock is actually a value investment.
Disclosure: The author has no positions in any stocks mentioned, and no plans to initiate any positions within the next 72 hours.
The author wrote this article themselves, and it expresses their own opinions. The author is not receiving compensation for it (other than from Seeking Alpha). The author has no business relationship with any company whose stock is mentioned in this article.